Love What you Drink
03 Sep 2022
The Gin Joint serves up one-of-a-kind cocktails
By Brian Sherman
Photos by Andrew Cebulka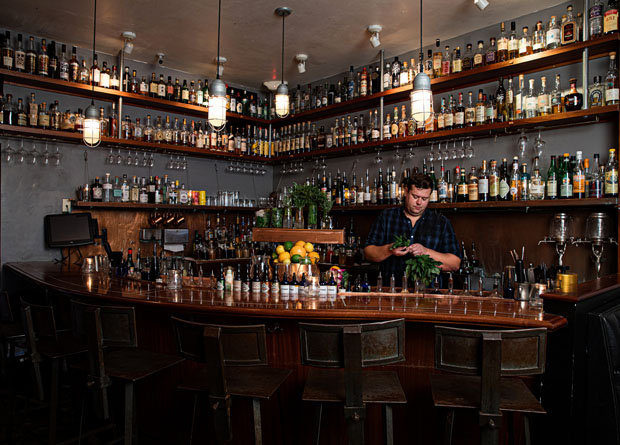 "Of all the gin joints in all the towns in all the world, she walks into mine."
Those are the words spoken by Rick Blaine, portrayed by Humphrey Bogart, when his former lover, played by Ingrid Bergman, shows up unexpectedly at his bar and restaurant in French Morocco. Though Bogie's place of business in the classic 1942 movie "Casablanca" has little in common with an iconic bar in downtown Charleston—other than the fact they both are purveyors of fine food and drink—they are tenuously connected by the name of the Holy City's oldest cocktail bar.
The Gin Joint, located on East Bay Street, an easy walk from the Charleston City Market, has been a downtown landmark since it opened in 2010. When Wells and James Bolt took over in 2017, they decided that making major modifications would be a bad move for the thriving business.
"We haven't changed much," Wells pointed out. "We wanted to keep it just like it was. Craft cocktails and high-end food to go along with it."
James, a graduate of the Culinary Institute in New York and a bartender at the Gin Joint before he was an owner, has been in the restaurant industry in some way, shape or form since he was 16 years old. Wells, who started out washing dishes at the age of 14, grew up in the business as well, learning the ropes from her grandmother and father.
Since taking over The Gin Joint, the Bolts have been serving food and drink to what Wells describes as "an interesting clientele"—a mix of young professionals in search of an awesome martini, older customers who prefer an old fashioned or a glass of wine and lots of tourists looking for anything that might make their visit to Charleston a little more interesting. They are likely to find that at The Gin Joint—voted best cocktails by Charleston Living Magazine readers.
"We make some things that could be a little scary," Wells pointed out.
Scary, only in the sense that you're probably going to discover things in a drink at The Gin Joint that you most likely have never seen before. For example, Comic Book Boy, listed on the cocktail menu under "Something Different," is an interesting mixture of light and dark rum, See the Elephant amaro, milk, lime acid, Jamaican No. 2 bitters and bubble gum.
"We were thinking: 'What goes with bubble gum?' Rum goes with it. You don't want something too sour. What else is so well-rounded that a lot of people can enjoy it?" Wells explained.
Something else on the unique side is The Rodeo Clown: bourbon, amaro, Cap Corse Rouge, alder wood, kola and BBQ bitters. Other options in that category include Chief Wiggum, P.I., Lady Danger, Maui Myth, Lost in a Maze, The Red Pagoda and Aloha From Avenal.
And, of course, there's no way you can call it The Gin Joint without a selection of gin drinks. Several options are available, from the classic martini to Thunder on the 307, "A cold, sweet treat to keep you calm," to Triton's Tipple, featuring gin, seabean, cucumber, Meyer lemon vermouth, sesame, baijiu and rice wine vinegar.
Depending on what's in season, the Bolts like to source local ingredients for their cocktails, including peaches and blackberries.
"Like an entrée in a restaurant, with a starch and a vegetable that people eat together. It's the same idea with cocktails," Wells said. "A lot of people come here because of what we're doing different. We experiment. It sounds really weird on paper, but it tastes really good. It's all meant to play with your senses."
If fun and innovative cocktails are the star at The Gin Joint, the food is the award-winning supporting cast. The menu includes a variety of cheeses; a double lamb smash burger; chips and caviar; octopus ceviche; and country ham, but the two most popular items are oysters and homemade soft pretzels. The dough is made in-house and the pretzels, a mainstay since 2010, are baked fresh daily. Wells said customers order between 150 and 200 of them every week.
So how has The Gin Joint withstood the test of time? Why do customers keep coming back and why did the readers of Charleston Living choose it as their favorite cocktail bar? Here is Wells Bolt's take on what makes The Gin Joint different: "For us, it's a labor of love. We want people to feel like we can share with them. We really love it, and we want them to love it, too."