Lowcountry Stories
08 Sep 2017
The watercolor paintings of Sandra Roper
By LEAH RYHNE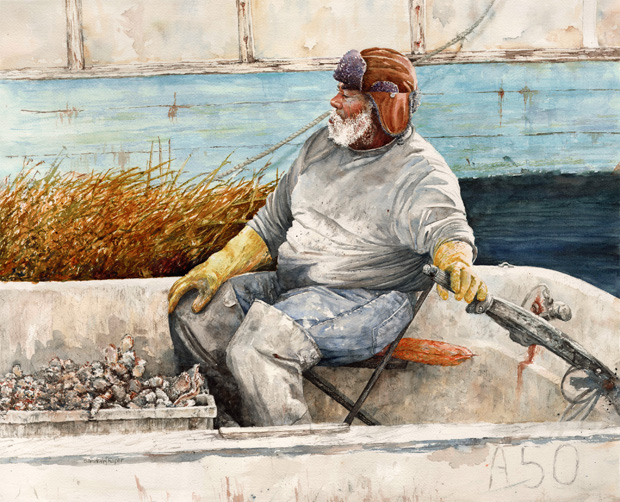 If a picture is worth a thousand words, Greenville-based artist Sandra Roper has written millions. Through her Lowcountry-inspired watercolor paintings and prints, she seeks to share the history of the world she loves.
"I've always enjoyed the South, and being brought up in a southern culture," she says. "Charleston was a natural fit for me when I began painting." It's easy to see why. Roper's online gallery space is filled with images of the Lowcountry. The houses of Rainbow Row stand strong against the battering ram of an angry sea. Careworn women shuck oysters as they have for generations. Draft horses rest after pulling carriages full of tourists. A warm breeze whispers through a peaceful salt marsh.
In each painting, Roper hopes to share a story—the story of the Lowcountry. "When I started researching architecture and the history of homes in Charleston, I got really interested. Not necessarily the main stories but in some of the smaller ones. Regular people who lived prior to the Civil War or even the Revolutionary War. How they lived. Where they lived."
Thus Roper began painting the historic homes, but never before learning their histories, which she's willing to share. "The Poyas-Mordecai house on Meeting Street has a great history," she notes. "It was owned by a Jewish man who was a merchant mariner. He helped the Confederacy during the Civil War, running supplies to and from Charleston. He ran up the rivers, and was able to sneak around the war itself."
Mordecai's history wasn't all excitement and romance, though, as Roper continues. "Mordecai spent all his money supplying the needy with food, supplies and whatever was needed during the war. He lost his fortune and lost his home."
Roper's painting of the Poyas-Mordecai house is a subtle peek at that story. The house sits in the background, tucked behind Palmetto trees. A shining red tin roof speaks to contemporary upkeep, while a shroud of algae creeps up the wall. An American flag flies behind it. Nods to past, present and patriotism mingle in a single image.
Roper has been painting all her adult life. "I graduated from USC in Columbia as an art major, and then I went to work in graphic design." For years she remained in the field and in advertising, working her way up. "I loved it," she says. "I absolutely loved it. But I was working 60, 65 hours a week."
When she had children, those hours were no longer sustainable. Roper returned to painting, beginning with commissions for house portraits and then, again, working her way up. The flexible schedule allowed her to take care of her two sons. "I never missed a baseball game, I always say."
Despite a start in oils, today Roper paints in watercolors. "It's an amazing medium. It's more difficult; you really have to think about what you're doing, but if you get it going right, it'll paint itself in ways. It does some amazing effects." She laughs. "And I don't have to clean my paintbrushes, so that's always great."
From paintings, Roper branched out into printing. She owns her own printing equipment, controlling the quality and quantity of each print she sells. She even joined the Lowcountry Artist Gallery, the oldest artist-owned gallery in Charleston. Along with eight other local artists, they run the gallery like a co-op, each artist contributing a set number of hours each month. Roper commutes from her Greenville home, but is happy to do so. During those visits, she can photograph new subjects for future paintings.
Recently, Roper embarked on a new painting project. She has found fresh stories to tell. "I'm searching for the extraordinary in the ordinary," she says. Her new subjects are people, mostly, doing the "dirty jobs" that have always been part of the Lowcountry landscape. "I'm painting shrimpers, and Gullah women who do oyster shucking or work with the shrimp boats."
Through this work, Roper seeks to preserve a way of life. "A lot of that history is leaving South Carolina, and has been," she says. "I'm hoping all the promotion of 'local first' will bring it back, but I know it's hard to compete with mass production."
To find her subjects, Roper travels all over the Lowcountry. "One woman I spoke with in Bluffton started shucking oysters when she was 12, and now she's in her eighties and she still does it. I talked to her as much as I could. Some of these people don't like to talk too much to these people that come around and quiz them. It's hard to establish a relationship."
Still, Roper wants to share their stories. As a painter, she's a storyteller, and luckily, the people, places and faces of the Lowcountry have plenty more stories to tell. sandraroper.com