Master Muralist
03 Sep 2020
Iconic Charleston artist David Boatwright paints the town
By Holly Fisher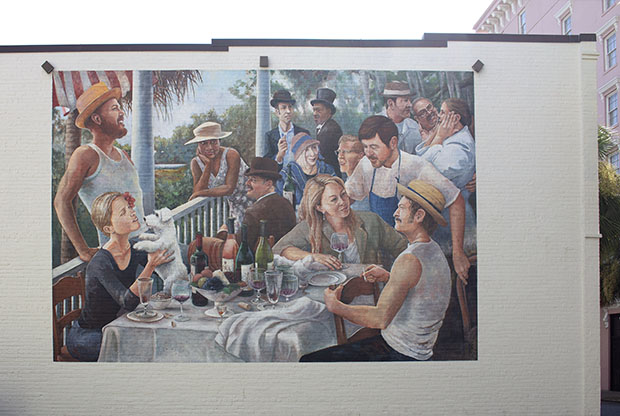 If you've driven the streets of downtown Charleston, chances are you've seen David Boatwright's work. His murals adorning the sides of businesses and restaurants are hard to miss. In fact, some of them are downright iconic.
For more than 15 years, a 10-foot mural on Rutledge Avenue beckoned locals and tourists to the now-closed restaurant Hominy Grill with an image of a waitress and a classically Southern statement: "Grits are good for you."
Hominy Grill closed in 2019, but the mural remains for now. A new building owner may have other plans for that wall space. And that's OK, Boatwright said.
Murals aren't really meant to be permanent. They're fleeting, he said.
How many of Boatwright's murals decorate Charleston? He's actually not sure. But you've likely taken note of the red farm truck loaded down with colorful vegetables painted on the side of GrowFood Carolina on Morrison Drive.
A mural on the side of 68 ½ Queen St. pays homage to 14 people who have impacted Charleston's food scene, including Mike Lata, Michelle Weaver, Frank Lee and Charlotte Jenkins. The piece was done for the now-closed Mira Napa Valley Education Center & Tasting Room.
And an eye-catching mural on East Bay Street shows a Charleston street scene past and present. Painted on panels, this mural gives passersby plenty to stop and study.
Boatwright begins his mural projects with a preliminary sketch—sometimes his own idea, sometimes with some direction from a client. Depending on the size, a mural can take up to a month to paint.
"Murals, by their nature, are public, so they need to be accessible," he said. "They need a sense of realism, but you don't want them to be completely predictable or too safe."
Boatwright includes something quirky in his murals or something that challenges his craft. "I push the envelope in a more subtle way."
Boatwright has submitted three new mural projects to the City of Charleston's Board of Architectural Review, including a piece for a private residence on Queen Street. It will be a large portrait of King Charles II, forebearer of Charleston.
Most of Boatwright's murals are public works. He's created a number of hand-painted signs as well as other paintings for individuals and businesses.
This summer, he's been in his studio painting a new piece for an exhibit at the Gibbes Museum of Art, which will showcase work of the museum's visiting artists.
When painting in his studio, Boatwright focuses on projects that challenge him.
"Studio painting is different," he said. "It's not a linear narrative. It's closer to poetry than prose."
Drawing on Southern Roots
Boatwright thoughtfully considers the best way to describe his artistic style. He pauses before calling himself a pop artist who draws on imagery from pop culture for inspiration. And, yet, there's no mistaking the influence of his Southern heritage.
A South Carolina native, Boatwright has always been involved in creative pursuits. He credits his parents with encouraging his artistic endeavors as a child. At age 7, he was putting together the family Christmas card. He took art classes at the Columbia Museum of Art. His first mural project was at his own Columbia area elementary school—a mural of Charleston.
Art, it seems, was his destiny.
In 1965, Boatwright headed to Clemson University to study architecture, but left two years later to pursue painting at Cornell University in New York. Boatwright earned a degree in painting at the San Francisco Art Institute and several years later, studied film making at the American Film Institute in Los Angeles.
After working in film in Los Angeles for a period, Boatwright decided to head back to the East Coast. He settled n Charleston, planning to stay just a year before returning to L.A.
"I never went back," he said. "It fits me somehow being here. I've always had something fun to work on."
He initially wrote and directed commercials while in Charleston. His first painting project was a sign for Hank's Seafood Restaurant in downtown Charleston. That project launched Boatwright's career in signs and murals.
The life of an artist isn't always easy, he said. Working for yourself can be a struggle. But Boatwright considers himself lucky. It's why he paints under the moniker "Lucky Boy Art."
While other muralists have arrived in Charleston, Boatwright's work remains part of the fabric of the city.
"It's really rooted me to this community," he said. "I'm part of this town. There's a reason I'm here and that's a good feeling. It's attributable to doing art in the public sector."
Learn more about David Boatwright at www.luckyboyart.com.