Mutual Collaboration
06 Mar 2017
An HGTV star personality and a local resident's mutual hope for helping those with autism has turned into the home design of a lifetime
By ROB YOUNG » Photos by JIM SOMERSET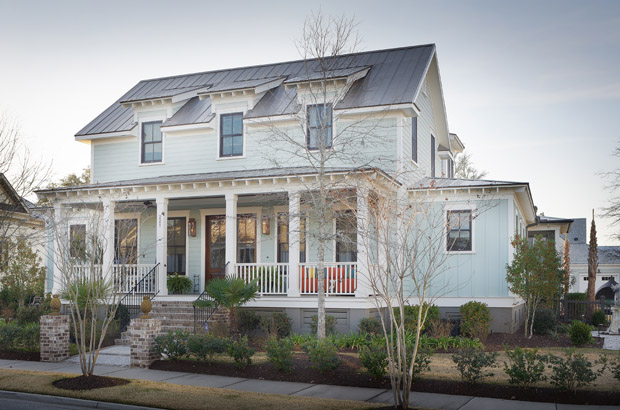 They met through the mail. No, seriously—they met through the mail.
Linda Walder had always maintained a keen interest in design, and now she found herself captivated by a TV show, and one of its personalities in particular. The show was Season 2 of HGTV's "Design Star," and the personality, interior designer Will Smith. As Smith advanced in each episode, Walder's attention only grew. She couldn't stop watching. "Will has such a charismatic personality and smile, so you instantly love him," she says.
Now looking back, several years and collaborations later, it almost feels like fate. "I've always felt that whatever Will does," Walder says, "I immediately love."
Instant Connection
A little background first: Walder is the founder of The Daniel Jordan Fiddle Foundation (DJFF), the first all-volunteer autism organization to focus on autistic adults, which was begun in the United States in 2002. Named in honor of Walder's autistic son Danny, who died when he was 9, DJFF has been recognized nationally for its pioneering approach to program development, resources and public policy.
DJFF also established endowments at Yale University, and the University of Miami in 2014, and at Brown University and Rutgers University in 2016. Each endowment addresses separate issues affecting autistic adults. Other signature programs include the DJFF Ignition Grant Programs at UJA Federation of New York, which seeks to take the models created by the federation's network of service providers and use them as the basis for other programs.
So when she watched one of Smith's final episodes on "Design Star," it struck a chord. As the contestants were whittled to the final three from 11, each was asked to design a specific space for a specific person. Smith had to design a space for a teenage girl with a disability so severe she would be unable to leave her room. "I got bug-eyed because it really hit my heart," Walder says.
She penned Smith a letter—a fan letter—and sent it off to him. The mail received by performers like Smith can be overwhelming just due to the sheer number of fan letters and emails, but there was something about Walder's note. "It just seemed very, very thoughtful," Smith recalled. "Many times, people write about what they want, or what they want to do with their home, whereas Walder was talking about helping other people."
The connection was immediate, and Walder and her husband Dan Cotto soon enlisted Smith to help decorate their beach home in New Jersey and apartment in New York. As the owner of the full-service design firm, Interior Motives, Smith often works with clients from his home base in Charlotte, North Carolina, as well as Atlanta. His notable clientele has included author Omar Tyree; NBA players DJ Augustin and Desagana Diop; and NFL receiver Yancey Thigpen.
Smith continued to work with Walder and Cotto when the couple decided to move south in 2014. They quickly settled on Daniel Island. It wasn't long before they brought Smith down, too. "We collaborated on everything," Walder says. "I wanted a home that reflected the way Dan and I live. The idea was to create a home that was beachy, elegant and multi-textured."
Drawn to DI
For starters, the decision to move to Daniel Island was relatively easy. They chose the area based on the recommendation of realtor and friend Meryl Cromarty, building their home adjacent to the golf course on a corner lot in Daniel Island Park. "After being New Jersey born and raised, and living there several years, my husband and I decided we were tired of cold winters. We were looking for a place that we could semi-retire," Walder recalls. "We started exploring places. Dan was familiar with Charleston, and then I became familiar with it. There's so much culture and vibrancy."
"We were just drawn to Daniel Island," she continues. "We loved this entire part of the island. The country club lifestyle, the beautiful golf course. I've even taken up golf. It's just such a beautiful environment."
Walder and Cotto enlisted Jeff Cline of Cline Homes in Mount Pleasant to construct the Daniel Island Park home, as the family-owned business brought more than 50 years of combined experience to the project. Cline's construction portfolio includes homes in communities such as Riverside at Carolina Park; Shellpoint in Mount Pleasant; Smythe Park on Daniel Island; and Daniel Island Park. Cline features several varieties of home plans, as their master plan book has continued to evolve over the years due to customer demands and necessities. Still, the firm does not shy away from customization in seeking to build their clients' dream homes.
"It was a unique build, a total team effort that turned their vision into reality," Cline says. "Will took the bones and framework that we put together, and really took it to the next level with furnishings and interior design specific to the couple's vision."
The 4,432-square foot home features four bedrooms and four-and-a-half bathrooms, and has an additional guest suite above the garage. Walder chose to paint it an aquamarine color titled "Eliza Lucas" from Sherwin Williams' Charleston collection, in accordance with standards set by the Daniel Island Architectural Review Board, which requires homes to be painted an historic color.
Construction began in 2014 and completed in 2015. "There are just so many layers," Walder says. "I still see something different every time I walk through the home."
'Beachy-glam'
Smith likes to describe the home another way: "beachy-glam." True, it reflects Charleston, but it also represents how Walder grew up in New Jersey. "There's a little bit of bling to it," she says, laughing.
Her favorite room is the master bedroom, which features a fireplace and sitting area. The idea occurred to Walder and Smith as construction began to take shape. "The walls weren't even up yet, and Will and I said, 'What if we switched the layout around?'" Walder recalls. "We ended up having a beautiful fireplace and a lounge area that is gorgeous. The colors are calm and very relaxing. It's a great space. It feels like I'm staying at a luxury hotel."
The game room upstairs reminds Walder of her girlhood home. With a poker game table for Cotto's weekly game, it's a wonderful room for relaxing. Then, just adjacent to the game room is another of Walder's favorite spots in the home: a writing nook. "I always wanted a little place where I could sit and think and write, and Will managed to create a writing room for me," she says.
The accent pieces, such as the 12-foot mirror Smith found for the main family room, as well as the antiques, art, and family heirlooms, including a silver tea set that once belonged to Walder's grandmother, also serve the home well.
Just this past year, Walder and Cotto completed an extensive landscaping project by Crescent Moon Landscaping that reflects downtown Charleston's beautiful gardens. Walder visited Brookgreen Gardens, a sculpture and wildlife preserve south of Murrells Inlet, for inspiration. "It's sculpture and greenery, and beachier elements like the mermaid structure Will found," Walder says.
The future seems special as well, as it relates to Walder's strongest passion, and her abiding collaboration with Smith. "It's time to focus on adult autism in Charleston," Walder says. "When I started off in 2002, the idea was to create awareness that autism is a lifelong challenge. At first we focused on recreational programs for adults, employment training and jobs. I envision these and focusing on residential options, which are complex because of the diverse needs of autistic adults. I foresee Will and I working on those projects in Charleston."
Resources
Builder: Cline Homes, 843-849-2929, cline-homes.com
Interior Design: Interior Motives, 704-523-0935, interiormotives.ws
Landscape: Crescent Moon Landscaping, 843-769-0893, cmscaping.com