The Sundae Analogy
06 Mar 2017
Tips and advice from our local garden experts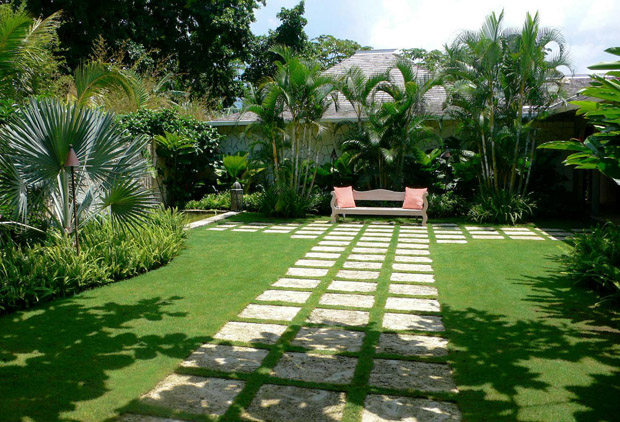 It's time for dessert ― after all, you've done all the hard work. The soil conditioning and grade are correct, plant materials placed in just the right spots, irrigation is doing its thing. All is right in your landscape world. Or, is something missing? That "little something" that would finish the look you've created. Well, since the ice cream is starting to melt, let's find that perfect topping. Here are just a few tasty examples.
I love an accent wall or screen. By this, I mean a freestanding, masonry, wood, or plant-based "wall", perhaps something eight feet long by five feet tall, covered in stucco and creeping fig or composed of Old Carolina brick. What it does for the landscape is worthy of expense. It has a two-fold effect ― it acts as a "calming mechanism" to divide spaces and gives great backdrop, an end-point to an important line of sight. Less strong, but still effective in this same regard is a seating wall. While it doesn't "stop" the eye as effectively, it does provide an ending point and a bit of "furniture" in the landscape.
Another great dessert topping is a large urn or planter. Think big and strong―don't be timid with your choice! I recommend subtlety in color choice here, but think large and don't forget to plant it with a strong, structural and interesting specimen.
Sculpture is a touchy subject, but can also provide sweet results. Again, strength and quality is imperative. Consider a cast concrete piece from the 1930's, for instance, to achieve that "old money" look. Don't be afraid though, of something with a punch of color for a more modern appeal. (And see above recommendation for the wall. They work great together.)
Furniture itself can be very satisfying. Treat your landscape to a wonderful teak bunch or a couple of cast iron chairs, or even a funky colorful dining set that invites the eye as well as a place to lounge. Great furniture pays off in longevity and artistic appeal. But I've even seen some wonderful pieces at places like Target or Crate and Barrel. Again, be bold and buy the best you can afford. After all, there's ice cream in a cup from the grocery store, but there's also Jeni's on King Street.
Lastly, consider that one addition of a special plant, something with character and a sculptural quality that would benefit from low-voltage landscape lighting. Examples that pop into mind are a Japanese Maple, Blue Agave, European Fan Palm, or a tree-formed specimen of Vitex, Upright Yaupon Holly, or Ligustrum.
So, while you might like chocolate ice cream and I might like pistachio ice cream, I think you'd agree that the sprinkles and whipped cream sometime put that sundae right over the top. Indulge sparingly, but do indulge.
Your landscape and your home deserve it.