New Path to Wellness
04 Mar 2020
Using regenerative medicine to provide pain relief
By Barry Waldman
Photos by Aleece Sophia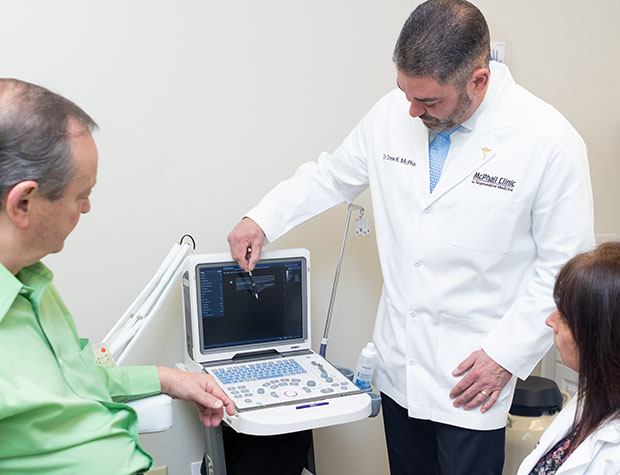 Dr. Drew McPhail, a well-known doctor in Summerville, decided to become a chiropractor after his own experience with back pain.
As a young man, as he attempted to lift a heavy load and felt his back "explode."
Almost completely incapacitated, he rushed to an orthopedic surgeon who diagnosed him with two herniated lumbar discs – discs in the lower spine – and recommended surgery.
McPhail took a chance on a chiropractor instead and within a week he could stand upright again.
That's how Drew McPhail became Dr. Drew McPhail and set himself on a path to creating a regenerative medicine clinic that helps patients' bodies heal themselves without surgery.
A former All-American offensive tackle and two-time team captain at Valdosta State University, McPhail is driven to excellence, both on the playing field and in his practice, where he and a veteran staff provide healing options to people with chronic degenerative conditions.
His clinic combines chiropractic with regenerative medicine, spinal decompression, cold laser surgery and other non-invasive modalities, all with the goal of supplementing the body's natural healing process.
"I have a strong drive to learn methods that achieve better, faster results for patients," he says. "We combine our therapies with a commitment to educate our patients so they can achieve optimal results."
Many people over 40 suffer a chronic degenerative condition like osteoarthritis; degenerative or herniated spinal discs; loss of feeling in the fingers, toes or other body parts; or pain that limits range of motion.
Many under 40 are experience these symptoms related to injury.
McPhail outlines the options: You could tolerate the pain, dulling it with over-the-counter analgesics and racing to the doctor for harder drugs when the pain flares. You could live with the limitations and reduction in quality of life, accepting that this is just a normal part of aging, even though you know better.
You could bounce from doctor to doctor seeking relief, enduring diagnoses that all seem to lead either back where you are or to surgery.
A study in Ohio found that spinal fusion surgery, a common response to disc degeneration and herniation, fails three-quarters of the time, a far worse result than opting to avoid going under the knife.
Or you could try something new, like regenerative medicine using stem cells.
Dr. McPhail has taken numerous post-graduate courses to learn best practices and state-of-the-art techniques. Recently he was invited to present at Harvard Medical School on clinical assessments and intervention updates in neurological rehabilitation.
Success stories includes one patient, Ray, who was exposed to Agent Orange during the Vietnam War and had developed neuropathy in his lower extremities. He had difficulty walking and maintaining his balance. It's estimated that seven percent of Americans have neuropathy, a disease of the nerves. Ray reported that hadn't felt his feet in 20 years or moved his toes in a decade.
The McPhail team injected stem cells into his ankles to stimulate regeneration of the nerves, employed a robotic, high-powered cold laser to reduce pain and aid the healing of soft tissue; directed broad spectrum LED lights to stimulate blood flow, and reprogrammed the nerves by applying electric current, using frequencies at which the nerves operate.
After the first treatment, Ray felt tingling in his feet. Within six weeks, he could wiggle his toes and walk normally, climbing and descending stairs without support. He is talking about resuming his passion for skiing, which he had to abandon because of the neuropathy.
Regenerative medicine, which uses human cells and tissue to supplement the body's natural healing process, has become a disruptor in the health care space because of its ability to aid healing where other therapies have failed. Administered by a highly experienced and expert team like Dr. McPhail's, these injections can repair, reconstruct, replace or supplement the basic functions of the recipient's existing cells or tissues. It is useful for a wide variety of chronic conditions.
Recently, a woman arrived at the clinic unable to lift her arm over her head because of arthritic inflammation in the shoulder joint. She returned to the clinic Monday after a single treatment Friday with a wide grin on her face and her hand straight up in the air.
An occasional unexpected benefit of these therapies is secondary healing of other conditions. Patients treated for spinal stenosis may report that their acid reflux, headaches, asthma, incontinence, or other chronic malady is suddenly relieved.
Dr, McPhail has a simple explanation: "When pressure on a nerve is removed, it relieves pain and dysfunction."
The science behind these treatments is well-established, but the clinic is careful not to promote them as a cure-all. Despite seeing periodic secondary benefits, the clinic makes no claims about healing disparate conditions.
For injuries too severe to respond to their protocols, Dr. McPhail will refer patients to surgeons. This is an evidence-based medical treatment clinic that offers demonstrated pain relief and healing.
The McPhail team has many decades of combined experience and is focused on the care and comfort of patients. Known for their customer service, staff greet patients by name, offer them coffee and clearly work to create a pleasurable environment.
McPhail Clinic is routinely awarded as a "Readers' Choice" best chiropractor by patients and the community.
Therapy takes anywhere from 15 minutes to no more than an hour and fifteen minutes, and the clinic holds itself to the standard of seeing patients at their appointed times. There is not a great deal of waiting in their waiting room.
Nor is there a great deal of waiting for results. The team at the McPhail Clinic offers patients goal-oriented start and finish dates for treatment that avoids stringing them along for months without benefit.
Following therapy, the clinic will recommend patients return periodically for supportive care, or provide them with therapies they can implement themselves at home.