Indigo Journey
04 Mar 2020
Connecting South Carolina culture to the ancient technique of batik
By Jenna Ley-Jamison
Photos by Arianne King Comer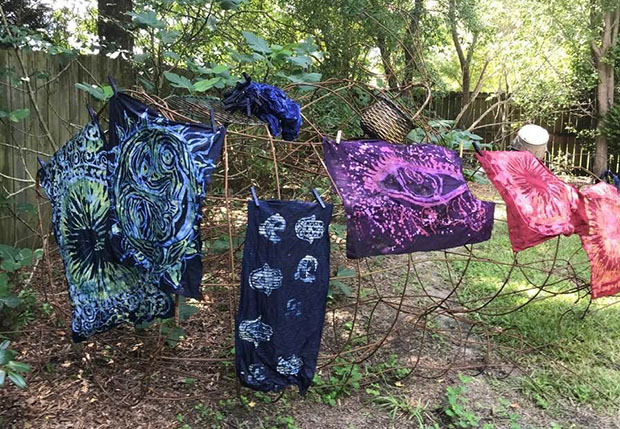 Blue is not just a color to Arianne King Comer. It's a word that evokes historical and cultural connotations. It's a spiritual hue—the shade of her soul—that has served as the inspirational force and focus of her passion and life's work the last several decades.
Comer is a textile artist who specializes in the ancient technique of batik using wax resist and dyes. She is also an indigo advocate, artist consultant, teacher, an installation and environmental artist. She teaches by storytelling.
"My art is my voice; it's my meditation; it's how I solve things; it's my go-to," she said.
Comer's goal is not just to create art, but to share it with the world, empowering others in the same way art empowers her.
For the last several years, the North Charleston-based textile artist—with a love for indigo—has dedicated her days to studying and perfecting the unique technique of batik. The process uses wax and dyes to create designs on fabric.
"It's a very ancient technique and used in many countries," Comer said, pointing to India and Japan.
By utilizing wax, batiking ensures dyes don't penetrate the fabric and allows the artist to repeat the process as many times as needed to create a product with various colors and designs.
Comer was born with a knack for creating with her hands. She officially commenced her crafting with simple drawings at age 3. By 11, she had taken up sewing, following in the footsteps of her aunts who were seamstresses by trade.
"That got me interested in textiles," Comer said. "Then I started looking at the edge of the fabrics, about where the designs come from, and that tweaked my interest in the history part."
Through working with textiles, Comer was specifically drawn to the history of indigo.
She moved to South Carolina in the 1990s, upon learning—thanks to her mentor and friend Nike Davies-Okundaye—of the area's rich historical ties to indigo.
At the time, Comer had been living in Oshogbo, Nigeria, studying under Davis-Okundaye, who was teaching her about the indigo plant and its significance to textile art.
"It's very much a spiritual color there," Comer said of the African country. "I didn't realize the impact of it. Davis-Okundaye launched me as a real textile artist. The more we know about our history is empowerment."
Comer explained how indigo served as a vital moneymaker to the Palmetto State's 18th century economy. It was second only to rice as South Carolina's cash crop and according to Comer, it was part of the state's driving force behind uprooting Africans to work as slaves in America.
"Indigo wouldn't have been here if it weren't for slavery," Comer said. "(American merchants) literally knew to get the people who knew how to do it and got them here."
Because of that knowledge, Comer views her textile art with deeper meaning and purpose. She considers herself a social justice community artist.
"For me, it's like an ancestral call. I'm doing ancestral work here,'" she said.
Her work tells the story of South Carolina. She has been an Artist in Residence in the state since 1995. Over the years, her artistic resume has featured many impressive projects and accolades.
Comer has created wearable art—clothing, scarves, jewelry—for the Smithsonian National Museum of African-American History and Culture in Washington, D.C. She was also featured in February in a unique, art installation series dubbed "Wild at Heart," located inside Charleston's historic old Cigar Factory building.
Comer specifically contributed ceiling-to-floor-length wall hangings to the project, which primarily featured 28 life-sized sculptures from South Africa.
In addition to dyeing fabrics, she also has an impressive selection of original painting, including ones that show people dyeing fabrics, hanging them to dry on a clothesline.
In her teaching, Comer believes that it's vital for others to tap into their imaginative side and discover the story behind the techniques they're exercising.
Comer is in the middle of a four-part series teaching the community about indigo dyeing through the North Charleston Cultural Arts Department. She will hold an upcoming show this fall at the Charleston Waterfront Gallery.
Additionally, through a program called Arts Access SC operated by the South Carolina Arts Commission, Comer works with students and adults with special needs and disabilities.
"For me, batiking itself is such self-esteem. There's no 'oops' about it; it's just the journey, and I just love watching people enjoy creating their own," she said.
For more information on Arianne King Comer, visit ariannekingcomerart.com.