More than a year after nearly shutting down completely, the city that never sleeps is reawakening
by Katie McElveen
Photos NYC & Company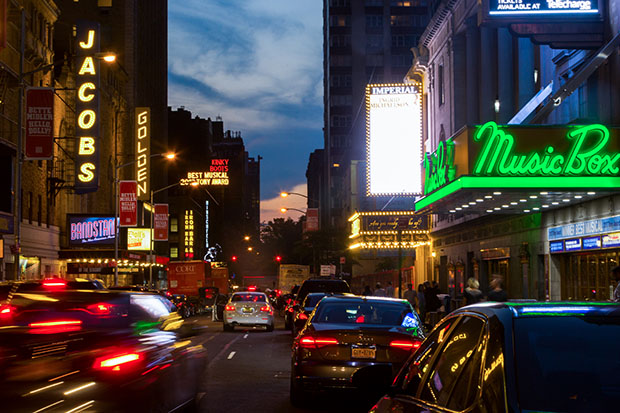 The last time I visited New York, in March of 2020, it never occurred to me that it would be 14 months before I strolled the streets again. But here I was, in May of 2021, boarding a plane to finally return. Here's what I found – and why now is a great time to rediscover Manhattan.
There's Plenty to Do
Though Broadway won't reopen until September, New York is alive with diversions. NY Pops Up is a series of popup performances that will take place throughout the city. Unticketed, these free events can be found a day or two before they occur on Instagram and Twitter at @nypopsup.
Shops and department stores are back to their regular hours. If you're still not comfortable indoors, consider hitting a flea market, such as the Grand Bazaar, which is again operating at its long-time location in a schoolyard on West 72nd Street. Farmers Markets are open as well, including the famous Union Square Greenmarket, which takes over Union Square on Mondays, Wednesdays, Fridays, and Saturdays. Museums require timed reservations and pre-payment but the process is easy. When I arrived for my 3 p.m. entry to the Met – a great time to visit since many patrons are leaving at about that time – the great hall echoed with the low hum of visitors, but there were no crowds to push through, even at popular stops like the Temple of Dendar and Van Gogh's haunting self-portrait. Though bathrooms were open, water fountains were not, so be sure to bring water. Masks are still required as well.
Central Park is also buzzing with activity. Beyond a full schedule of SummerStage concerts, Shakespeare in the Park is back, with live performances of a new adaptation of The Merry Wives of Windsor through August 29.
Dine Indoors or Outdoors
In 2019, New York broke its existing tourism records and welcomed more than 66 million visitors to the city; scoring a table at a favorite restaurant could be a real challenge. Today, the loss of many classic New York dining destinations is forcing tourists and residents to try new, unfamiliar eateries. Though many midtown restaurants are open, consider venturing into some of the city's more residential neighborhoods, where you can join locals at small, family-run establishments like Pappardella, a low-key Italian restaurant on the Upper West Side. Here, our cozy outdoor dining den was lined with a low boxwood hedge and had antique Oriental rugs on the floor. The menu is classic but well executed: the tricolore salad was fresh and crisp, the bitter edge of the greens softened by lemon and oil; pastas were perfectly cooked and did not drown in sauce. I was glad that Sistina didn't offer outdoor dining, otherwise, I wouldn't have been able to see the gorgeous interior of the Upper East Side townhouse the restaurant has occupied since 2015. Pastas are tempting, but chef/owner Guiseppe Bruno also has a deft touch with seafood, which arrives elegantly plated and is remarkably delicious. The first thing you notice about Fred's, a casual Upper West Side joint, are the photos of customer's dogs that line the walls. The second is the food, an upgraded bar/comfort blend – burgers, nachos, big salads – that's perfect for a casual first night or pause between fancy dinners.
The outdoor dining areas that restaurants have constructed on sidewalks and side streets are a fun way to take in the city while you eat. Since many restaurants fill their outdoor space on a walk-in basis, they're great for non-planners, too. Just having a pre-dinner cocktail? Know that drinking at an outdoor table also comes with a caveat: you'll need to order some sort of food item – even if it's just a plate of cheese – to go with your drink.
Where to Stay
For this visit, we opted for New York's only Park Hyatt, a sleek, 210-room hotel located just a few blocks from Central Park on West 57th Street. Beyond access to the park, Columbus Circle, Hell's Kitchen and the Upper West Side are within easy walking distance. The all-star concierge team knows the area well and are happy to recommend well-chosen restaurants, cafes and bars. But you might find yourself spending more time in the hotel than you planned. Rooms are spacious, starting at 530 square feet, and open with floor-to-ceiling windows and large closets. They feel special and luxurious too. The bed was so comfortable that the pull to stay between the sheets was almost magnetic; in the shower, under the wonderfully powerful stream of water, I felt like I was standing beneath a waterfall. Rooms also have small refrigerators and Nespresso machines. Though the restaurant and 25th-floor spa are currently closed, the hotel's sophisticated Living Room lounge serves cocktails, wine and snacks from 4:30 until 11 p.m. Tuesday through Saturday. Another bonus: the gorgeous saltwater swimming pool, which is outfitted with an underwater sound system and a playlist curated by musicians at neighboring Carnegie Hall, is open by reservation. Guest also receive a complimentary two-hour bike rental for a spin around the park.
What to Know
We found Manhattan safe and welcoming. Everyone we encountered, from service professionals to taxi drivers, hotel guests and people waiting in line, shared a sense of relief and gladness that things seem to be inching toward normal. Unless we were specifically told masks were optional, we wore ours anywhere indoors that wasn't our hotel room. Though traffic was light, finding an empty taxi was a challenge. More often than not, we ended up walking part of the way to our destination, keeping an eye out along the way. Ride services like Uber and Lyft were running normally, as were subways and buses.