Ripe for A Return
05 Jul 2021
Farmers Market Manager welcomes back weekly events
By Holly Fisher
Photos by Jason Baxley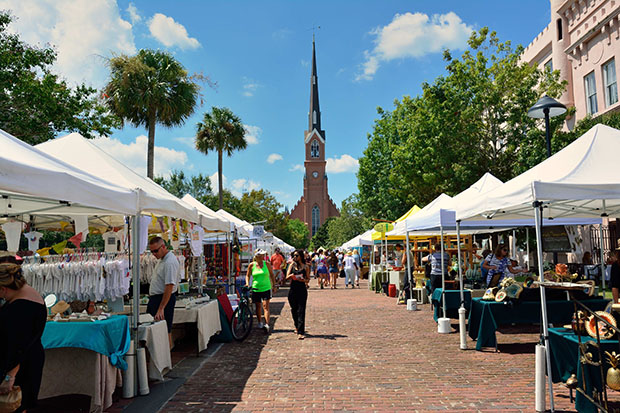 Harrison Chapman doesn't take it personally when people assume he only works one day a week. He is, after all, managing two weekly farmers markets for the City of Charleston.
Chapman simply laughs it off with a reminder that the market doesn't magically happen. "Everybody doesn't just show and know what to do," he said.
It's a year-round effort to coordinate more than 100 vendors for the Charleston Farmers Market in Marion Square plus the West Ashley Farmers Market each Wednesday in Ackerman Park. As the farmers market manager, Chapman is constantly focused on how he can keep vendors engaged, shoppers coming back week after week, and the markets engaging year after year.
"We're listening to the community, vendors and constantly adapting," he said. "We're looking for new ways to make it more enjoyable, so people come back each week and stay longer."
Eye for Events
Originally from Greenville, Chapman moved to Charleston to study arts management as well as hospitality and tourism at the College of Charleston. He knew he wanted to work in events, but he wasn't exactly sure where to start.
"I always wanted to find a way to manage events," he said. "I loved any kind of event and the community aspect of it."
In his last year of college, Chapman snagged an internship with the City of Charleston Department of Cultural Affairs, which oversees the farmers market, Piccolo Spoleto, MOJA Arts Festival and other city-sponsored events.
As Chapman neared his graduation in December 2011, the assistant manager for the farmers market took a new job, and Chapman was asked to fill in for the rest of the season. Chapman also stepped in to help with Piccolo Spoleto in 2012 as the finance assistant.
That fall, the farmers market manager position opened and Chapman took over as acting manager, ultimately moving into the permanent position of manager.
"I was way younger than anyone who had ever had the position," he said. "I was flattered I had the opportunity."
Rising to the Occasion
Over the last decade, Chapman has made his mark on the market. He's constantly looking for ways to improve both the Charleston and West Ashley Markets while connecting with the vendors and people who come to shop, visit and experience a true taste of Charleston.
Chapman learned that putting 150 vendors in Marion Square was overwhelming. It was too hard for people to get to each vendor to make a purchase and ask questions and learn about their produce or hand-made crafts. A healthy balance for the market, Chapman said, is 100 to 120 vendors, which leaves some flexibility for vendors who are seasonal participants.
Chapman also looks for new vendors and products that keep the markets interesting and varied. Each year a jury of community members visits the market to rate the current vendors. Those who score in the bottom 10% are invited to reapply in January along with new applicants.
"That's how we try to make sure we're constantly looking at ways to improve, find a better balance of products and fill voids that customers are requesting," Chapman said. "We always try to adapt and find new ways to bring in new people and satisfy people who have been coming since the year I was born." (Both Chapman and the Charleston Farmers Market entered the world in 1989).
In addition, Chapman and his team are able to make minor tweaks and adjustments week to week.
But Chapman never could have anticipated the adjustments he would need to make in spring 2020.
Just as farmers market season was about to hit full swing, the coronavirus pandemic put a fast halt to the idea of a park crowded with people eating, drinking and buying their weekly supply of fruits and vegetables.
A Year of COVID
The past year was a "huge struggle," Chapman said. "We were constantly talking with vendors about the challenges they were facing. It was hard to tell them what we were expecting with the markets reopening."
So instead of planning for a busy farmers market season, Chapman shifted to helping farmers who were offering home deliveries and Community Supported Agriculture programs or CSAs. He took on the role of resource center, connecting people with the resources they needed, such as a commissary kitchen or refrigerated trucks.
The city found a way to provide some scaled-back markets like a pop-up market in the Charleston RiverDogs parking lot and a farm stand on the West Ashley Greenway.
"We were trying to do as much as we could with as little as we had at the time," Chapman said. "We knew we couldn't serve everyone, but we were trying to serve some and do it in the safest way possible. The scariest thing was trying to find the right balance."
This spring, the two city farmers markets reopened, adding more vendors, prepared food vendors and music as the summer months progressed. About 50 vendors kicked off the first Charleston Farmers Market in Marion Square and in June, prepared food vendors began to make their return to the park.
Expansion will be gradual, but Chapman predicts the markets will be closer to a "new normal" by August or September.
After such a difficult year, opening the markets to vendors and visitors has been the greatest reward.
"To see the smiles on people's faces gives me chills." Chapman said.
Charleston's Melting Pot
You'll find Chapman at the Charleston Farmers Market each and every Saturday. Yes, he's making sure everything is running smoothly behind the scenes, but he's also learning about different types of honey or finding a new vegetable to try.
"I was kind of the weird kid growing up who loved fruits and vegetables. I would eat my brother's vegetables so he wouldn't get in trouble," said Chapman, who also admitted to eating an entire watermelon in one day.
Yet, the market is more than a place to buy some corn or strawberries. He said it's a diverse experience.
"It's like a huge melting pot of what Charleston is. It has so many different aspects to it. We're able to serve so many people with different types of experiences," Chapman said. "One person comes to listen to music and sips a lemonade with fresh local peaches, while another person is coming to buy a (cypress) table from Landrum Tables."
He added, "It's a collection of all the things people love about Charleston."
For that reason, Chapman is adamant about encouraging people to visit the Farmers Market.
"I can't think of a better place to be on a Saturday," he said. [The vendors] are so passionate about what they're doing. It's inspiring. That's why I've stuck with it for so long. I recognize I'm in a privileged position and I do my best to serve our community as best I can."
BIO
Harrison Chapman, Farmers Market Manager
Hometown: Greenville, South Carolina
Education: Bachelor's degree in arts management; minor in hospitality and tourism management degree from The College of Charleston
Hobbies: Enjoying Charleston's food scene with his wife, Mary Macrae, and hanging out with their two dogs, Sushi and Kiwi.
CHARLESTON FARMERS MARKET
Marion Square, 329 Meeting St.
8 a.m. to 1 p.m. each Saturday
WEST ASHLEY FARMERS MARKET
Ackerman Park, 55 Sycamore Ave.
3-7 p.m. each Wednesday