Nurturing Talent in a Busy Kitchen
02 Jan 2019
SNOB Executive Chef Russ Moore invests in people, food, community
By Megan Swanson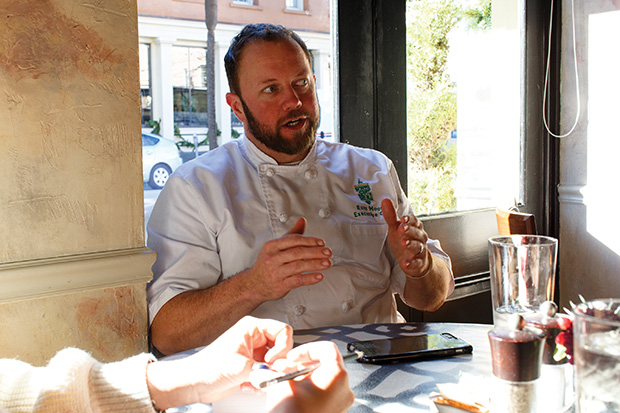 The cozy corner restaurant is buzzing with mid-afternoon diners finishing late lunches. After 25 years, the changes are subtle around Slightly North of Broad, or SNOB. The kitchen remains a breeding ground for up and coming culinary talent—but Executive Chef Russ Moore has quietly put his own stamp on the restaurant he's called home for more than 15 years.
Four women sit at the bar catching up with kitchen staff as the dining room begins to empty. One by one Moore describes their time and tenure at SNOB. When he's finished, each person seems more akin to family than former employee.
"So this is a big compliment," Moore says. "It's nice to have former employees hanging out."
Year after year Moore, and Chef Frank Lee before him, have opened the doors of SNOB to fresh talent who are new to the restaurant world. The East Coast is dotted with former employees, spread out over the years after growing up in the kitchens on the corner of Faber and East Bay.
Shawn Kelly of Fork & Plough in Greenville, Hamilton Johnson of Honeysuckle in D.C., Chelsey Conrad who recently moved to Philadelphia after heading up the kitchen at Butcher & Bee, and Braydon Sutherland of FIG who recently left to explore Paris are a few among the extensive alumni.
And then there is Moore himself who has been at SNOB for a while now—something many people are reminding him of lately. "I just don't want to be anywhere else. This is what I identify with. I feel very lucky," Moore says.
Everything has a reason
When SNOB opened its doors under the guidance of Frank Lee in 1993, Moore was in his home state of Florida busying himself with a long line of learning experiences. All of which began in the early '80s with the French-trained PBS cooking-show host and Pensacola local, Earl Peyroux.
Moore watched alongside his mother as Peyroux took them through a half hour of meal prep. Each episode was a journey, and almost always ended in a complete meal.
After a time at Shoney's and a 350-seat steakhouse, he ended up at an ingredient-first Cajun restaurant. One stove. One fryer. The middle of a strip mall.
This is where he first saw SNOB's Chef Frank Lee.
Moore was prepping food while a TV in the kitchen played the Discovery Channel's Great Chefs. Lee was on the show making a dish Moore has on the SNOB menu to this day.
Each step along the way added a new talent to Moore's diverse repertoire. Mis-en-place from Shoney's. Stress management at the steak house. Sourcing ingredients from his Cajun stint. And finally, a dietary download from a female led vegan co-op where Moore was on the register.
Beginning again
Moore walked into SNOB in 2002 wearing a tucked in button-down expecting to leave his résumé and move on.
When the hostess realized he intended to work in the kitchen, she marched him back. It was a memorable welcome. Frank Lee turned around and met him with a handshake mushed together with the middle stages of a rabbit roulade.
After a short stage, the kitchen version of try-outs, Lee hired Moore at one in the morning next to a dumpster while they were closing the kitchen. And so it began.
Moore was self admittedly an odd bird when he started at SNOB. He came into the kitchen older than most do—in his later 20s—and spent the larger part of his first two years quietly observing.
"The chef always had respect for my ability to plow through and understand what's important right now," says Moore. "I have a whole lot of respect for [Frank], wearing his heart on his sleeve. You always knew what was on his mind."
Together Lee and Moore would deepen the roots and relationships of the SNOB kitchen network to propel the restaurant forward.
Local taste
One such relationship was that between the chef and the farmer. Where other cities' produce has a longer commute, the proximity from farm to kitchen in Charleston is oftentimes a matter of minutes. Even more so now with the assistance of Growfood Carolina.
In the beginning there was always Celeste Albers from the Green Grocer and Dan Kennerty of Kennerty Farms, both operating out of Wadmalaw Island, South Carolina. In fact, Albers became a fixture in Moore's life outside of the kitchen when he and his wife, Kathy, raised their son Whit on Green Grocer's raw milk. Now six years old, Whit has an impressive palate, something Moore completely attributes to Kathy, whom he met working in the kitchen at SNOB.
"Russ really pays attention to what's going on. In times of surplus or scarcity he adapts and makes it work, which you don't really see often," Albers says.
The constant communication between kitchen and field proved to be a symbiotic relationship.
"I've worked with SNOB since the beginning with Frank Lee, and now with Russ," Kennerty says. "He tells me what he wants and I grow it." A few years back this meant Kennerty started planting an heirloom broccolini, and then lacinato kale, and so on.
When fresh vegetables come through the door at 3 p.m. and land on the dinner menu at 5:30 p.m., the only thing there isn't enough of in the cooler is time.
"There's a little bit of a risk involved, but it's forced creativity in a way," Moore says. First and foremost the emphasis is placed upon elevating raw ingredients, whether it is bok choy or local shrimp.
In a kitchen where shrimp and grits remains a mainstay after 25 years, there are hundreds of local white shrimp to be prepped every day. The side-by-side experience only adds to the camaraderie between the SNOB crew.
"Nobody likes to peel shrimp alone," Moore says. "Sharing the experience is key."
The deeply rooted network of SNOB alumni rose out of this mentality.
The youngest culinarians are now coming into the SNOB kitchen from the Culinary Youth Apprenticeship through Trident Tech. And Moore says Sunday brunch wouldn't be the same without their place on the team.
"Russ really throws you in there. It isn't sink or swim though. He gets you to the point where he knows you're able to do it before you know you're able to do it," says Megan Hutchinson, Executive Sous Chef at SNOB.
Seven years on and Hutchinson is informally the longest serving intern at SNOB. She first arrived on an externship while attending the New England Culinary Institute in Vermont and never left.
"We've had a lot of chefs come through our restaurant who have gone on to great things because the training here is phenomenal," says SNOB Sous Chef Christopher Holmes. After nine years with the team, Holmes is now an advisory board member at his culinary school. He admits, "The environment at SNOB is second to none. When you step back and look at it, it's pretty special."
Keeping the conversation going
Understanding the impact Charleston area restaurants could have on the larger community is a sentiment that informs Moore's intentions for the future of SNOB.
"I always had a lot of admiration for the relationship between Bob Waggoner, Chef at The Charleston Grill, and Frank Lee," says Moore. "Their sense of community, hospitality and camaraderie permeated through the community and set the stage. But I'm sure Bob and Frank would say there were others before them, too."
After 25 years, staying relevant is also always on Moore's mind. A few dishes may never come off the menu, and the roller coaster created by the influx of tourism doesn't end, but the consistent ingredient-first menu and an openness to culinary education is what sets Russ Moore apart.
He knows without people there is not good food. And those conversations are worth having.