A Charleston-based family calls a stylish, converted school bus their home on the road
by Denise K. James
Photos by Val Smith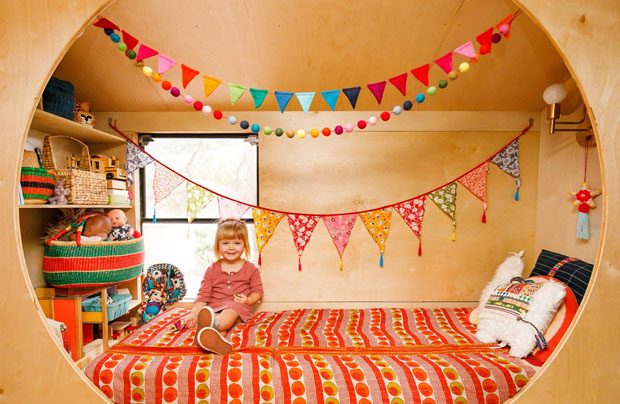 In 2017, Justin and Val Smith were living on James Island and welcoming their firstborn daughter, Nova, into the world. Soon, the couple decided they shared a special goal: to live adventurously and offer their daughter unforgettable experiences for her early years. They would need an "adventure-mobile" — but what kind? They first considered an Airstream, says Val, then Justin suggested a "skoolie" — a bus converted into a home while maintaining its exterior bus appearance.
After some research, Justin and Val found what they were looking for: a Gillig Phantom School Bus, located in California and in great condition — "no exposure to salt or cold weather and a perfect ceiling and engine." This particular bus was manufactured between 1986 and 1993 only, and it fit the couple's criteria. "We wanted a high ceiling and big tinted windows," Justin notes. "And we were drawn to the uniqueness of the bus. We wanted our bus to be interesting."
After flying to California and driving the bus back to its new home in Charleston, the Smiths spent two years renovating and outfitting it to create a chic, comfortable home for the whole family, now consisting of their second daughter, River, as well as their 45-pound rescue dog, Nala. They hit the road for the first time in 2020.
At the front is the living room, featuring two sofas which are slipcovered in fabric made by an artist on Etsy. Both sofas transition into comfy twin beds for guests, and behind the sofas are two dinette seats with hidden storage and flip-down tables. Between six and eight people "can hang out easily," Justin says — the family prioritized social space.
The kitchen features quartz countertops and Ikea cabinets, plus a two-burner cooktop, full sink, fridge, outlets for appliances and pantry space for spices. The bathroom includes a composting toilet and one-person shower with a low-flow water fixture, which "aerates droplets like a misty spa — though showers are modest in length to conserve water.
Nova's cozy bedroom is across from the bathroom, complete with storage for clothes and toys. Finally, a king-size bed takes up the rear of the bus, providing ample snoozing space for Justin, Val and River.
Lighting:
LED strips run the length of the bus, cleverly hidden behind blinds and on dimmer switches. Other lighting includes fixtures above the dinette seating and two fixtures from North Charleston's Urban Electric Company —a light in Nova's bedroom and wall pendant in the kitchen.
Storage:
The bus is equipped with a few closets and also has undercarriage storage, carrying Justin's tools, a surfboard, three bikes, two scooters, inflatable standup paddleboard and a folding table and benches.
Rugs:
"Our first rugs were synthetic shaggy rugs that were hard to keep clean, so I decided to order thin-piled Turkish rugs, and they look amazing," Val shares.
Decor:
The couple describes their vibe as "modern and minimalist with mid-century fixtures." The sliding bathroom door is magnetic and covered in chalkboard paint for notes, lists and drawings. Nova enjoys covering the bus windows in artwork with her window crayons, plus making art with vintage magnets and watercolor paints.
"For me, a candle on the countertop and velvet throw pillows are also musts," Val adds.
Learn more about the Smith family's home on their YouTube channel, Mobile Dwellings and follow along their adventures at @gilliganphantom on Instagram.