One Goal at a Time
03 Jan 2017
Achieving your 2017 fitness goals with a little help from the experts
By TERI ERRICO GRIFFIS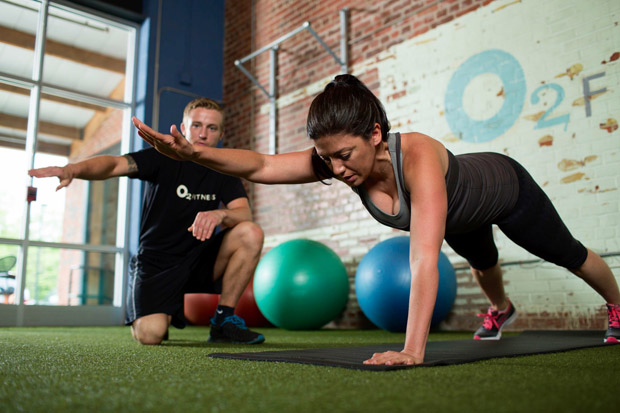 One of the most common New Year's resolutions is to lead a healthier life, that's no surprise. Neither is people breaking that resolution a few weeks in. Whether it's too lofty expectations or falling sick, one little hiccup in your newly ambitious routine often leads to quitting too soon. You can't avoid these obstacles, but O2 Fitness can help you avoid succumbing to them. Let them help you make this year the year you finally reach your fitness goals—and stick to them.
Will Mann, VP of Fitness with O2 Fitness, believes members' success has a lot to do with their supportive trainers and individualized fitness programs. "Everybody sets goals, everybody knows they can do it. The only thing that keeps us from doing it then, is any obstacle that comes up. Whether it's time, scheduling, work, kids, or anything else that can keep you from being successful. What we aim to do is eliminate those obstacles."
To nip those potential excuses in the bud, O2 has 11 locations in Charleston and the option for two memberships: one for just a single express location (a smaller 24-hour facility), or an all-access pass to attend any O2 gym in North and South Carolina. Most choose the latter. Multiple locations means there will always be a gym that is convenient to work or home, or wherever you may be. Additionally, O2's hours are 5:30am-10:30pm at their full-service gyms, with 24-hour facilities for those with unique schedules.
For any other obstacles that could get in your way, O2 has you covered. Do you need child care? Done. They offer that at their full-service gyms. Do you prefer classes or one-on-one training? They have both! O2 offers full group classes, included in your membership, for those who work out better with dancing or body sculpting. There's even a membership offering for Cross-Fit classes. Or you can sign up with a personal trainer.
Where O2 Fitness truly sets itself apart though, says Mann, is creating that feeling from the moment a person walks in that makes them say, 'Now this is the place I can be successful.' "I think where we try to separate ourselves is really to appeal to the everyday person, the people who may look at fitness as a whole as intimidating or hopeless," explains Mann. "We try to offer a lot more guided structure and a community support."
To do this, Mann and his crew consider what it's like for a member or potential member to visit O2. "What's your experience when you walk in the door? Is someone smiling and greeting you by name? Do we know you and know what you like to work out on? Is there somebody who takes a genuine interest in you and you're not just another number coming into the gym?"
From the start, O2 staff works one-on-one with members to find the program that perfectly fits their unique needs, abilities and readiness. "We sit down and learn about you, not just physically, but also behaviorally, mental, what's your history," he explains. "We strive to learn what your obstacles could be, and then develop a plan going forward." For many of those members, it means hiring a personal trainer, but if not, O2 sets up individuals on a plan they can work themselves. Members receive two initial sessions with a trainer, then have 30-day follow-ups to assess their progress and whether their individualized plan is working.
But simply because a member doesn't have a trainer doesn't mean they're on their own! Trainers are accessible all day on the floor if there are any questions on how a machine works, specific exercises, or overall questions about the facility. Having that supportive staff, says Mann, "is probably the number one thing people need as far as being successful."
What Mann loves in return is seeing the results of all his members. "I started as a personal trainer in the industry, and when I had my first client and saw somebody completely transform their life beyond just the physical aspect, there was a no-doubt this was the industry I wanted to be in," he recalls. "We have such a forum and platform to help people out. When we can make that difference in their lives, make that impact, it's so powerful and makes this job so easy."
Setting practical goals is what will be most rewarding to you in 2017 if you're looking to lead a healthier lifestyle. If you haven't worked out in years, don't come out of the gate promising you'll work out 6 days a week, give up all fast food and completely overhaul your lifestyle come January 1. With that mindset, Mann explains, "you'll end up going too fast by jumping the gun. You're not going to get the results, you'll be drained mentally, physically, and end up hurting yourself. So you have to be smart."
The O2 staff performs a readiness test on all potential members to assess the right program and whether you need a more manageable, safer pace—or if they're ready to take it to the next level. "One thing I used to always teach about every January is when you're looking at resolutions, everyone will give you the same recommendations of eat this and do this program. You can find those answers easily. The thing I say that will help people be successful is what I call 'Murphy's Law of New Year's Resolutions': You have to expect things to go wrong," Mann says with a laugh. It's the typical story—your program sounds great, you follow it and see results, then you get sick. You miss a week, try to get back, then you have a huge project due at work that derails you again. "So you get frustrated and your time starts being crunched. You try to make up for lost time, you can't get to the gym, you start to lose your results, and then you just quit." O2 can help you keep that motivation going.
Making a New Year's resolution isn't just about picking the right program from Pinterest or from your co-worker who lost 40+ pounds last year. It's also about proactively preventing and being prepared for any obstacles that can deter you. Whether you lose willpower, there's too many food options, or you simply have a hard time sticking to it, write down anything that can go wrong and then designate a support system. O2 is more than happy to be yours in 2017! o2fitnessclubs.com
One-On-One Fitness
While some love the social atmosphere of a gym, others who are easily distracted or self-conscious, prefer the privacy of a one-on-one workout. For those individuals, Lila Bennett, Owner of Transformation Training in Mt. Pleasant, is their go-to instructor.
Bennett works with all types of clients from older individuals who have experienced injuries or life-changing surgeries, to high school and football athletes, and can tailor a 60-minute work-out for anyone's readiness and needs. And with everything from cardio equipment to weights, Bennett's facility has it all. "I typically do a good warm up and we will do a lot of mobility work before we start. Then we'll get into the workout," she says. "It's just me and one client, so I think a lot of people are attracted to that because nowadays with the gym, especially when you have obstacles, such as you are really overweight and you feel funny walking around a lot of different people." A personal trainer is also beneficial at the start of the new year when gyms are packed!
For those who want to get a jump start on their fitness goals from the comfort of their home, Bennett has a few tips for you:
Pick only one goal. Too many will overwhelm you and lead to defeat. Focusing on one (i.e. drink more water, get more sleep, etc.) will

help make it a lifestyle change, rather than a temporary one.

Feed your body properly. Eat foods in their most whole state and steer clear of inflammatory foods: sugar, soda, fried food or dairy. The right foods improve your energy levels, focus and mood.
Focus on consistency, not the length of your workout. Start with 20 minutes a day for four days a week. If you stay committed for a month, then add more. transformationtrainingfitness.com