Outdoor Oasis
04 Mar 2023
Favorite garden designs by landscape professionals
By Jenny Peterson
Southern gardens have a magical quality—ornamental blooms, flowering trees, fragrant scents and a yard awash in color that can stand up to heat and humidity. In the spring, gardens simply steal the show in what one landscape professional calls, "the symphony of the garden—texture, color, form and fragrance all working in harmony." Below are some favorite garden design projects and tips for what makes for a thoughtful outdoor oasis.
Charlene Moore
Co-owner
Flowertown Garden Center
www.flowertowngardencenterllc.com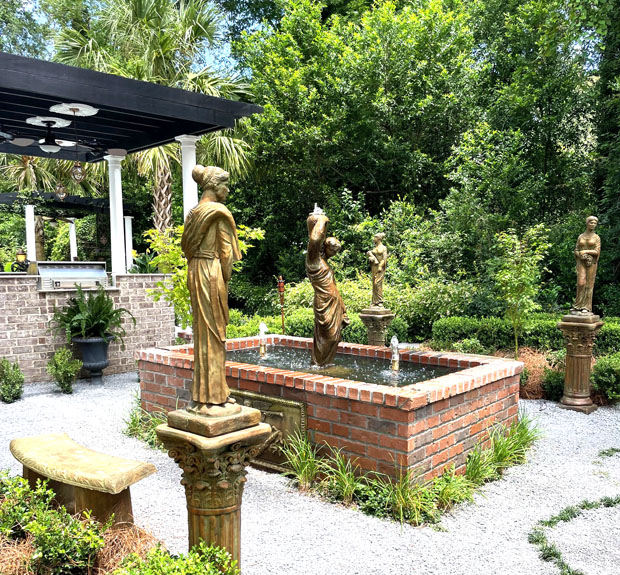 Charlene Moore smiles at the idea that she and the staff at Flowertown Garden Center in Summerville are like "a Pinterest board come to life for DIY gardeners."
"Every day, somebody comes in with a picture of their front yard or their backyard and we help them put together a plan," Moore said.
Moore and her husband, Paul, are avid gardeners and experts in plant care. They are happy to suggest varieties based on someone's growing conditions.
"I want customers to succeed. I want them to feel good about how their yard looks," Moore said. "If you have an idea, we will help it come to fruition."
Flowertown Garden Center sells a wide variety of outdoor and indoor plants, annuals, perennials, shrubs and trees like citrus, elm, Palmetto, magnolia, dogwood and oak. There are 11 themed gift shops on the grounds filled with outdoor garden features.
"We have plants staged throughout the garden and center and we incorporate pottery, fountains and benches. I want people to come in and say, 'Wow. This is what my yard could look like.'"
Two gardens featuring plants exclusively from Flowertown Garden Center include a home in the Walnut Farms subdivision in Summerville and the Moore's own garden at their home in Walterboro, which has served as a picture-perfect backdrop for life's special celebrations.
Sutton house in Summerville
David Sutton is a regular customer at Flowertown Garden Center and he's outfitted his garden with a host of plants and flowers and garden statues exclusively from the store.
The lush green yard has been artfully dotted with pops of color that come from Callistemon Rigidus, or red bottlebrush shrubs, as well as pink trumpet-shaped blooms on the tips of a Japanese cedar tree and classic Southern blooms: azaleas and camellias.
"We absolutely adore David. He comes into the shop on a regular basis and he purchases everything for his yard from us. His pottery, his plant material—everything that goes into his yard comes from us. And his yard is breathtaking," Moore said.
Moore said they've often delivered heavier items to him as a complimentary service.
The Moore's backyard in Walterboro
"We got married this past summer in our backyard—it's that pretty and very serene," said Charlene. "Our backyard is like a paradise. It's all my husband's design and his hard work."
Paul Moore designed the garden around a kidney shaped pool and pool house, with a fountain overlooking the end of the pool with a stone face reminiscent of fountains found in Greece and Europe. There are several sitting areas, including one around an outdoor fireplace and a raised brick fountain surrounded by statues. To achieve a Southern garden feel, the Moores planted many beloved blooms including azalea, camelia and gardenias.
A black and white pergola has been the backdrop for celebrations.
"We just had my daughter's engagement party there; it's a perfect place to have a party," Charlene said.
Linda Greenberg
Owner, Linda Greenberg Landscape & Design
www.lindagreenberglandscapedesigns.com

Linda Greenberg has been a landscape designer since 1996, turning her passion for creating gardens from a hobby into a career. She now designs between 30-50 gardens each year for clients in the Carolinas, splitting her time between Charleston and Charlotte. Her designs will be featured in an upcoming book, Inspired Outdoor Living Spaces, which will be published this summer.
Greenberg offers full-service garden design services from concept to completion. Whether a pied-à-terre courtyard garden or expansive acres, every detail is considered.
"Unique and strategically placed planters, water features and benches are almost like jewelry in a garden," Greenberg said. "I feel the same way about outdoor lighting—the gems of your garden. Outdoor lighting highlights and creates shadows and creates a different ambiance when you go from day to night."
She channels her late mother's love for the landscape when she's outdoors in a garden.
"When I'm out there, I talk to God," Greenberg said. "I can see a project finished almost immediately. It speaks to me…as if I'm a garden whisperer."
Her favorite design projects include an historic downtown Charleston formal and classic courtyard garden with added whimsical touches that pays homage to the street's famed Guinea fowl, an expansive backyard in Johns Island with a putting green, fire pit and several hardscaped spaces and a transformed Lowcountry backyard refresh in the I'On neighborhood in Mt. Pleasant.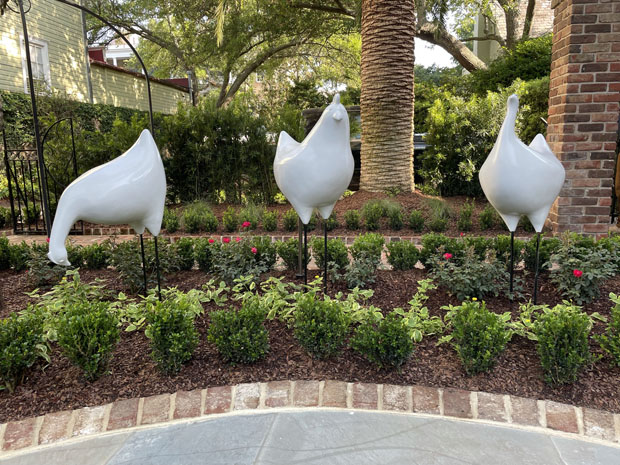 22 Lamboll Street – South of Broad
For the garden design of a classic downtown home South of Broad, Greenberg achieved both a 'wow' factor and unique reflection of the neighborhood: A trio of six-foot-tall white sculptures in the shape of Guinea fowl, a flock of which live immediately next door and regularly take strolls down the street.
"The client had the sculptures by the front door and I said, 'these have got to be in the garden,'" Greenberg recalls.
The 1820s home has beautiful circular iron gate by famed blacksmith Phillip Simmons and passersby can peek inside the courtyard; Greenberg knew the birds would be a whimsical nod amidst the formal parterre gardens that has over 350 boxwoods.
Greenberg was commissioned to design and install the garden for a fundraiser held at the home to benefit the Charleston Symphony. She was tasked with completely overhauling the space, repairing bricks and adding elements like a fountain, in just six weeks.
"It was important to get it where it looked authentic to the period of 1820s," Greenberg said. "It's definitely a Southern garden with the European twist."
Two acres on Johns Island
An expansive two-acre backyard in Johns Island that allows the Johns Island lifestyle to be felt throughout began with designing and building a screened porch that beckons the family to watch television and enjoy the elements of nature. Throughout the space, Greenberg created a number of outdoor seating rooms, including one with an outdoor fireplace and another around a water fountain for moments of play, relaxation and great conversation areas.
This garden also has another unique green—an actual putting green that Greenberg installed for the client's golfing hobby. "He loves golf and he wanted a place to practice chipping and putting," Greenberg said. The multi-generational family now spends more time enjoying their garden spaces than ever before.

I'On neighborhood in Mt. Pleasant
A new trend in landscaping is adding artificial turf for shady or other difficult spaces for grass, and Greenberg employed that method for a backyard garden space at a home in the I'On neighborhood in Mt. Pleasant.
"I'm a nature girl and I love the 'real deal' grass all day long, but in this setting, with two live oaks and lots of Crepe Myrtle trees, it was dark and damp in that space. We lifted the tree canopies to let a little bit more light in for circulation and to accentuate the plant materials. LGLD installed a brick edged bluestone pathway that connects the entire garden. Even in the wintertime, it's beautiful."
To soften the palette, Greenberg added Dwarf Mondo grass for ground cover, boxwoods and ornamental shrubs. Next, she strategically placed two oversized cast stone planters at the entrance for a simple, yet elegant touch. The plants will be changed out seasonally to offer a 'wow' factor to the arrival.
"The oversized planters are phenomenal. I'm 5'6 and they're about as tall as I am," Greenberg said.
The planters were placed next to an existing pergola that was refreshed and painted in the color Charleston Green, which is an almost black, rich shade.