Page's Okra Grill
04 Sep 2021
By Wendy Swat Snyder
Photos by James Stefiuk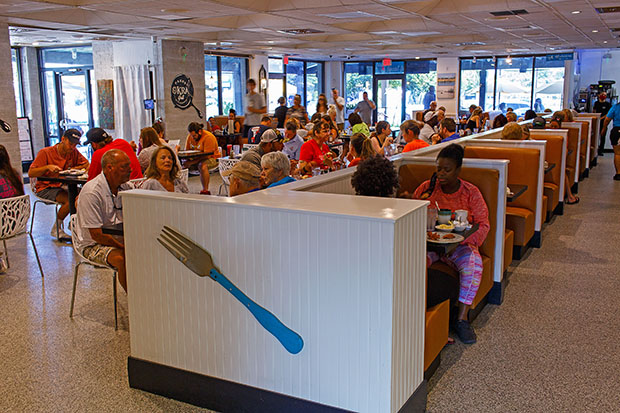 You know you're doing something very right when your cooking catches the eye of a vacationing television producer, and he does more than leave a generous tip.
Fast forward to a film crew converging on Charleston to capture your culinary talents for a national audience on the Food Network.
That's how events unfolded for Ashleigh Page when, in 2004 working at Serena's Kitchen, a casual eatery at Boone Hall Plantation, she cooked up a plate of Southern soul food on camera for Al Roker, the host of Roker on the Road.
The episode prompted Ashleigh's dad to encourage her and the family to set up a restaurant of her own. Siblings Courtney and Chase were enlisted, and Page's Okra Grill was born.
"My father, Tony Page, was general manager of Boone Hall at that time," says Courtney Page, co-owner of Page's Okra Grill with Ashleigh and Chase Page. "Ashleigh had been in food and bev since she was 15, but (Boone Hall) is where she discovered her love for cooking."
Ashleigh and her dad had done their homework, researching the history of Southern cooking and the proof was in the pot.
Page's Okra Grill opened in Mount Pleasant in 2006, its name a nod to the gumbo dish—okra is the Gullah word for gumbo—for which Ashleigh is known. The close-knit Mount Pleasant family—Tony, Courtney, Chase and Ashleigh—worked together as a team to create a neighborhood gathering place where diners could count on a warm welcome, attentive service, and great food at a reasonable price point. It was an instant success.
"We took our cues from dad," says Courtney. "He talked to every person who came in—a real conversation—and it made you feel like you're eating in your own dining room. People—locals and tourists—were coming back for that, and the classic Southern food."
Ashleigh worked her magic in the kitchen seven days a week. Courtney worked the line with Diane Clement, who's been with the restaurant from the beginning and is now head chef at Page's Okra Grill. Chase was charged with the front of house, ensuring that operations were running smoothly. To this day, the Page family ethos inspires the staff.
"Several of our servers have been with us since day one," says Chase. "We encourage them to become part of the family—you feel it when you're in here."
With the ever-increasing popularity of the Page's style of Southern food and hospitality, a new, larger site for the restaurant was identified with plenty of room to grow on Coleman Boulevard.
"To accommodate the customers' numbers, we expanded the patio," explains Courtney. "We extended the roofline so people could wait comfortably to be seated and installed a playground so children could be entertained."
My guest and I arrived for an early dinner and the restaurant was already buzzing—inside and out.
We were greeted by general manager Tammy Hinson, who spoke expertly about the beverage menu and recommended choosing from the "favorites" list. We opted for Page's Famous Bloody Mary, with jalapeno-infused vodka and served with a garnish of bacon and pickled okra. Heat, salty, savory and sour, all in one frosty sip.
Marcie Euland, the front of house and kitchen manager walked us through the menu's specialties with trademark Page's hospitality.
We started with several excellent dishes. The star of the table? Ashleigh's Shrimp & Grits—a signature dish she prepared for a Travel Channel episode. Plump, perfectly cooked shrimp were bathed in a Cajun cream sauce with smoked andouille sausage and a hint of heat. The grits were molded into a moist cake that held its shape thanks to cream and cheddar cheese added to the mix.
The seafood platter was piled high with perfectly fried jumbo shrimp, a pan seared lump and sweet blue crab cake and a crispy fried flounder fillet. The accompanying collards were smoky with a hint of heat, bits of pork and cooked until just tender; it was a great foil to the sweetness of the seafood, which is sourced locally as much as possible.
The new-to-the-menu pan seared scallop dish turned down the summer heat with a cool Thai chile topping. Light and citrusy—it did the job.
The kitchen puts its own spin on seafood mac and cheese, adding to the fluffy, cheesy pasta a Cajun bechamel sauce. Shrimp and crab carried the comforting casserole instead of the ubiquitous lobster.
The Southern fried center cut pork chops are brined for 48 hours and it shows. Cooked perfectly and crispy thanks to a house breading created in conjunction with Columbia-based Adluh Flour Mills, they were flavorful and super tender. Chase says its one of their best-selling non-seafood items.
The grilled mahi fillet sandwich was lightly blackened and finished with an herb garlic butter sauce and served on a toasted potato bun with Cajun remoulade and some of the best seasoned fries I've ever sampled.
Royally "wined and dined," we opted to box and take home a thick slice of airy peanut butter pie—topped with a dollop of cream—another delicious best-seller.
The team says big announcements and more expansion news are on the way as Page's Okra Grill nears its 15th anniversary.
"I feel very blessed and proud," says Ashleigh. "My father would also be so thrilled and proud of the entire family. What the restaurant has done honors our dream of creating something special so many years ago."
Page's Okra Grill
302 Coleman Blvd.
Mt. Pleasant
843-881-3333
www.pagesokragrill.com