Personalized Pharmacy
02 Jul 2023
Tailor-made prescriptions, custom wellness at historic Pitt Street Pharmacy
By Tess Farmer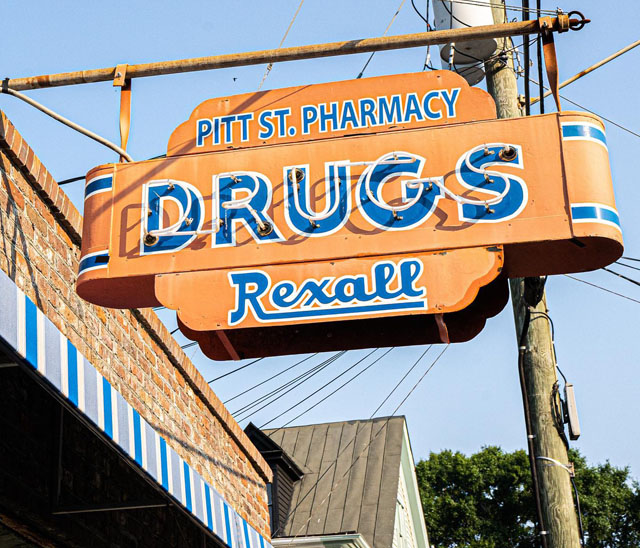 Pitt Street Pharmacy, located in the Old Village neighborhood in Mt. Pleasant, is a local drug store where the personal touch and putting the heart back into medicine is at the forefront of their service.
With a rich history and a strong reputation, Pitt Street Pharmacy has been a trusted source for individuals and families seeking tailored medications and attentive customer service. The pharmacy specializes in compounding, hormone therapy and quality of life solutions specifically created for each person's needs and constitution.
"With over 57 years of combined compounding pharmacy experience, we thrive on working with customers who rely on us for advice and customized care," says owner and pharmacist Brandi Sherbert, who took over as owner after Kim Richardson retired in 2022. Sherbert originally joined Pitt Street as an intern during pharmacy school in 2012.
"We're unlike most pharmacies in the United States," said Sherbert. "We're primarily a compounding pharmacy, which means we make practically every prescription item that we dispense—this is why it is very important to learn about and trust the pharmacy that you choose."
In operation since 1937 and just a couple of doors down from the original store since the 1940s, the soda fountain was added in the 1950s and is still in full operation serving locally-made ice cream for yet another generation of residents and visitors alike. The pharmacy was even featured in the iconic film The Notebook, making it a part of Charleston's cinematic history.
Before the era of mass drug manufacturing, virtually all prescriptions were compounded, specifically for each patient. That's because not all pre-manufactured dosages and forms are ideal as a solution.
"At Pitt Street Pharmacy, our pharmacists have always believed that compounded medications are best when meeting the specific needs of our customers," added Sherbert. "Just like pharmacists of old, our pharmacists specialize in compounding, which allows us to formulate unusual or commercially unavailable prescriptions that your physician, dentist or even your pet's veterinarian may prescribe," she said.
The team of pharmacists have close working relationships with local physicians, functional medicine practitioners, primary care, and women's health physicians working together to develop treatment plans for patients.
Customers may also consult with a pharmacist to order at-home testing kits to measure different biomarkers to ultimately come up with a treatment plan for adrenal fatigue, hormone replacement therapy and other quality of life solutions.
Pharmacists can personalize medicine for a number of important reasons, including dosage forms like transdermal creams and gels; lozenges; oral suspensions and capsules, to adjust fast-acting results, strength of each dose, as well as provide medications without gluten, lactose, dyes or other specific allergies and sensitivities.
"A key area of our focus is supporting the adrenal health of our customers," said Sherbert. "Your adrenals enable your body to deal with stress from every possible source, ranging from injury and disease to work and relationship issues and largely determine the energy of your body's responses to every change in your internal and external environment."

"Unfortunately, many health care practitioners continue to ignore the importance of the adrenal glands and how they affect our health. Our home collection tests can easily and quickly identify adrenal and hormone imbalances and we then work with each customer to develop a plan of support," Sherbert said.
Just like their owners, pets are unique and just like human patients, our pets can benefit from compounded medications, too.
"Services for pets have grown over the years and compounding allows us to make the right medication in the right dosage, flavor and form for your pet... dog, cat, horse, chicken... We've worked with them all!" said Sherbert.
"Our goal at Pitt Street Pharmacy is to be your problem-solving pharmacy," she said. "This way of serving the community has always been so rewarding for me so to have the opportunity to see Pitt Street Pharmacy into a new generation is a great honor."
Sherbert has ensured the historic charm and same dedication to compounding principles has remained front and center.
Pitt Street is the place generations have grown up, memories are made, movies are filmed and locals, tourists and celebrities feel at home. Stop in to be a part of history and learn about a more personalized approach to wellness.

Pitt Street Pharmacy is located at 111 Pitt Street in Mt. Pleasant. It is open from 9 a.m. – 6 p.m. Monday-Saturday. Learn more at 843-884-4051 or www.pittstreetpharmacy.com.