Protecting your Pets
09 Nov 2018
Be it for man's best friend or furry felines, these area experts offer the best care around
BY MEGAN SWANSON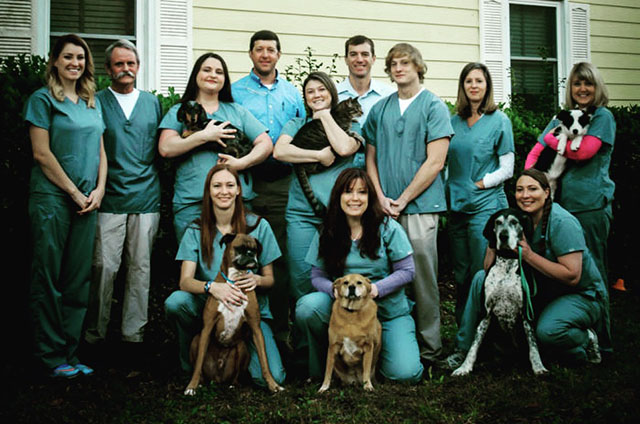 Palmetto Veterinary Hospital
Over thirteen years ago, Dr. Craig Henke started a new chapter as owner of Palmetto Veterinary Hospital. Since then, the small animal veterinary practice has grown tremendously. With two veterinarians and extensive support staff, this office is well equipped to go the distance for your beloved furry friends.
At PVH, the entire staff aims to provide an atmosphere built upon the highest level of skill and compassion, elements vital to veterinary care.
It comes as no surprise this practice is a member of the 12% of practices in the U.S. and Canada accredited by the American Animal Hospital Association. These accreditations do not come easy and guarantee your pet care is beholden to the highest standards in wellness, vaccination care, surgical procedure requirements, sanitation and more.
"Our clients entrust their family members to our care and we work very hard every day to live up to our reputation of skill, honesty, and compassion with which we practice veterinary medicine," said Mimi Huss, the Practice Manager at PVH.
It's in this spirit the entire PVH team combines their own experience as Lowcountry pet owners with a strong dedication to continuing education.
Dr. Henke completed his Doctorate of Veterinary Medicine at Auburn University and made his way to North Carolina to begin practicing. An avid fisherman, his love for the outdoors and coastal lifestyle brought him down to the coast a few years later where he began to grow with the Palmetto team as an associate. South Carolina became home base and he assumed ownership of the practice the following year.
Dr. Henke's particular interest in CO2 laser surgery is reflected in the wide range of state-of-the-art approaches provided at PVH. Both he and Dr. MacKenzie Easom are committed to working through each pet's customized care plans with client education top of mind.

A more recent addition to the PVH team, Dr. Easom adds experience and specialized focus in dentistry, diagnostic imaging, and soft tissue surgery to the practice. She also completed her education at Auburn University, and has found small animal medicine in the Lowcountry to be an ideal place to educate pet owners on the best possible care.
According to Huss, "Our doctors and technicians take the time to explain the treatment plan and options so each client can make the most informed decision possible, whether it is a simple annual visit or complex surgical procedure."
The value of a veterinarian who considers your budget, pet's needs and the lifestyle of both you and your furry friend is paramount. And when any problem or procedure may seem daunting, this team tackles the hard stuff with excellent care, compassion and consideration every step of the way.
2443 Hwy 17 N, Mt. Pleasant
843-881-9915, palmettovet.net
Cats Only Animal Hospital
Of all the animals in the animal kingdom, cats have a curious way of keeping to themselves. But when the going gets tough for these domestic companions, Cats Only Animal Hospital is here to provide specialized care for fretted felines.
Veterinary care oftentimes includes a wide range of species, but this office chose to focus on feline care due to the particular benefit it provides to cats. Since these animals may not be as social, particularly when they are out of their comfort zone, trips to the vet can cause more distress than necessary.
"Offering a cats-only service helps keep the stress down for out-patients and owners. We do not have loud noises and all the different smells that come along with seeing other animals," said Dr. Benjamin Fuller, the owner of Cats Only.
Dr. Fuller made his way into animal care after receiving his Doctorate of Veterinary Medicine from the University of Georgia. In 2011 he found the veterinary environment at Cats Only to be what he was looking for and soon after in 2013 became the new owner of the longstanding practice.
The stress-free office approach is not the only channel Dr. Fuller and the rest of the Cats Only team explored in an effort to create a calm environment for visiting kitties. They offer a wide range of care options in the case your cat is not one to jump quickly into a carrier.
A convenient house call option allows you to receive the best-in-care without further distressing your cat. In addition, if you are able to get your pet into the office, Cats Only has a full-service in-house lab which will turn around your results within a short time frame for sick and injured cats.
Operating as a Certified Cat Friendly Practice by the American Association of Feline Practitioners, the Cats Only team has the unique ability to cater to the particular personalities of our feline friends.
Every offering at Cats Only seems to meet both feline and owner in the middle for their care. Whether it's the house calls, efficient in-house lab, boarding, or even the $1 new client exams for healthy pets, this practice always operates on the goal of a stress-free environment and experience.
Dr. Fuller says it best: "Whatever the challenge—having an anxious cat, administering medications, preventative care, or just cutting your cat's nails—give us a call and let's work together."
1492 B North Hwy 17, Mt. Pleasant
843-212-1275, catvetmtpleasantsc.com
Coastal Carolina Veterinary Specialists
Coastal Carolina Veterinary Specialists is a referral practice which provides surgical, imaging and rehabilitation services. For over 20 years Charleston area family veterinarians and pet owners have referred their special cases to CCVS.
Dr. Robert Pernell decided to focus his efforts on surgery when he was in veterinary school at the University of Florida. He has continued to hone his practice and develop a practice built upon compassionate care and rehabilitation.
"Every day is rewarding in some way. No two days are the same and you never know what may come through the door. Since I enjoy what I do, it's hard to think of it as work," says Dr. Pernell.
CCVS provides the best in care to achieve the optimum results for your cats and dogs. Extensive surgical options are available which combine well with the practice's imaging and canine rehabilitation departments.
In order to maintain their high level of care, Dr. Pernell, along with the rest of the CCVS team, attends regular continuing education conferences and national meetings. The type of services this practice provides take compassion and creativity in both approach and due to the specific care plans they need to create.
Take the canine rehabilitation for example. This team creates personalized rehabilitation programs specific to your pet's needs, whether it is for orthopedic trauma or surgery, to chronic pain or neurologic injuries. The list of possibilities is endless, and it seems so are their abilities to treat and create a rehab plan customized for your furry friend.
"There is no better feeling than having a dog or cat who is suffering, and you are able to take to surgery and repair or treat them so they can return to normal pain-free activity," Dr. Pernell remarked.
Over the years, the team at CCVS observed several pillars of preventative care which would help owners prevent their pet from finding themselves in need of surgery in the first place.
Simple steps will make a huge impact on a pet's health such as insuring it receives its proper vaccinations from the get-go, along with heartworm prevention, and taking care to watch your pet's weight to avoid orthopedic issues.
No matter the issue, if you are facing more extensive care for your pet, the entire team at CCVS is well equipped to handle a wide spectrum of your pet's constitution.
3163 W. Montague Ave., N. Charleston
843-747-1507, ccvsllc.com