Happiness is a Flower
09 Nov 2018
Italian flores inspire the colorful work of Lowcountry artist, Tori Guglielmi
BY LEAH RHYNE
PHOTOS BY KEELY LAUGHLIN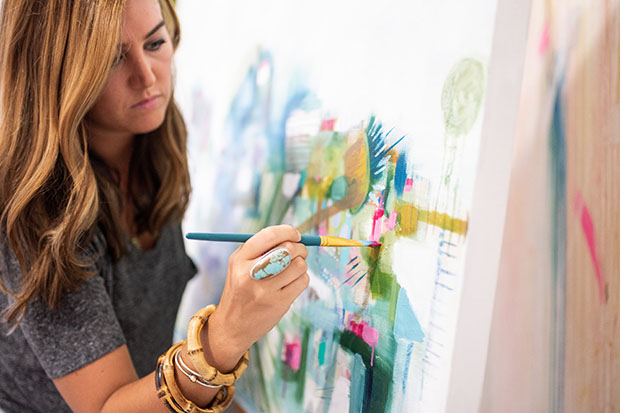 "I'm like someone who designs colorful clothes but wears all black. My art is happy and when I'm painting I'm happy. It's a reflection of that."
So says artist Tori Guglielmi (pronounced Goo-YELL-me), an artist from Philadelphia who has made her home in the Lowcountry for the past decade and is so devoid of artist's ego that she didn't believe me when I called. "Seriously," she said in our first moments on the phone. "Are you sure you're not just a setup by my friends?"
Ego or no (it's a no for sure), Guglielmi's art is exactly what she describes: massive, bright, happy, abstract images of flowers she began painting after a trip to Florence, Italy, several years ago. Her popularity is, therefore, completely understandable, even if her career is, as she describes it, simply a bunch of well-timed accidents. Her passion and generosity are what have carried her through.
Guglielmi's story is similar to that of many artists: She always loved art, knew she had a knack for it, but never thought it would take her anywhere. At her small private high school in Philadelphia, she had to make choices early on. "We had to choose a major focus. I graduated with eighty-nine girls who were motivated and focused. I was inspired by them and their passion for learning," Guglielmi recalls "I stood out in art and was able to succeed, and then I accidentally fell in love with it."
It was a love she tried to ignore, always acknowledging the elephant in the room: There's no money in art, or so the saying goes. In her first year of college in Philly, she strayed from her passion and focused on marketing and business classes. But something was missing. Transferring to the College of Charleston where she could focus on her painting felt better. "The best way I like to describe why I changed my major is: in business you were given a formula; in art you were given a blank canvas and told to create your own formula."
Guglielmi created her own formula from then on. A study abroad program in Italy took her back to her roots—her grandparents are Italian immigrants—and brought her inspiration. She says, "I studied abroad at the Florence University of the Arts. It truly kick-started my passion for art, and put it into overdrive." Surrounded by beauty, she was inspired to find her own subjects, her own style. "After studying abroad, I started painting flowers. Really large flowers," she describes. "The thing I love about a flower is it's something I can put a creative touch on, but it's still recognizable."
In her studio arts classes, she learned the techniques of painting—proper mixing, brush strokes, stretching muslin to make a canvas. All techniques she uses to this day. Then she graduated. "In the worst economic crash in ages I graduated with an art degree," she says with a laugh. There's that elephant in the room again about no money in art, no way to make a career.
When you're a true artist, though, you find a way. "I apply my art into everything I do," Guglielmi says. Her "day job" is in real estate marketing. She manages a brokerage and a real estate team, handling listings and photography for the houses they represent. "I go into a listing as an artist and write the story for each home."
Guglielmi works on her artwork every day, too. The passionate student in her is always studying. Always working. Whether it's scrolling through Pinterest and Instagram to look at artists she admires—from Shephard Fairey to Sally King Benedict—or collaging or sketching, she's always learning. "I've never been the best artist in any room where I've worked," she says, "But I'm the most passionate."
Her passion works. A group show called Fiore (Italian for flower) was a big success, though she's quick to share responsibility. "Fiore was, in many ways, all about collaboration. It was about a group of artists coming together," she says. "A photographer, Nicholas Overstreet, went to Italy and shot Italian landscapes. I'm an Italian artist who paints flowers. We also had a florist with installations all over the exhibit space. It was so, so cool."
"Art has given me a sense of empowerment," she admits more than once throughout our talk. That empowerment has inspired Guglielmi to give back to her community. She works with WE Rise Charleston, an organization committed to connecting with young women to provide support and guidance while they transition into their careers. Advice, conversation, coffee—all things young women need, and all things Guglielmi is thrilled to provide. Giving back is crucial, she says, encouraging all to do their part.
She's inspirational in more ways than one. Through her passion for art, life, and beauty, Guglielmi has carved out a successful career as an artist and found a way to give back to those around her. We should all be so passionate and so generous as Tori Guglielmi.
toriguglielmi.com