Queen of the Grill
07 Sep 2019
Kristen Williams helps clients master outdoor cooking
By Sophia Rodriguez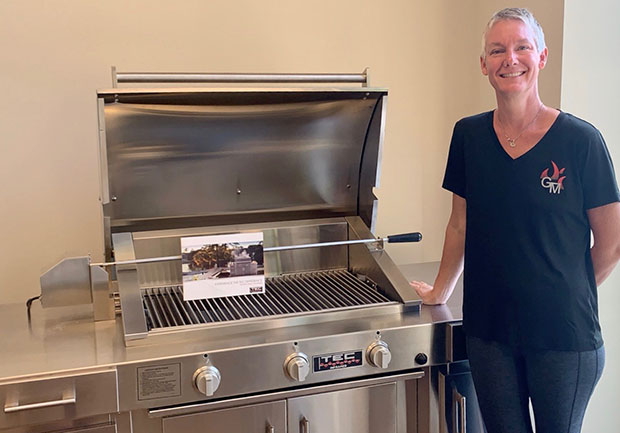 To say Kirsten Williams is a master multi-takers would be an understatement. Her North Charleston home is bustling, juggling kids and fielding work requests for her burgeoning business, Grill Masters of Charleston.
She's coming off another busy season for her company, Grill Masters of Charleston. After all, summer in the Lowcountry is synonymous with backyard barbecues.
"Cooking is a gathering time for families and grilling makes these times better," says Williams.
With the Lowcounty's warm weather that lasts into fall, business doesn't look to be slowing down anytime soon.
Grill Masters is an authorized seller of several different grill manufacturers, including Lynx and TEC infrared grills. But that isn't how the business started. It got started by properly cleaning grills.
Four-and-a-half years ago, Williams' husband was getting upkeep questions from customers he was selling appliances to, particularly about grills. Williams decided to try her hand at cleaning one.
"We kind of went in blind," she said. "I think learning any new thing as a human, there's some fear and anxiety when you're first starting out. We didn't want to mess up someone's expensive equipment." It took her many hours to clean that first grill, and she vowed to find a better way. "Everybody's methods are different, and everybody has a different approach. Ours is that we clean every part by hand."
Williams found that the common practice of pressure washing a grill's insides was ineffective and sometimes even damaged the equipment. Her company doesn't use mass-market cleaning solutions, but instead opts for a restaurant-grade degreasing agent and hand-scrubbing with steel brushes.
"We've finetuned a system, and now it only takes us two to four hours to clean on average," she says. That finetuning has resulted in both an expanding client base as well as number of services performed, including pro-appliance cleaning, repairs, warranty claims, hood cleaning, rust removal, refurbishments and installing outdoor kitchens.
Williams has a short list of tips to maintain the integrity of your grill, including:
Cover the grill to prevent water damage and debris from getting in.

Don't cook on high all the time. It's not good for the grill's igniter, plus it's probably not doing your food any favors, either.

Clean out the drip pan every now and again.
Grill Masters can also give advice on proper ventilation and the best way to keep the hood clean for fire safety.
Williams says one of her main goals is educating customers on how to maintain their equipment and to encourage more people to get into the grilling game — especially women.
"I always hear them say 'That's my husband's thing.' And I say, 'Why?' I would love to see more women get into grilling. Or at least not be afraid of it." She became a self-proclaimed gas grill convert after she met her husband and his gas grill. Now she's in charge of all the grilling in her own home, while he runs the smoker.
By the time next year, Williams hopes to open a showroom either in West Ashley or James Island and make grilling a more enjoyable, accessible activity.
"Every day is different. Every grill is different. Every kitchen is different," she said.