Stacy Pearsall honors our military veterans
By JASON A. ZWIKER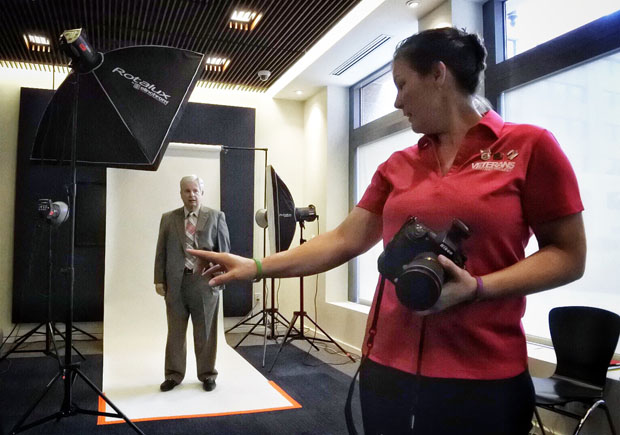 Some of Stacy Pearsall's favorite moments from the Veterans Portrait Project happen behind the scenes, at times when she may or may not even have a camera in her hands. These are the moments when stories are being shared, stories of life in the military and of life before and after that time of service.
Just a few months ago, at harvest time in the farm fields of Luverne on the banks of the Rock River in southwestern Minnesota, she ended a long day of photographing veterans by riding in a combine with U.S. Army veteran Arvin Tilstra near sunset. A lifelong farmer, he left the fields he loved when his country called in 1952, and served as a combat engineer in the Korean War. When his tour of duty was complete, he flew home, said hello to his friends and family, and was back on the tractor by 8 p.m. He's still working the fields today.
In a brief time, Pearsall came to know just a little about his life; about what his home, his work, and his country means to him. For her, that's the real meaning of the Veterans Portrait Project. "Listening is such an important part of this project," she says. "It's more than the technical aspects of creating a portrait. It's about understanding who veterans are."
The idea for the project began to form in Pearsall's mind years ago at the Ralph H. Johnson VA Medical Center in Charleston. A WWII veteran who struck up a conversation with her was surprised to learn that she, too, was a combat veteran. They shared stories about their experiences and, as they did, Pearsall looked around the room and realized that all of the men and women there had a story to tell.
Gifted with eyes that see far more than most, Pearsall documented the intensity of combat assault missions and the strange stillness in which combatants would try to rest and recover afterwards for many years as part of the USAF Combat Camera Squadron. She was twice awarded Military Photographer of the Year by the National Press Photographers Association. She earned the Bronze Star Medal, Air Medal, and Air Force Commendation Medal with Valor and was twice wounded in combat. Because of the severity of the injuries she sustained, she was medically retired from service.
Today, working in conjunction with organizations such as Veterans of Foreign Wars, the American Legion, and the USAA, she continues her service by photographing veterans of all generations, men and women who have served in every conflict since World War II.
All across the country, wherever an event celebrates veterans, there is a good chance that Pearsall may be there adding to the Veterans Portrait Project.
Last year, Teresa Gennarelli, an art teacher at Raritan High School in Hazlet, NJ, contacted Pearsall with an idea. She hoped that Pearsall could speak to her students not only about photography but also about veterans. They made it happen. Inspired by Pearsall, the photography students reached out to veterans in their community, sitting down with them one-on-one, learning their stories. They wrote essays on the lives of the veterans and discussed what they learned in class. Several of the veterans interviewed by the students were photographed and an exhibit of the photography was shown at the school.
It was such a resounding success that Pearsall hopes to work with many more teachers in the future, providing opportunities for students to engage with the veterans of their communities and learn about their lives and experiences.
Her continued dedication to veterans has not gone unnoticed. The White House has recognized Pearsall as a Champion of Change. She's received an honorary doctoral degree from The Citadel, the Margaret Corbin Cochran Award by the Daughters of the American Revolution, and has been named Air Force Veteran of the Year by both PBS and the Air Force Band.
When she's not traveling across the country, Pearsall likes to spend time with her husband, Andy, who is also a professional photographer and veteran. She enjoys the simple moments that connect her to family, friends, her dogs, and her horse.
Along the way, the Veterans Portrait Project continues to grow and expand. She hopes to have a photo book showcasing the project ready in time for a Veterans Day 2016 release. A pilot for a potential miniseries based on the project is also in the works. Each year, she travels to new cities, creating portraits of as many veterans as possible, sitting down with them, opening up, and learning their stories.
It's not always easy. Some of the stories are hard to talk about and hard to listen to: stories of war, of trauma, and of watching close friends die.
"You have to prepared," she says. "You have to be ready when those stories come bleeding out." veteransportraitproject.com