Returning to Their Roots
03 Sep 2022
Moving back from the Midwest, native Charlestonians prioritize entertaining and outdoor living in their Mt. Pleasant home
By Rob Young
Photos by Jim Somerset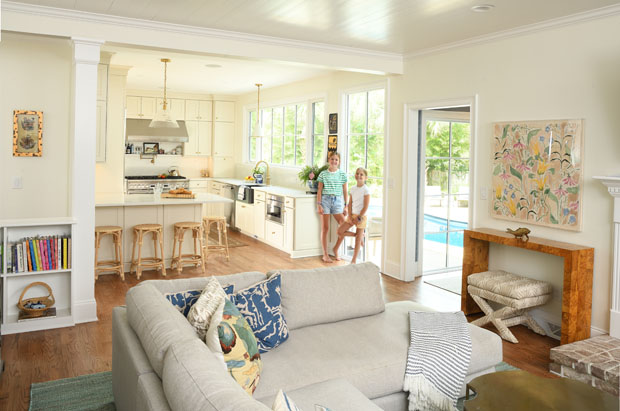 It's hard to find a nonstop flight from Des Moines to Charleston. Downright impossible, really.
Here's what was even harder for Caroline and Jeff Fitzgerald: packing up their children and leaving Iowa—the only home and life their kids had really known.
For another home, of course—Caroline and Jeff's hometown of Charleston.
They decided to trade the bucolic midwestern city for the coastal idylls of the Holy City where they grew up.
"We had great friends there," Caroline says. "But I wanted my children to know Charleston was part of them, not just a place to visit."
Molasses Creek
Now, the Fitzgeralds have a new home situated in the Mount Pleasant subdivision of Molasses Creek, a neighborhood near the Arthur Ravenel Bridge. They prized the home for its location and proximity to their families. Caroline's family lives downtown and Jeff's family is in the Old Village in Mount Pleasant. "I had never been in the neighborhood before, but I love it," Caroline says.
So much, they bought the house unseen, turning to an old family friend—builder and architect Buz Morris—to make their home into a hub.
"It's a nice neighborhood. The house has good bones and flows well. It turned out unbelievable," says Morris, the owner of Morris Construction. "This one I was excited about, not just because they were good friends and great people, but the house turned out great. All the way around, it was really successful."
What began as minor to medium renovation work turned into something much bigger. They had to rework, well, just about everything. "We replaced the windows, did electrical work and plumbing – the fixtures couldn't be used anymore," Caroline says.
Morris has spent much of his career in the Charleston area, renovating historic homes and giving life to newer houses.
"They had originally asked me to help with the kitchen and bathroom and a couple of minor things. I was giving them pointers on who to hire," Morris says. "It turned into the whole house and became a real project. I was glad to do it because we're good friends, and they were extremely easy to work for because of that."
Returning to their roots
Caroline, Jeff and the kids, May, Rose and Tilley, returned to Charleston in June 2021, moving to their home in December the same year. They had spent nearly 10 years in Des Moines.
They had initially moved away from Charleston, a difficult decision, but best for their family. Caroline and Jeff had known each other since they were 15. They both graduated from high school in 1993—Caroline from Ashley Hall and Jeff from Porter Gaud. She went to Clemson and Jeff graduated from Furman. They reconnected when they lived in Charlotte, then moved back to Charleston after getting engaged.
"My husband accepted a job with an insurance company (In Iowa). It was right during the housing recession, and we were trying to figure out careers. It was a great opportunity to take it," Caroline says."
So she, Jeff and their three girls—who were then 6 months old, 2 years old and 6 years old—pulled up roots and moved to Des Moines.
"I didn't know anyone there," Caroline says. "It was great, but it was difficult. I like to describe that time as very raw."
Even her friends in Charleston weren't sure where they were moving.
"There were so many preconceptions," Caroline says. "People confused it for Idaho. We'd get the map out, joking, where is Iowa?"
Still, she says, Des Moines is a spectacular city.
"We really loved it," Caroline recalls. "It reminded you of the way Charleston used to be. It was very reminiscent of Charleston in the '70s, '80s and '90s. The same kids went to the public schools all the way through. People cared about the community and giving back. The kids rode bikes to the convenience stores. Everyone used to know each other here. In Des Moines, everyone still knows each other."
'The Thrill of the Hunt'
Caroline brought a lot of Des Moines with her back to Charleston. A self-described thrifter, Caroline brought most of her mid-century furnishings with her from Des Moines, where she frequented antique shops and estate sales, typically purchasing items for less than $100.
"I like the thrill of the hunt," Caroline says.
So much in fact, she operated an antique booth called The Hunt with her friend Teresa Weidmaier in Iowa.
"We would find vintage brass and other items—just pieces of goodness. You could pick up something for a dollar. I once found a sweetgrass basket selling for $3," Caroline remembers. "We found amazing artwork from Goodwill, and smaller objects all the time."
Beyond the decor, Caroline designed the house to be suited for comfortable, family living with a boho and eclectic feel.
Even though Caroline loves to incorporate a lot of bold colors in her design, she imagined her dream kitchen to look like the perfect winter white outfit with cream color floor to ceiling cabinets, modern stainless-steel appliances, and brass tone lighting from Circa for the final touch. Modern, stainless-steel appliances complete the room.
"(Caroline) has great taste. She's a real Charlestonian," Morris says.
Caroline makes great use of wallpaper throughout the house, including in her girls' rooms, to provide texture. Weidmaier again helped with the design and wallpaper choices
"My friends in Des Moines helped to pick it out. I felt like it was needed. It gave the home a cozy, warm and rich feel. It helped provide the house with my stamp, my personality," she said.
Then, there's the "grandma room," as her kids call it. It's a small study or library, the walls painted a bold shade of greenish blue from floor to ceiling.
"It's where I get away," Caroline says.
Outdoor Living
Overall, the house contains five bedrooms and six full baths, totaling 3,700 square feet.
But much of their time is spent outdoors, taking advantage of the warmer Charleston climate. Morris built a large patio for al fresco dining and relaxing by the pool, enclosed by a privacy wall. A newly constructed firepit perfectly complements the pool.
"We spend a lot of time outside," Caroline says. "We did not appreciate how much time we were going to be outdoors, which lets the kids spend time alone or with friends outside."
Finally, they're home. "We're not going anywhere," Caroline says.
Builder Resources
Morris Construction
www.customhomebuilderscharleston.com
Circa Lighting
www.circalighting.com