The Joy of Crabbing
03 Sep 2022
Casual Crabbing with Tia inspires others on the water
By Holly Fisher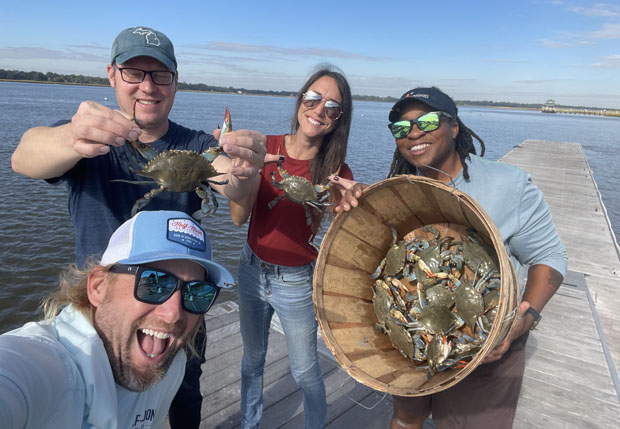 Tia Clark was 37 years old when her cousin invited her to go crabbing for the first time. Standing on the dock at Northbridge Park casting her net into the Ashley River moved Clark to tears.
"It was something I'd never felt before," she recalled. "I'd served drinks in my hometown for 20 years. I thought I knew everything about Charleston."
Something changed in Clark that day on the dock. That simple invitation to go crabbing put her life on an entirely new trajectory.
The Beginning of a Health Journey
Born and raised in downtown Charleston, Clark grew up in a big Gullah Geechee family. Charleston life is all she's ever known. For 20 years, Clark worked in the food and beverage industry. Long hours. Late nights. Years of smoking. By 2017, Clark said her waist was 48 inches. She felt terrible.
For two months, Clark went from doctor to doctor, trying to figure out what was going on with her body. She was suffering from inflammation and covered in hives. Her right hand was swelling. Everyone thought it was some kind of allergic reaction, so doctors sent her to allergists and she took Benadryl to sleep.
A friend recommended she see a holistic practitioner who immediately put Clark on an elimination diet.
"In 36 hours, everything stopped—the hives, the pain, the swelling," Clark said. "I was starting to feel better."
With the diet changes, the pounds dropped. But that was only the beginning.
After that first trip crabbing, Clark came home with crab and shrimp that she cooked for her wife.
"I'd never caught and prepared my own food," she said. "I was cooking food in a way I used to eat with my family. I was giddy and excited. I was happy. It was this out-of-body experience."
Clark called up her mom and demanded to know why she had never taken her crabbing.
"My mom says everybody has their season. She told me, 'Tia, it wasn't your season.'"
Like the turn of a calendar page, Clark's season had arrived.
Crabbing Becomes a Business
She spent her nights bartending and co-managing a bar in Park Circle in North Charleston and her mornings crabbing. All she wanted to do was throw that 7-foot cast net every day. The experience filled Clark with happiness.
She began to post photos on social media, showing what she caught or a beautiful sunrise. A friend took one of her photos and—as a joke—set up a Facebook page called "Casual Crabbing with Tia."
Suddenly she was getting notifications from people who loved her photos and wanted to know if she would take them crabbing. Her response? No way.
Then a close friend in the F&B industry asked Clark to take him and his brothers who were visiting Charleston on a crabbing excursion. She reluctantly agreed.
"I didn't know what I was doing. I went and got a business license and took these guys out," she said.
They had a great time catching crabs. Her friend tagged her in a social media post expressing gratitude for the outing and sharing how they ate the crabs for dinner with their family.
"I didn't think about people having an experience and pouring that into their family back at home around the table," she said.
Another seed in Clark's incredible story had been planted.
The Top Airbnb Experience in the World
Soon, another F&B friend sent her a link about a new concept called Airbnb Experiences— activities and tours hosted by locals that are promoted to out-of-towners who book short-term rentals in the area.
"I showed it to my wife and said, 'No way. I'm not doing that.' My wife starts typing up [the application]. She said, 'We just have to hit submit.' I said, 'Ok, do it. Nobody wants to go crabbing.'"
They laugh about that now.
A week later, Airbnb accepted "Let's Go Crabbing" as one of its Airbnb Experiences. In July 2018, a new business was born. Travelers started booking crabbing tours and leaving 5-star reviews.
A few months later, Clark was on her way to San Francisco to be honored as one of the top four Airbnb experiences in the world.
"I had never stayed in an Airbnb and now I'm standing in the headquarters and I don't even know how it works," she recalled with a laugh.
Her fellow honorees were offering travelers the chance to make pasta in Italy or walk with penguins in South Africa.
"Why do they have me here? I'm just looking around thinking, 'I crab in Charleston. I don't know why I'm here. This is nuts.'"
By the time Clark headed home to Charleston, the word was out: Causal Crabbing with Tia was a hit. She was featured in local media and eventually national publications. More bookings were coming in via Airbnb.
Clark was still working in F&B, but she longed for crabbing every time she walked into the bar. In May 2019, Clark served her last drink. She left F&B behind to pursue her passion.
"I wanted to take a chance on myself," she said. "I'd worked so hard running other people's businesses. What if I took a chance on myself?"
The Joy of Crabbing
Casual Crabbing with Tia is having its busiest season ever. Clark brought on a co-host and has five dock hands. They offer two crabbing sessions a day of up to 12 people each as well as private bookings. Her Airbnb Experience listing has more than 575 five-star reviews.
Just as she was transported by her first crabbing experience, Clark said she loves giving her guests that same feeling. For more than two hours, they leave their phones behind and step out of their comfort zone and away from their everyday stress and worries, crabbing on a dock in Charleston and splitting the catch to take home. Participants meet at a dock on a beautiful river to master the delicate art of throwing a cast net, set bait on a line and pull up traps.
"Within a few hours, those who start off as strangers end up as friends, and I love getting to share my passion with others," she said.
Stewardship and education have become an important part of Clark's work. She enlightens guests with blue crab facts and information. She speaks to students at local schools and summer camps.
Clark has built a relationship with the South Carolina Department of Natural Resources to support its manufactured wire reefs that are placed along the shorelines as a habitat for crabs and fish.
Anyone over the age of 16 who signs up for her crabbing tour has to get a saltwater fishing license, and a portion of those proceeds support the manufactured reef program.
No doubt, Clark's story is incredible—even to her.
"If ten years ago, somebody told me I'd be a recreational and then professional crabber creating a business, I'd have told that person to jump back in their spaceship," she said.
Clark's life is divided into "before crabbing" and "after crabbing." She spent the first 37 years of her life trying to be in control and live comfortably, she said.
Now, her mentality is joy. She's embraced vulnerability and the unknown. The result is a freedom and a happiness Clark had never known.
"I'm so thankful and grateful I get to share my story and that it inspires people," Clark said. "I was a sad story of a bar lady that never smiled. Now, joy pours out of me."
Clark admits she wasn't sure if turning her hobby into a business was the right move. Now, she's certain she's meant to go crabbing with others.
"It never gets old watching somebody catch their first crab," she said.
BIO
Tia Clark
Hometown: Charleston
Family: Tia Clark lives in Hanahan with her wife and two dogs
Hobbies: Crabbing, fishing, talking about crabbing and cooking