Winter recipes for the holiday season
Photos and Recipes by Kaitlin Gooding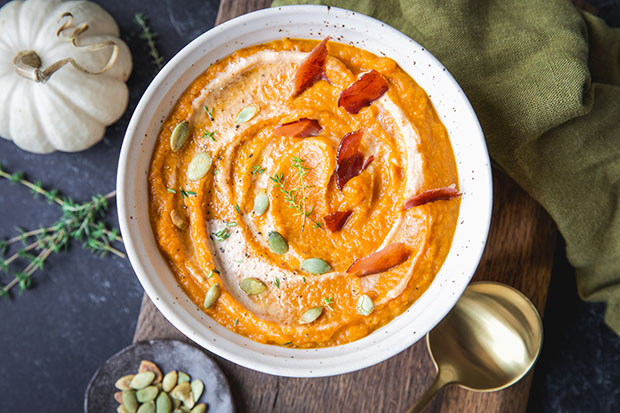 Winter is quietly creeping in with the feasts of the holiday season. The cooler temperatures may have your culinary heart yearning for rich flavors like this creamy pumpkin apple soup. Look no further than this mini peppermint chocolate cake if you need a quick dessert for your dinner party. The butternut squash mix provides a je ne sais quoi that elevates these rillette crostinis to the next level. Have vegetarians joining you? No problem. The butternut squash serves as a standalone dish as well. Greet the early risers on Christmas morning with a cinnamon-cranberry streusel or share a cheers with family when you make this apple bomb cocktail.
CINNAMON CRANBERRY STREUSEL
Ingredients:
2.5 cups flour

1 tbsp baking powder

1 cup of milk

3 eggs

1.5 cups cranberries

1/2 tsp cardamom

1/2 tsp cinnamon

1/8 tsp clove

1 1/4 cup brown sugar

12 tbsp butter

Pinch of salt

1 tsp vanilla extract
Crumble Topping
1 cup all-purpose flour

1/2 cup brown sugar

8 tbsp butter

1 tsp cinnamon
Directions:
Preheat oven to 350 degrees. Line a 9 x 13 baking pan with parchment paper.

Combine the butter, sugar, milk, vanilla, and egg in a large bowl until smooth and creamy.

In a separate bowl, mix the baking powder, flour, spices, and salt together. Combine the wet and dry ingredients until you have a smooth batter.

Pour the mix into the pan and smooth it out evenly. Distribute the cranberries over the top and lightly press them into the batter.

Combine the ingredients for the topping until it begins to crumble, and sprinkle it over top.

Add the pan to the oven and cook for 45-50 minutes.
CHOCOLATE-PEPPERMINT CAKE
Yields: 4
Ingredients:
1/2 cup all-purpose flour

2 eggs

1/2 tsp peppermint extract

1/2 cup sugar

pinch of salt

6 tbsp unsalted butter

6 ounces dark chocolate

(Extra chocolate to melt over top or powdered sugar to sprinkle)
Directions:
Lightly grease four 6 oz ramekins. Preheat the oven to 400.

In a small pot, melt the chocolate, sugar, salt, and butter.

In a separate bowl, beat the eggs. Once the chocolate has slightly cooled, add it to the bowl along with the flour and mix until smooth.

Pour the mix into the ramekins and add to the oven.

Cook for about 10-12 minutes. Allow to cool for five minutes before serving in ramekin and top with powdered sugar or melt leftover chocolate on top.
APPLE BOMB COCKTAIL
Yields: 1 drink
Ingredients:
2 ounces bourbon

6 ounces cider

1/2 ounce lemon juice

1 ounce ginger- honey syrup
Ginger - Honey Syrup
1 cup water

1/3 cup ginger slices (peeled)

1 cup honey

Optional: cinnamon + sugar for rim
Create the ginger- honey syrup by combining water, ginger, and honey in a small pot and bring to a boil. Reduce the heat and let simmer for 10-15 minutes. Remove the pot from the heat and let it cool for 45 minutes before straining the syrup and storing in an air-tight container.

Combine the cider, ginger-honey syrup, bourbon, and lemon juice by shaking it in a cocktail shaker or mason jar. Pour over ice and garnish with apple slices and a cinnamon stick.
PORK RILLETTE CROSTINIS
2 lbs pork shoulder, cut into 1-2 inch pieces
- 1/2 cup vegetable oil
- 1/4 tsp cinnamon
- 1/2 sweet onion, diced
- salt
3 garlic cloves, peeled and smashed

1 Baguette

1 tsp fresh ground pepper

5 thyme sprigs

4 dried bay leaves

Directions:

1. Preheat the oven to 275 degrees Fahrenheit.

2. Season the pork with salt and spread them out on to a large baking dish. Pour the oil over top and add the onions, garlic, thyme, and bay leaves between the pork. Sprinkle with cinnamon and ground pepper.

3. Cover the dish with aluminum foil and add to the oven to cook for three hours.

4. Remove the dish from the oven and remove the pork into a high-powered blender. Slowly begin to break down the meat and drizzle in the oil from the baking dish and salt to taste until creamy, set some oil aside.

5. Pack the meat into a glass jar, top it off with a little oil, close the lid and refrigerate for at least a couple hours.

6. Cut the baguette into 1/2 inch slices, brush with olive oil, and toast in the oven on a baking sheet for 6-9 minutes.

6. Serve pork rillette with crostinis and top off with the butternut squash mix.
BUTTERNUT SQUASH MIX
Yields: 3-4 for a side
Ingredients:
1 butternut squash, peeled & cubed into 1/2" pieces

2 tbsp olive oil

1 tbsp honey

1 1/2 tsp cinnamon

arils from 1 pomegranate

1/2 cup feta cheese

1/2 cup pecans (chopped)
Directions:
Preheat the oven to 350. On a baking sheet lined with parchment paper, toss together butternut squash with 1 tbsp olive oil, honey, cinnamon, and salt. Pop it into the oven and roast them for 25 minutes or until squash is soft.

While the squash is roasting, add pecans and sage to a pan with 1 tbsp olive oil and 1/2 tsp cinnamon. Mix in the pan and cook on low-medium heat for approximately two minutes. Pecans should be a shade darker and sage crips. Be careful not to burn them.

Add the squash to a bowl and mix with pomegranate, feta, and crisp sage. This can be served as a stand-alone dish or top off these rillette crostinis.
PUMPKIN-APPLE SOUP
Yields: 2-3
3/4 can of pumpkin

2 shallots, sliced

2 tbsp olive oil

1.5-2 cups vegetable broth (less broth for thicker soup)

1 gala apple, cut into thin slices

1 garlic clove, minced

Prosciutto

Pumpkin seeds & ground pepper for garnish

2 sprigs of thyme and rosemary
Directions:
Heat the olive oil and sliced shallots in a pot until it begins to simmer and become fragrant. Add the garlic, apple slices, and herbs. Allow spices to become fragrant before adding in vegetable broth.

Simmer for 15 minutes and then remove the herbs and add everything to a high-powered blender to mix until smooth.

Combined canned pumpkin and broth mix back into the pot and cook for another 5 minutes.

In a separate pan, crisp the prosciutto by cooking it for a few minutes on each side until nice and crisp.

Pour the soup into the bowls and top with pumpkin seeds, prosciutto, and ground pepper.