Sottile Stewards
05 Jan 2022
Calling one of Charleston's most historic residences home
By Rob Young
Photos by Jim Somerset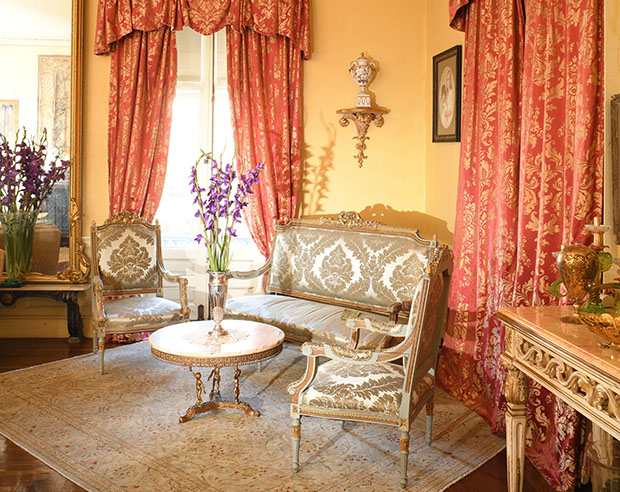 Every day while earning his PhD at medical school in the 1970s, Kelvin Brockbank would board his bicycle – an old beauty he called Gertrude – and cruise down Rutledge Avenue. And every day, he'd spy an impressive and historic four-story mansion and think to himself, it's going to be mine one day.
That one day arrived a couple of decades later, and now Dr. Kelvin Brockbank and his wife Mara own the Giovanni Sottile House in downtown Charleston, an impressive part of Charleston's history and a link to one of the city's most important Italian dignitaries.
Arriving from London
Kelvin and Mara are both from London, meeting at a party in the city. Kelvin is a medical scientist and Mara is a floral expert, formal silver retailer and an amateur painter. They lived in New York when they first moved to the United States, as Kelvin worked at Columbia-Presybertian Hospital, now known as New York-Presybertian Hospital.
They first visited Charleston in 1976, falling in love with the city.
"Charleston was so beautiful. It reminded me of what England was," Mara says. "It just surprised me. I grew up in Kensington, a neighborhood in London, and Charleston was so friendly and cosmopolitan. There was such a sense of community. I remember going to a little antiques shop and buying earrings. I offered to pay a deposit and come back with the rest, and the woman said, 'no, just take them with you and return later.' Everything was so rushed in New York, and it was refreshing here."
The couple eventually moved to Charleston and lived on Montagu Street. Finally, in 1999, Kelvin was able to realize his dream when the Sottile home went for sale. Mara wasn't particularly enthusiastic about the purchase then.
"I was in Atlanta attending a (home) show and received a fax – these thermographic papers were tumbling down in puddles," Mara remembers. "One of the reps picked up a fax, and said, 'Oh, you're husband just bought you a million dollar home.'"
It's grown on her since. "It isn't a typical house," she says. "Even though it's large, it's still very friendly and warm."
Giovanni Sottile's legacy
The early 19th century home consists of four stories set in brick masonry. It was remodeled in the Italianite and Italian Renaissance styles in 1867 and 1905, respectively. It's roughly 9,000 square feet, and the total property is 12,000 square feet.
Sottile—the Italian consular agent to Charleston—lived in the home from 1905 until his death in 1913, according to the National Park Service. Sottile began his career as an accountant in the phosphate mining industry, seeing firsthand the poor treatment of immigrant workers. He and a brother would go on to open a bar and refreshments shop called the Jetty House on Sullivan's Island. He also invested in real estate in properties on Sullivan's Island and Charleston.
But those early experiences in the mining industry compelled him to advocate for Italian immigrants throughout his life, as many began settling in the South. In 1871 in Charleston, Italian families organized a group called St. Joseph's Latin Society, as the city was home to 300 Italians by 1911.
The Consul General in New York appointed Sottile as consul in 1899; his responsibilities were to protect, serve and champion Italian citizens or immigrants. Sottile often used his home to entertain Italian dignitaries and local politicians. He often testified in court to prevent the exploitation of Italian day laborers in North and South Carolina, and he also strived to create jobs for Italian immigrants at his farm in Ladson In 1909, Italy knighted him for his diplomatic services to the country. Sottile is buried at St. Lawrence Cemetery on Huguenin Avenue in Charleston.
Sottile and his wife Carmela had four children all born in Charleston, the last of whom—Carmelina—was born at the house in 1910 and lived there until her death in 1991.
The National Register of Historic Places previously listed the Sottile House, including its late 18th century outbuilding and early 20th century fence, as a contributing property to the Charleston Historic District. It received an individual listing in the National Register on April 30, 2019.
Caring for the home
As the home's caretakers and owners, the Brockbanks feel a deep responsibility to the property. Those early Italianite and Italian Renaissance remodels feature several remarkable features such as parquet and marquetry wood flooring, decorate plaster, trimwork, Italian marble mantelpieces and stairs.
The Brockbanks have sought to maintain its appearance. The rooms are all the same size: 24 feet wide by 24 feet long.
"I like the size of the rooms. One one side of the house we have plumbing and heating and air. On the other side, there's no plumbing. It's extremely solid. I call it the fortress because it's built like European houses. The walls are 2½ feet thick at the base. During earthquakes, it would sway, but not fall because the weight is at the bottom of the house."
Mara enjoys the formality of the house. "We have a veranda. We spend a lot of time in the covered area near the garden, or in the television room or library," she says.
Many of the home furnishings are antiques and heirloom pieces shipped from Europe.
"My father actually bought curtains and drapery from a London silk weaving company dating back to the 1500s that uses archival designs. We would never part with them," she said.
It's also why she can put up with the home's inconveniences. "The kitchen is terribly small and badly designed, but it's also capable," she says. "We fed 54 people at a recent party."
There have only been a few "major" improvements the home that still has a remarkable foundation.
"We enclosed the back staircase to create some space for storage—it's really the only thing we've done," Mara says. "We really haven't changed much of anything, nor do we plan to."