Saving Animals Through Art
07 May 2018
Charleston's Laura Palermo creates art with a purpose, painting to educate the public about wildlife conservation

By LEAH RHYNE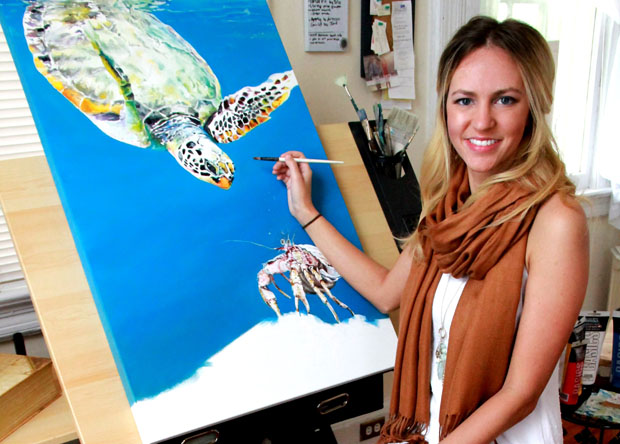 If you get Laura Palermo talking process, she sounds like any other artist. The paints, the canvasses, the different brush strokes. It's more than enough to keep any passionate artist talking for a while, and Palermo is no exception. But when you ask about the subjects of her work, it's clear: Laura Palermo is painting for a purpose, and her sense of mission is strong. She's a wildlife conservation artist, spreading her love of sea turtles and endangered birds, educating the public and raising funds to help save the animals.
Palermo grew up in a small town outside of Pittsburgh, Penn., and spent her childhood immersed in arts and crafts with her mother and grandmother. "We'd sit at the table after dinner," she remembers. "We'd paint ceramics and sew Christmas tree ornaments. It was always something."
The older she grew, the more Palermo fell in love with art. She soaked up high school art electives. Mercyhurst University afforded her the opportunity to travel the world. Florence, Italy was an artist's dream come true. Her path as an artist was very clear. Only one question remained: what should she paint?
Palermo already had a solid process. She paints on canvasses and wooden boards, using a slow but effective system to build up color and texture. "I use a variety of different sized brushes," she says. "That's key to a successful painting, using different brush strokes. Sometimes I'll use a palate knife to add texture and layers."
Considerable work goes into each piece before the first brush stroke. Palermo explains, "I start with a pencil sketch, then do a permanent sketch with a Sharpie." Then comes the "under painting," a thin coat of a single color, before the artist starts painting in earnest. "I add layers upon layers to build up the texture," she says. "You don't really even think about it while you're doing it. I just keep working it until it works."
After college, the beauty of Charleston beckoned, and Palermo answered the call. It was here that, in a stroke of serendipity, three seemingly unrelated events unlocked Palermo's ultimate purpose.
First came a documentary about sea turtles. Endangered by global warming, industrial fishing, and innumerable manmade obstacles, the message was driven home when Palermo visited the South Carolina Aquarium for the first time. The sea turtle exhibits caught her attention. Soon after, Palermo encountered sea turtles in the wild while fishing, and she knew: "I had to paint sea turtles. I had to share their message with the world."
Thus she combined her passions, becoming a full-fledged wildlife conservation artist. The turtles came first. As she began painting them, she knew she had a lot to learn. "Turtles aren't an easy thing to paint with all their different scutes," she says, referencing the patterns on top of their shells. "Learning how they can all be different took some time. Even now, I always use a reference picture," she adds with a laugh.
Palermo's passion for turtles inspired a passion for SCUBA, for research purposes. She then began volunteering at the South Carolina Aquarium, and today does much of her sea turtle research at the Sea Turtle Care Center. She never copies a specific turtle directly, but uses each for inspiration.
From sea turtles, Palermo branched out into learning about endangered avian species. "There are so many different species of birds to work with," she says. "There are only seven different kinds of turtles. The birds have been a huge source of inspiration to me. I learned the main reason for birds to decline is habitat loss, climate change—so many manmade problems. The list is endless."
Today, Palermo combines her passions for painting and wildlife, for a cause. Portions of the proceeds from her painting sales go directly to organizations that help sea turtles and endangered birds: the South Carolina Aquarium, BirdLife International and the National Aviary.
In time, Palermo hopes to extend her studies, painting other animals from around the world. She'll start the way she always does, with research. Her best advice to aspiring conservation artists is to research first. "Magazines like National Geographic are educational and fun to read for all ages," she says. "Plus, go to the library. It's a great source of information. And Netflix has all those educational documentaries."
She pauses. "It just gets to me. Either you have the emotional response to the problems facing these animals, or you don't. I do, so I turn that emotion into my artwork. It drives me. Everyone is passionate about something. My wildlife conservation art combines my two greatest passions."
To support Palermo's efforts, you can visit her website and browse her paintings at paintingsbypalermo.com. She shows locally at Mary Martin Gallery, which she also manages. And please, she'd encourage you: Visit the websites of the organizations she supports. Learn more about the animals. After all, everything she does is all for them.