Shiny Chrome and Gasoline Dreams
24 Sep 2018
A visit to the Euro Auto Festival in Greenville
By Melissa Sprouse Browne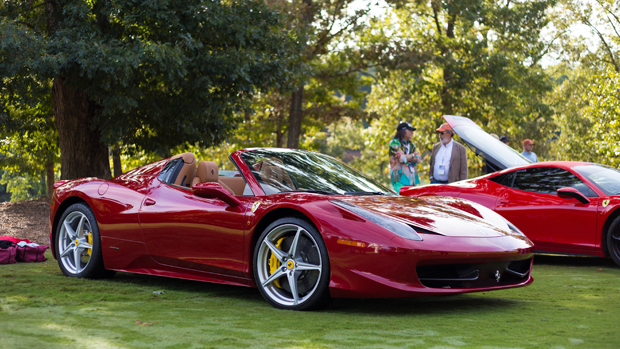 For self-proclaimed car guys (and gals), there's a mecca that appears once a year in the Upstate of South Carolina, drawing those who love all things automotive. The Euro Auto Festival occurs in late October each year and celebrates a different aspect of the European car world with every iteration. This year, it's all about the Italians – Ferrari, Lamborghini, Alfa Romeo, Fiat, Maserati, Lancia and Pagini. Other great makes will be there as well, including Porsche, BMW, Mercedes and more. A De Tomaso Pantera may even make an appearance, alongside other rarities.
Billed as the East Coast's premiere European auto show, Euro Auto Festival is now in its twenty-third year. The show field averages over 325 different automobiles from European manufacturers, with entrants traveling all across the country to participate. "We're drawing from more areas than ever before," said Seth Ebner, Euro Auto Festival Chairman. "We pulled from 17 states and 138 different zip codes for last year's spectators. The reach is getting bigger and bigger every year."
Each year's special feature brings a unique combination of show vehicles. The 2014 show focused on the beauty and heritage of Porsche. Last year, it was all about the Beetle. The honored marque changes from show to show.
Spectators fill the golf course venue, the Preserve at Verdae in Greenville, admiring the range of picture perfect vehicles, garage queens and daily drivers. Some vehicles are so special they only appear at one or two shows each year. Additionally, barbecue pork and chicken, along with various choices of drink will be available throughout the concourse for a fun-filled day of talking cars and enjoying a meal and adult beverages. "We'll have a VIP tent for owners showing their cars with drinks and snacks," Ebner added.
The show began at the BMW Zentrum in Greer and outgrew that location a few years ago. Now staged on a beautifully green, rolling golf course, The Preserve at Verdae is adjacent to Embassy Suites, which serves as the host hotel for this event.
The main event will be held on Saturday, October 20th from 10:00am – 4:00pm, but there are several activities surrounding the show itself. It's easy to make a nice weekend trip by arriving on Thursday evening and taking in all the things to do on Friday and Saturday, followed by a Sunday morning departure. South Carolina's temperate weather in mid-October lends itself to sunny and warm days, perfect for browsing the show and the great shops and restaurants in downtown Greenville.
The event organizers are hosting a Greenville craft beer tour on Friday, as well as technical training sessions and an opening night bash at the Embassy Suites. Saturday brings the show and an evening reception.
For dedicated enthusiasts, tech sessions offered on Friday afternoon give you a chance to participate in small groups on timely topics. Sessions have included presentations from Coco Mats, Michelin, BMW, expert detailers, performance driving and more. Expect four to five unique classes in 2018, taught in classroom space located on the nearby CU-ICAR campus.
"New this year, we're growing our partnership with CU-ICAR, which is really exciting," said Ebner. The Clemson University International Center for Automotive Research began with a vision to become the premiere automotive research and innovation educational program not only in South Carolina, but in the world. CU-ICAR specializes in seven key areas of automotive research, including advance powertrains, electronics, automotive systems integration, vehicle performance, human factors, manufacturing and materials and connectivity/infrastructure. "They're the only engineering school in the United States with a Ph.D. in automotive engineering," he continued.
A project designed to work with students at CU-ICAR and the show entrants at the Euro Auto Festival gives those engineering hopefuls a chance to study all the different entries and determine what each make and model offered that was groundbreaking at the time of its introduction. The students will then select a winner of the most significant advancement from the field of entrants and that award will be presented at the show.
"The students have built a car every year and this year, we'll have a majority of them on display," Ebner said. "The students decide what to build and this time, they're building an off-road vehicle."
Managed by an all-volunteer board of directors, Euro is a true labor of love. Directors include veterans of the automobile industry, auto show founders, motorsports professionals, event experts and a Chief Class Judge for the Pebble Beach Concours d'Elegance.
Car clubs from all over the state and beyond go in groups to Euro, many of whom plan ancillary activities, drives and dinners to go along with the main affair. You can usually count on the Mercedes Benz Club of America to have a crew on site, definitely with a fun dinner planned for one or both nights. The Porsche Club of America participates, often with a follow-up drive to the nearby mountains on Sunday afternoon before returning home. With a focus on Italian cars this year, surely the Ferrari Club of America's South Carolina Chapter will be out in full force as well. "We're working very closely with the North and South Carolina Chapters of the Ferrari Club and already have growing list of registrations," added Ebner.
Fans of Sports Car Market magazine will recognize Keith Martin, founder and publisher. He's the headline speaker for this year and has a pedigree replete with racing, academia, publishing, writing and serving as co-host of "What's My Car Worth?" on the Velocity Channel. Martin was the chairman of the Meguiar's Collector Car Person of the Year Award, serves on the board of trustees of the LeMay Museum (known as America's Car Museum in Tacoma, Washington), and enjoyed a faculty appointment with the Collier Museum symposium on Connoisseurship. Based in Portland, Oregon, he created a new publication two years ago called American Car Collector, one of the fastest growing collector hobby publications in the country.
He'll be involved as an emcee and wandering celebrity, so here's your chance to have a personal encounter and grab an autograph.
Euro Auto Festival
www.euroautofestival.com
October 19 – 20, 2018
Registration to show a vehicle closes October 1st. Advance spectator tickets are $10; $15 on show day.