Pamper your Palate
09 Nov 2018
The Holy City is a hub for feasting on fresh, soulful fare. Whether it's seafood, barbecue, burgers, sweet treats or bar drinks you're in search of, no dining spot or menu item lacks a touch of Southern comfort, reminding you of their coastal setting, hospitable nature and historic roots. You can be sure each feast outside of your own kitchen will be a memorable experience worthy of raving about and reminiscent of home.
By JENNA-LEY HARRISON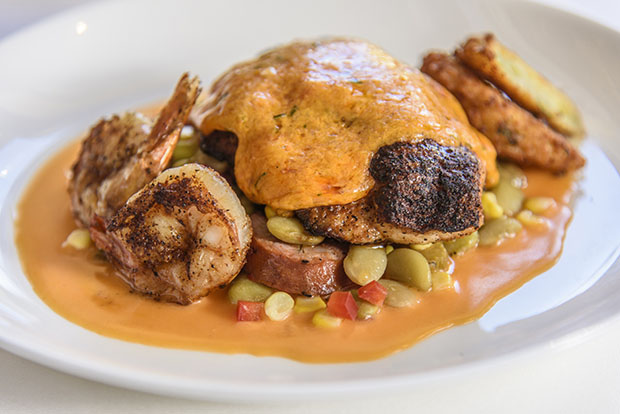 5Church
Relish in the holy vibes and be sure to say grace before digging into your dish while dining inside this North Market Street restaurant renovated from an historical Charleston church. The lighting and décor create an inviting but upscale atmosphere with Gothic-style windows, a cathedral ceiling, full-service bar and a giant $5 bill on a back wall. The franchise first opened a location in Charlotte and has since started similar church-turned-eateries in other Southern cities. The menu offers burgers, steak, seafood, specialty cocktails and a rotating array of beers on tap. 843-937-8666, 5churchcharleston.com
Blossom
Locally-sourced ingredients, clean dishes, fresh seafood, oyster bar, wine, brunch options and patio dining—what else do you need to make a dining experience more desirable? Come on down to historic East Bay Street and try some scrumptious fare like the buttermilk-fried artichoke hearts to start, followed by an entrée of pan-roasted Mahi Mahi with butter poached shrimp or oak-roasted salmon with field peas, among other Blossom "favorites." Perhaps finish the evening with a banana pudding tart or chocolate funfetti cake. 843-722-9200, blossomcharleston.com
Blu
Take a trip to Folly Beach just to check out why this beachfront bar and grill, located inside the Tides Hotel near the beach pier, is popular among locals and tourists alike. Munch and chat with friends in the formal eating area, or unwind while plopped against a cozy couch or lounge chair cushion near the bar, sipping on a favorite drink during weekday happy hour. As for Blu fare, how does Southern comfort eats like roasted mustard cauliflower, Geechie boy grits, and braised collard greens sound? 843-588-6658, blufollybeach.com
Carmella's
This popular Charleston dessert and wine bar has no shortage of sugar and chocolate to ignite your senses, satisfy your sweet tooth and quite possibly send you home with your taste buds seizing. From handmade, gourmet pastries like tiramisu cake, custard cups and cannoli, to Italian gelato, this sweet shop is ready to meet your guilty food pleasures. Don't forget to pair your favorite treat with a glass of red wine—300 wine labels available—or fancy dessert cocktail. Also available are pizzas and paninis—made from family recipes—for those wanting to fill up on a meal first. 843-722-5893, carmellasdessertbar.com
Charleston Crab House
Find all things "crab-a-licious" at one of the Charleston area's chief respites for feasting on authentic seafood fare featuring the favorite crustacean. With a location near the beach on James Island and another spot within walking distance of your favorite downtown Charleston shops, take time to unwind for lunch or dinner with chilled blue crab dip or staple Lowcountry crab cakes. Also fill up on raw bar delicacies and an array of steamed dishes with freshness that'll remind you that nothing beats dining near the coast. 843-853-2900, charlestoncrabhouse.com
Charleston Harbor Fish House
What could be more refreshing than gazing at the iconic Ravenel Bridge and waterway activity below as you feast on fresh, local seafood and sip a margarita from a restaurant rooftop? The elevated "Bridge Bar" is an iconic part of the eatery and where you can find an array of alcoholic drinks. Does the thought of lobster, peel 'n eat shrimp, crab, mussels, grouper and other coastal cuisine get your mouth watering? How about Creole shrimp and grits, cedar plank salmon, filet mignon or classic fried chicken? There's no shortage of menu options here. 843-284-7070, charlestonharborfishhouse.com
Circa 1886
Step inside this sophisticated carriage house and find yourself surrounded by decorative remnants of the 19th century. That's because one of Charleston's most elegant places to feast is located inside the historic Wentworth mansion, where the kitchen includes a wood-burning fireplace, the floors are made of original hardwood, and the booths are shaped like carriages to enhance romance. If the setting doesn't impress you, maybe the lengthy list of wine labels and specialty cocktails—one made with pumpkin puree—will lure you to the front door. 843-853-7828, circa1886.com
Coast Bar & Grill
This seafood hub sits nestled among fellow downtown Charleston eateries and boasts a menu filled with all your favorite coastal eats: steamed mussels, flounder, calamari, tuna ceviche and oysters, to name a few. The shellfish and raw bar is just icing on the cake! Plan a celebratory feast, your next family dinner outing or reserved private event here, dining inside surrounded by the relaxed vibes emitted by the exposed brick walls or on the patio with celestial-looking stringed lights. 843-722-8838, holycityhospitality.com
Crave Kitchen & Cocktails
Plan your next date night outing at this upscale but unpretentious Mt. Pleasant hangout and rekindle the flame over a fine dining experience that necessitates sampling a handcrafted cocktail—all blended with fresh fruit, herbs and house-infused liquor—and an order of mac 'n cheese! The award-winning recipe, raved about in Esquire Magazine, includes a whole lot of cheese and a "chef's secret ingredient." Also choose to cover it with pulled pork, scallops and numerous other toppings. Other yummy entrees include the chicken Marsala and short-ribbed gnocchi. Pop in for lunch and try the signatures tacos, wraps or a salad. The wine list is also impressive. 843-884-1177, cravekitchenandcocktails.com
Fat Hen
The menu options are endless at this Johns Island café with French-inspired cuisine and a cozy setting that feels like you walked next door to a neighbor's house to chat and dine. Find food options for the kids, local and national wine and beer labels from the bar, handcrafted cocktails and decadent desserts—key lime and pluff mud pies, to name a few. Also beloved is the kitchen's Southern-style Sunday brunch—crème brulee French toast, eggs benedict and country-fried steak. 843-559-9090, thefathen.com
Five Loaves
Whether its soup, salad or a sandwich you've got your health-conscious heart set on for lunch or dinner, the cuisine here keeps calories in check and is never boring—how about a salad topped with eggplant fritters or chilled smoked salmon? And if you can't decide on one type dish, pair your favorite two. The Five Loaves philosophy is all about local ingredients, fresh veggies and Carolina-raised meats that are both free of hormones and antibiotics. Find multiple locations across the Lowcountry. 843-937-4303, fiveloavescafe.com
Fleet Landing
Once an historic naval building, this seafood eatery has been a hotspot for Lowcountry natives and tourists alike looking for a perfect locale that's both family friendly—blue plate specials for the grandparents and affordable eats for the kids—and perfectly positioned to give customers a memorable mealtime view. Whether it's fried finger food or a top-notch seafood plate you desire, you'll no doubt find what you crave here and leave with a waterfront dining experience sure to tempt you to return. 843-722-8100, fleetlanding.net
Grace & Grit
Get hooked on this welcoming locale where seafood packs a punch and has received praise from the state's Sustainable Seafood Initiative—and cuisine is Southern all the way. How about grits, cornbread and fried chicken to fill your belly? Dine in style with décor blending classy and rustic, and settle into a cozy booth or with a large party at a long, wooden table. Wooden beams also compose the unique high ceiling. The eatery is additionally celebrated for its bar drinks, seasonal produce, house-cooked bacon and weekend brunch. 843-698-4748, gracegrit.com
Hall's Chophouse
Slide on that little black dress and request he wear a matching bowtie so you two can crank up the heat on date night with a fancy downtown escape to a place where all your wildest steak fantasies will come true. Order a succulent, aged steak, choosing from among the New York strip, ribeye, prime rib, filet mignon and porterhouse. Each cut is hand-rubbed and seasoned to perfection. Or if seafood is your preference, opt for the Maine lobster, prime rib, or duck. The menu also offers pasta, chicken, veal and other options—not to mention an array of sides and wine labels to make your Hall's experience even more epic. 843-727-0090, hallschophouse.com
Hanks
For at least a decade Hank's Seafood, a saloon-style restaurant in Charleston's Historic District, has been highly-esteemed as the area's top seafood operation, offering white-linen table cloths and servers dressed to the hilt and ready to make your dining experience unforgettable—also created by menu eats like Charleston oyster stew and pan-fried crab cakes and bar favorites like imported premium whiskeys. But the building wasn't always an eatery; it operated as a disco club during the '70s. 843-723-3474, hanksseafoodrestaurant.com
Hyman's Seafood
It's all in the family here at Hyman's, located next door to Aaron's Deli and downtown's Charleston Place Hotel, where over the years Hollywood legends have partied and lodged. Since the late 1800s, five generations of local businessmen have operated one of the Lowcountry's staple spots for fresh seafood—evidenced by the long line of patrons who are frequently seen waiting near the Meeting Street entrance. Find classic eats like fried-green tomatoes and lump crab cake as well as more unique bites like gator sausage. 843-723-6000, hymanseafood.com
Locals
Find a fun menu mashup of classic pub food, tacos, sushi and hibachi bowls inside this unique sports bar—open late—where you can watch your favorite sports team as you stuff your mouth with everything from wings and a quesadilla to a wedge salad, brisket mac 'n cheese and a spicy salmon or California roll. With locations currently in Mt. Pleasant and North Charleston's Park Circle food mecca, a third operation is planned for Daniel Island. 843-388-5114, localssushi.com
Magnolias
This historic downtown retreat on East Bay Street is the perfect place to show off that little black dress and entertain amorous vibes with your romantic partner. Share a glass of champagne or hot blue crab bisque to start the upscale date night. Or maybe you'd rather try the Sunday brunch menu's spicy shrimp and sausage, salmon frittata and Lowcountry benedict with a Charleston crab cake. But there's no judgment here if you choose instead to dive straight into a sugary treat—apple pear fritters, served with cinnamon cream cheese mousse, or banana pudding French toast. 843-577-7771, magnoliascharleston.com
Morgan Creek Grill
Are you craving tropical dining from kitchens managed by top chefs in the field? Pop over to this Isle of Palms destination to marvel at the sun's setting colors behind your cilantro-crusted tuna or potato-crusted flounder plate. Or watch bright rays dance across the water during a special Sunday brunch featuring the smoked salmon and caper omelet and decadent crème brulee French toast. But don't worry—the menu also caters to dietary needs, offering gluten-free and low-cal options. 843-886-8980, morgancreekgrill.com
Muse
If you're in the mood for authentic Mediterranean fare, a colorful setting and endless wine options, look no further than this Charleston eatery, where private dining for a romantic date is an option. You will surely dine in style with fresh, funky décor and lighting that provides an upbeat vibe for whichever internationally-inspired dish you choose. Does the sound of fettuccine carbonara, veal scaloppini, lobster risotto or crispy sea bass get you salivating? Save room for strawberry rhubarb or apple tart for dessert. 843-577-1102, charlestonmuse.com
Oak Steakhouse
Take a trip to the city's historic side and see why everyone's raving about 200-plus wine labels, wet and dry-aged steak cuts and fresh fish selections that stem from this Broad Street kitchen—but originally sourced from local sustainable farmers and fishermen. Find a seat in one of five dining areas throughout the three-story building, operating out of a late 19th century-era bank. With high ceilings, fireplaces and more than century-old wood floors, the décor is a testament to the structure's rich history. 843-722-4220, oaksteakhousecharleston.com
Old Village Post House Inn
What could be cozier than dining alone or with loved ones inside a small, white inn, where the atmosphere is friendly and quaint whether you're snacking on cornbread in a patio seat, sipping a Bloody Mary in the main tavern room or forking up strawberry shortcake for an after-dinner delight in a private room? Find this eatery tucked away in Mt. Pleasant's historic Old Village, where time seems to stand still and neighborly encounters are common. The menu is littered with an array of eats, from a classic cheeseburger and onion soup to the rack of lamb and halibut entrees. 843-388-8935, oldvillageposthouseinn.com
Poogan's Porch
You'll feel right at home laughing and feasting with friends both inside or on the patio of this bright, yellow Victorian-era townhome that prides itself as the shining hub of one of the Charleston area's oldest independent restaurants. Here, kitchen staff prepare the very best in traditional Southern cooking for lunch, dinner and brunch. So dig into the popular pimento cheese fritters or a Sunday comfort meal of classic biscuits and gravy. Or enjoy tasting wine on a date night—the cellar is stocked with 1,500 different labels. 843-577-2337, poogansporch.com
Refuge
Find refuge at this island hotspot where kitchen hands and servers seek to squelch stress and soothe your appetite by offering a plethora of cocktails and coffee drinks, in addition to tantalizing brunch, lunch and dinner delights. The beach-themed menu will transport your senses to a coastal mindset—after all you're on the Isle of Palms. Dig into a "kitesurfer" croissant loaded with chicken salad, or overwhelm your taste buds with a black bean and mango salsa wrap dubbed the "volleyball spike." If it's seafood you desire, order up the Maryland-style crab, or fresh catch of the day. 843-242-8934, therefugeiop.com
Revival
Described as a "modern Southern" food spot—also offering complimentary valet parking—Revival is situated along downtown Charleston's East Bay Street and boasts head chef Forrest Parker, who has quite the impressive résumé that includes culinary leadership in other local prestigious eateries. And staff here makes it a top goal to provide customers more than food and beverage—they seek to offer a memorable experience, create a "sense of place" that will inspire future visits. Menu items include the "forbidden shrimp 'n grits," made with fresh catches from Shem Creek, peach-barbecued quail, duck breast and oysters Rockefeller. 843-414-2335, revivalcharleston.com
Rutledge Cab Co.
Talk about dining in style? Step into this cab-inspired hangout and transport yourself back a half century. That's because in the 1950s this swanky dive operated as a popular gas station and food stop inside the Charleston's Wagener Terrace neighborhood. The décor keeps the facility's past alive and while fuel for the car is no longer an option, you and the family can now fill up on finger foods like the Reuben and fish tacos. Don't forget to sip a handspun milkshake double chocolate or orange creamsicle for dessert! 843-720-1440, rutledgecabco.com
Sesame Burgers & Beer
At this eatery the customer is in charge and can be sure to find the perfect burger for each unique diet and craving. Vegan or Vegetarian? There's a burger for you! Straight up meat-lover? There's a burger for you! From a classic beef to patties comprised of elk, chicken, turkey and even black beans, the menu doesn't discriminate. There's even a burger topped with peanut butter and banana! Be sure to wash your meal choice down with one of at least a handful of different local and indie brews on tap. Stop by one of three area locations—Mt. Pleasant, West Ashley and North Charleston. 843-884-5553, sesameburgersandbeer.com
Sol Southwest Kitchen & Tequila Bar
Whether hanging out in downtown Charleston, Mt. Pleasant or Summerville, you can find a nearby Sol with all the authentic Southwest cuisine you've been hankering for. There's nothing quite like the bold and wood-fired grill tastes stemming from this kitchen—no matter if you order a basic chips and salsa combo as a feel-good appetizer or the mahi mahi dish with pineapple salsa for dinner. Freshness is key to the menu—including made to order guacamole and fresh fruit juice for your tequila drink. Did we mention the bar is stocked with 70 premium tequila selections? 843-203-4424, solsouthwestkitchen.com
Tattooed Moose
Take a load off your feet at this "funky"-dubbed tavern, sure to meet your hunger and craft beer needs—even if it's late. Featured on Food Network's hit show Diners, Drive-Ins and Dives, this relaxing hangout has street cred. And one bite into a "super melty grilled cheese," Moroccan gyro or triple-layer sandwich stuffed with duck confit and Applewood-smoked bacon will convince you of that simple truth. Don't forget to snag an order of the kitchen's famous duck fat fries, served with homemade garlic aioli—and gravy for dunking, if you choose! 843-277-2990, tattooedmoose.com
Tavern & Table
Since December 2014, this rustic-inspired hangout has been drawing in customers looking to eat and relax near Mt. Pleasant's Shem Creek. The kitchen even boasts a seasoned chef celebrated for championing over Food Network star Bobby Flay in a televised competition. Whether you're searching for mouth-watering scallops and duck breast or tacos and a cocktail on a Tuesday, park your body on a couch or chaise lounge chair or beside the waterfront bar and take a load off your feet. 843-352-9510, tavernandtable.com
Toast
Round up the ladies for an epic brunch with bottomless mimosas and fruit-stuffed French toast that's received rave reviews from New York Times. Or try out one of three different Toast locations in the tri-county—Charleston, Summerville, West Ashley—for the eatery's staple shrimp and grits, crab cakes, buttermilk biscuits, Bloody Mary creations and unique fried chicken dish—unlike any other in the Lowcountry with its sweet tea glaze! Two things are for sure: all menu items have Southern soul, and you won't leave hungry. 843-534-0043, toastofcharleston.com
Vickery's Bar & Grill
With roots in Atlanta, this laidback eatery, featuring a full bar, spread to the Holy City during the '90s and opened Vickery's on Shrimp Boat Lane in Mt. Pleasant's Shem Creek food metropolis. Whether you pull up in a car or a boat, slide into an indoor dining area or patio seat and grab a beer to wash down a burger, fried oysters or award-winning oyster bisque. And remind yourself to relish in the sights and sounds of the coastal life surrounding you. 843-884-4440
Wild Olive
Feast like you're in Italy while dining at this Johns Island eatery, beloved for handmade pasta and house-cured salumi. But most notable to the operation's name is its environmentally-friendly ways—committed to weekly recycling and composting—making it the first green restaurant in the Palmetto State when it opened its doors in 2013. Local ingredients, including Mepkin Abbey mushrooms and fresh coastal catches, are used to create each dish. There's also a perfect wine to pair with it. 843-737-4177, wildoliverestaurant.com