Show Your Heart Some Love
04 Jan 2018
This Valentine's Day and throughout 2018, give yourself and your sweetheart the gift of heart-healthy food choices
By EDNA COX RICE, RDN, CSC, LDN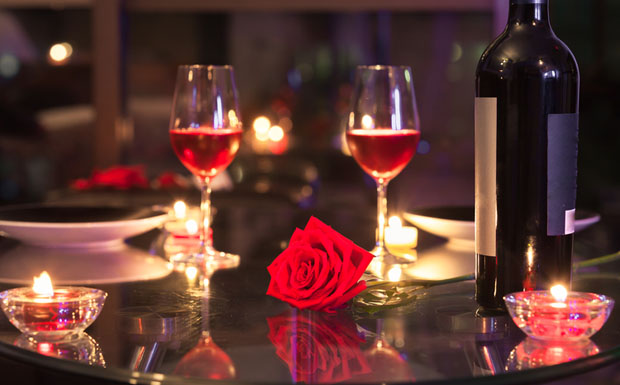 You made it through the holidays. You're motivated and energized to start that new exercise program and you're making strides in healthier eating. But now you're facing another food lovers holiday. Valentine's Day brings with it not only feelings of love and joy, but also chocolate, candy, steak dinner and cocktails.
February is American Heart Month, where we center on cardiovascular health. The focus is on adopting healthy lifestyle changes to keep your heart healthy. We encourage you try to celebrate this heartfelt holiday in a heart-healthy way. Show your loved ones you take health to heart.
Foods That Say Love
Start your honey's day with a bowl of heart-healthy oatmeal. Whole grain steel-cut oats are a good source of complex carbohydrates and fiber, and they contain more protein, fat, and omega-3s than most grains. Oats contain large amounts of soluble fiber, which reduces cholesterol levels, blood sugar and insulin response, and increase feeling of fullness and the growth of good bacteria in the digestive tract.
On Valentine's Day, Think Red! Add an extra boost to oatmeal's heart benefits by topping a bowl with strawberries, raspberries, or dried cherries and cranberries. Each of these flavorful fruits is an excellent source of fiber with cholesterol-lowering effects. All are rich sources of folate, Vitamin C and Vitamin K, which boost the immune system and reduce blood pressure levels. Fruit with breakfast, as a snack or as a sweet treat after a meal is always a good heart-smart choice.
Rather than indulging in a decadent dinner, consider a healthy, lighter meal full of vegetables. Veggies show their heart love with their many nutrients and fiber that protect your heart and lower blood pressure. Incorporate more brightly-colored veggies into each meal – try adding red, yellow and green peppers to an omelet or quiche. Prepare sides of grilled vegetables or salads. Top off a sandwich with a heap of veggies. Keep in mind that The American Heart Association recommends three to five servings of vegetables daily.
Nuts are a quick, heart-smart snack. Five or more servings of nuts per week correlates to a 14 percent decrease in cardiovascular risk and a 20 percent lower risk of coronary heart disease. Almonds, walnuts, pistachios, and pecans are brimming with heart protection from fiber, protein, Vitamin E and omega-3s. Just remember that a little goes a long way - their calories can add up quickly. If you can't stop with just a handful of nuts, buy the pre-portioned 100-calorie snack packs.
Whether dining out or dining in, skip the steak and instead go fish. Salmon is packed with plenty of the essential omega -3 fatty acids that reduce blood pressure and promote cardiovascular health. This fatty fish is an easy-to-cook, versatile dinner entrée. Cold water fish like salmon, tuna and sardines are the best sources of omega-3s. Recommendations from The American Heart Association are to eat fish two to three times weekly.
Lose the potato, love the legumes. Lentils, black beans, chickpeas, lima beans, and all their cousins contain carbohydrates that digest slowly. This helps improve cholesterol, blood pressure and blood sugar levels. Have a mixed bean salad or a side of lentils with your Valentines' dinner. Add legumes to soup to show your heart love.
Broccoli, spinach and kale are green veggies with super power. They offer an extra boost of heart protection by providing antioxidants – Vitamins A, C, K and folate. These all help to control blood pressure and cholesterol levels and protect against cardiovascular disease.
Red wine may be a perfect complement to Valentine's dinner. A glass or two can offer heart-protecting benefits of the antioxidant resveratrol. However, more than two glasses of wine or any alcoholic beverage on a daily basis can increase the risk of heart disease.
Sweet Endings
No Valentine's Day is complete without a little chocolate. Dark chocolate is loaded with more antioxidants and polyphenols than red wine. Say "Yes!" to this decadent food. Look for high-quality dark chocolate with at least 70 percent cocoa solids, but keep portions small. One ounce of dark chocolate has 150 calories and 9 grams of fat, so reap the benefits without going overboard. Limit yourself to a one-ounce serving per day. Milk chocolate and candy bars don't offer the same quality or health benefits. Try drizzling dark chocolate over fresh strawberries and raspberries for a Valentine's Day dessert.
In the 1800s, doctors recommended that the broken hearted soothe themselves by eating chocolate. So, even if Valentine's Day is a bust, you can mend your heart with a bite of dark comfort.
Valentine's Day by the Numbers
$448 million is spent on candy the week before February 14.

58 million pounds of chocolate candy are bought during Valentine's Day week.

$8.6 million is spent on sparkling wine.

Valentine's Day is the busiest day for restaurants, second only to Mother's Day.