Stunning Kitchen Transformations
02 Jan 2019
Whether it's upgrading the heart of your home with the all-white trend or adding precisely-placed backsplashes by hand, our experts have transformed these kitchens into lifestyle-inspired dream rooms.
BY AMANDA OLIVER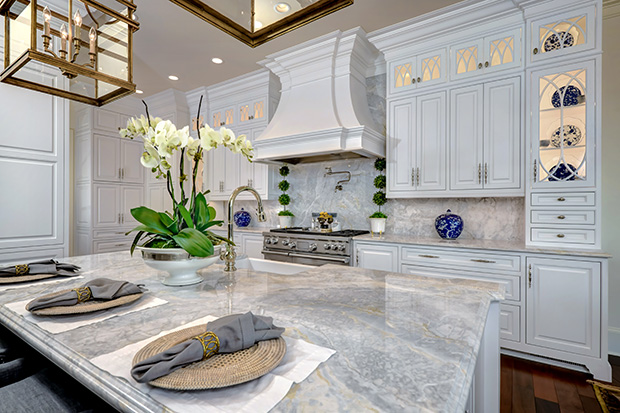 Authentic Kitchens & Baths Concepts
2457 Ashley River Rd., Charleston
(843) 852-9407
authentickitchenconcept.com
Nearly 20 years ago, Rejean Gregoire took a chance and relocated from his home in Canada's Quebec region to Charleston. Having previously visited and fallen in love with the Lowcountry, he decided that this is where he wanted to put down roots. Since then, Gregoire, along with his son and team, has dedicated his life to his company, Authentic Kitchen & Bath Concepts.
"I love creating a space that people will use every day," Gregoire says. "It's my favorite part of the job."
Despite decades in the business, his enthusiasm hasn't wavered and he still gets excited each time he and his team start a new project. "My clients are people who are ready to invest in their property," he says—though some homeowners aren't fully prepared for the length of time needed for this process. "People should understand that it will likely take longer than you think. You have to factor in the demolition, laying the flooring, and more when it comes to redoing a kitchen."
Gregoire also notes that those looking to remodel their kitchens should budget time for all of the individual pieces ordered to come in as well. "It takes time to get the cabinets, appliances, and fixtures ordered and delivered," Gregoire says. "And you want them installed right the first time."
Over the last five or so years, one of the biggest trends he's noticed is evident in a recent kitchen he designed (which was part of an overall 6,000 sq. ft. home). "Everything has been trending towards white for a while now," Gregoire notes. "People want to have a bright space that projects more light. No one wants dark rooms anymore."
Charleston weather is as much to blame for this trend as it is for Gregoire moving to the city in the first place. "The weather here is beautiful pretty much year round, so people want sunlight and brightness in their homes. This great weather is why I moved here!"
Even though white kitchens may be a trendy design theme, it doesn't mean that each kitchen the team at Authentic Kitchen and Baths create isn't unique. In this recent kitchen project, Gregoire added a touch of whimsy to the overall design. "We wanted them to have as much storage as possible, so we built the cabinets all the way to the 11 foot ceiling," describes Gregoire.
And how does one reach spaces that high? Gregoire came up with the perfect solution: "I suggested a library ladder that moves on a track throughout the first floor," he explains. The homeowners loved the idea, and the ladder and track were added to the overall design.
It's these types of unique touches and attention to detail that make a house a home. And if your home's kitchen craves a blend of creativity and quality, then Authentic Kitchen and Bath Concepts is an excellent choice.
Classic Remodeling & Construction, Inc.
1832 River Road, Johns Island
(843) 763-3297
classicremodeling.com
How can you tell when a kitchen is thoughtfully designed and built by experts in their trade? By the attention paid to each detail and the level of precision used to make sure every piece works together.
This focus on quality and expertise is on full display in one of the latest projects by the team at Classic Remodeling and Construction. "What makes or breaks a project is the intersection of all of the materials involved," says Kim Williams, the company's General Manager. "That's where you can see the difference between expert-level work or not."
The company, which has been on Johns Island for 10 years, goes the extra mile to make sure their projects are flawless. "When the attention to each detail is all added up in a space, you can just feel it. You can walk into a kitchen with a combination of materials and you can tell right away when a carpenter has nailed it and everything fits together," Williams explains.
She continues, "This is why we assign two carpenters to each project. They tend to make it all seem easy—but that's really because they've thought about it in depth before discussing it with you."
For a recent project, the home owners knew they wanted a unique backsplash in their kitchen. Williams notes that backsplashes are a fantastic way to stay on trend, without dating your kitchen. "Doing something fun with a backsplash keeps the kitchen from being basic and it can be switched out down the road much more easily than the rest of the kitchen," she says.
Even the precise placement of a backsplash is part of this team's attention to detail, which most homeowners likely don't realize. "Each of the pieces that make up a kitchen have a variety of sizes, various thicknesses, and are made of different materials," Williams explains. "It's the carpenters' job to make sure it all works out and looks perfect when it's done."
On that recent backsplash project, it was the tile placement that became the critical component to ensure the kitchen was cohesive.
Williams laughs as she recalls how their design team spent hours calculating all the math required to make sure each piece of that backsplash was laid just right. "Others might have just started in a corner and rolled with it. Since this backsplash is so beautiful, the kitchen likely would have still been stunning," she says. But Williams maintains, "One of the things that you don't even realize when you look at this kitchen is that you're seeing the balance of the backsplash and how well it nets out in the corners."
Classic Remodeling & Construction's focus on quality workmanship and each detail are summed up brilliantly by Williams: "We make sure to figure out things like the backsplash tile placement beforehand so every element in the kitchen feels like it was made for that spot."
Designing and creating a kitchen that's meant to last a lifetime requires a team that cares deeply for all of the nuances involved. Classic Remodeling & Construction has just such a team and will work with you to ensure every detail is perfect.
Mevers Custom Kitchens
630 Johnnie Dodds Blvd., Mt. Pleasant
(843) 388-9633
meverskitchens.com
One of the first things you're drawn to when visiting Mevers Custom Kitchen's website is the 1938 quote by Aldo Gucci: "The bitterness of poor quality is remembered long after the sweetness of low price has faded from memory."
For 50 years, the Mevers family has made it their mission to always deliver the highest quality in each and every kitchen they design. This is most likely why, much like their clients, they become completely enamored with their projects! "I love everything about it," Chris Mevers, one of the owners at Mevers Custom Kitchens, says with a smile when discussing his most recent kitchen remodel. "From the elliptical mullion and the cornered island countertop, to the custom wood appliance panels and the full marble backsplash, I love it all," he describes enthusiastically.
While the completed project has much to love, it began, like every Mevers project does, by taking the time and effort to select a qualified designer and contractor, then picking out the exact materials from the start. "It's crucial to make all your decisions and selections up front and not wait until the last minute," Mevers says, noting that dragging one's feet on selections can both delay the project timeline as a whole and contribute to additional costs.
Another recommendation of Mevers' is not to believe too much of what you see on TV when it comes to the timeline of a kitchen remodel. "Don't expect a completed remodel to take a week to complete," he says. "Depending on the size of the job, it can take anywhere from six to twelve weeks total."
Quality may take time, but based on the remodels Mevers has done throughout their 50-year history, it is ultimately worth it in the end. In their recent kitchen remodel, Mevers leaned towards time-proven details to ensure the style remains timeless.
For the cabinets, the elliptical mullion doors use backlighting to draw the eye upward. This also helps the space maintain its light and airy feel, despite the gray tones used throughout. The custom wood appliance panels ensure that the overall aesthetic is unified, and then using the same marble for the countertops and the backsplash brings the entire kitchen together.
Blending pops of color, such as the gold accents of the oversized light fixtures with the deep blues of the China in the cabinets, helps to keep the space from being too monochromatic.
"In the end, you want to rely on the designer's eye to help guide you to what will work best," recommends Mevers. "After that you can relax, enjoy the process, and anticipate the beautiful results of all of this hard work."
By always putting quality first, Mevers Custom Kitchens ensures every project is a success.
Signature Kitchens & Baths of Charleston
1926 Savannah Highway, Charleston
843-571-5720
signaturekitchens.net
Led by Jim and Linda McLain, Signature Kitchen and Baths is proof that extensive experience doesn't equal a lack of innovation or inspiration.
And it's those exact two elements that helped the McLains launch Signature Appliance Center in 2008. Having worked in the industry for over 40 years, they felt that appliance companies lacked the type of impeccable service and support their own staff provided.
"After our team had been specifying appliances for years, we saw a need for a different type of appliance business," the McLains say. "We wanted to not only offer appliances ranging from the most affordable to the most unique, but to also provide the same level of service and understanding that came with our regular business."
From this inspiration, Signature Appliance Center now offers over more than 100 lines of appliances at 1826 Belgrade Ave in Charleston.
"Our goal remains to have the most knowledgeable salespeople on both products and installation for new builds or renovation projects," the McLains add.
By having Signature Appliance Center as a part of the larger design and building team at Signature Kitchens & Baths, this provides the ability to not only furnish and install new appliances, but also makes any necessary countertops and cabinetry modifications much easier. Further, the McLains and their staff are able to handle any needed plumbing and electrical changes as well.
With licenses covering both mechanical and residential building work, Signature Kitchens & Baths love seeing projects go from concept to completion. However, their team is happy to accommodate you if you have a contractor that you love.
"Our biggest commitment and focus is on our client and ensuring continuous work on their kitchen once we've started the job," explains the McLains. "We're able to do that since we have our own renovation team all under one roof."
It's that system that enables Signature s & Baths to complete jobs more quickly and efficiently. "Our most important rule is that work is not started until all decisions are made and all materials are in their warehouse," the McLains share. "This prevents hold-ups or downtime once we arrive on site as we know how stressful the renovation process can be on a client and their family."
Long before they arrive to begin the work though, the McLains, or one of their team of designers, walk you through each step. They are happy to explain everything from setting a budget and estimating total costs to outlining the scope of the work and planning the time frame for its completion.
That designer or a project manager will then collect and organize all of your selections, order and track all of the different materials and pieces, and keep you updated at each and every step of the process. Anyone who has undergone a kitchen remodeling experience knows just how important that level of communication can be!
By combining the McLains experience, their design team's certifications in kitchen design, their full renovation staff under one roof, and their commitment towards making the remodeling process as smooth and stress-free as possible, it's not surprising at all that they've been an award-winning company for decades.