Plant-Based Foods that Help You Stay Fit
02 Jan 2019
Emilie Blanchard is a Carolina girl who worked in the Big Apple for five years as a full-time trainer, dabbled in broadcast news and lifestyle modeling, got married and returned home. A fitness enthusiast and affirmed foodie, she searched for her preferred cuisine, and came up short. Next step: She started Tasty as Fit on Instagram and now, due to popular demand, develops fantastic, healthy, plant-based recipes.
By KATHERINE PETTIT » Recipes and photos by EMILIE BLANCHARD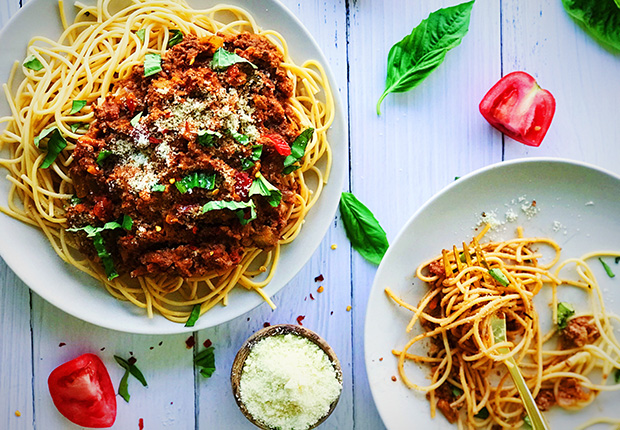 Curry Roasted Butternut Squash Soup
"This soup will take away all the bad and insert all the good. It is true comfort in a bowl, a warm hug with each bite."

Serves 8-10
Ingredients
4 full cups roasted butternut squash (from 1 large butternut squash)
1 yellow onion, diced
1/2 cup carrots, diced
1/2 cup celery, diced
1 inch knob ginger grated
2 cloves garlic, minced
1 tbsp curry powder
1/2 tsp coriander
Few shakes red pepper
6 cups broth
1.5 tbsp maple syrup
1 tbsp ghee/vegan butter (optional, but highly recommend)
1 tbsp red wine vinegar
1/2 tsp salt
Few shakes pepper

Preparation
Preheat oven to 400ºF to roast one large butternut squash. I peel first, half lengthwise second, then scoop out seeds, chop into cubes, and mix with a little olive oil, salt & pepper.

Spread flat on a parchment lined baking sheet and roast until tender, about 45-50 minutes. This can be done the day before/hours before making this soup.

Directions
1. Add a tbsp olive oil to soup pot & warm over medium heat. Add onion, celery, carrots and grated ginger. After a few minutes add garlic and continue to sauté until all is tender and fragrant.

2. Add spices and stir to incorporate, about two minutes.

3. Add roasted butternut squash, vegetable broth, maple syrup, ghee, sea salt and pepper. Stir and bring to a low boil.

4. Once soup is boiling, turn off and remove from burner.

5. Carefully transfer into a blender and blend. If you do not have a large blender you can do in two batches.

6. Pour back into your soup pot and bring to a simmer. Stir in red wine vinegar. Taste and adjust seasonings.

Toppers: pumpkin seeds, drizzle of coconut milk, crushed red pepper, thyme or cilantro.
Chai Spiced Muffins
"Doesn't the word "chai" just make you want to snug up on the couch with some tea, a warm muffin, and light your favorite candle?"
Oil-free, grain-free, gluten-free, and dairy free
Makes 10-12 muffins
Ingredients
DRY
3 cups almond flour (I use honeyville grain, the best in my opinion on Amazon!)
1/4 cup almond meal
1/2 cup tapioca flour
1 tbsp flax meal
2 tbsp coconut sugar (extra for sprinkling)
2 tsp cinnamon (extra for sprinkling)
1/2 tsp coriander
1/4 tsp clove
1/4 tsp ground ginger
1 tsp baking powder
1/2 tsp baking soda
1/2 tsp sea salt

WET
1/2 cup @foragerproject cashew yogurt
1/2 cup unsweetened apple sauce
1/4 cup nut milk
3 tbsp maple syrup (honey works, too)
2 tsp vanilla extract

Directions
1. Preheat your oven to 350ºF. Spray/oil a muffin pan. Add all dry ingredients into a mixing bowl. Whisk until fully combined so that there are no clumps.

2. In another bowl add all wet ingredients. Whisk to combine so that there are no clumps.
3. Add dry ingredients to your wet bowl and stir until fully incorporated. Taste batter and adjust whatever you need.

4. Fill each muffin mold with batter until there is no more batter. Sprinkle each muffin with coconut sugar and cinnamon. This helps caramelize the top of the muffin!

5. Bake for about 25 minutes or until a toothpick comes out clean and tops of muffins are golden! This will vary oven to oven and muffin pan size.

ICING is melted coconut butter (you can add a little maple syrup or honey if you like).

"No Chick" Chick Pea Chicken Salad

"Suitable to eat in a lettuce wrap, over a bed of greens, with some crackers, or on some good quality gluten-free bread. Or straight up with a spoon!"
Makes 6-7 full-cup servings
Ingredients
Cashew Mayo
3/4 cup cashews, soaked overnight
1/4 cup + 1 tbsp avocado or grapeseed oil (you need a neutral oil here)
1/4 cup water
1/2 tsp mustard powder
1 small garlic clove
2.5 tsps apple cider vinegar
3 tsps lemon juice
1/4 sea salt to start, + more to taste
Chickpea Salad
2 15oz. chickpea cans, drain and pat dry
1/3 cup green onion
1/2 cup carrots, diced small
1/2 cup celery, diced
1/3 - 1/2 cup dill pickle, diced (amount is based on preference)
1/2 cup grapes, halved
1/3 cup raw sunflower seeds
3 tbsp fresh dill (you can use dried if needed, I would start w/ 1 tbsp and adjust from there)
1 tbsp fresh parsley
1 tbsp Dijon mustard
1 tsp raw honey
1 tbsp lemon juice
1/3 cup + 3 tbsp cashew mayo (this is entire amount of the cashew mayo, however you can certainly use any mayo you choose, the amount you use just may vary)
1/4 tsp sea salt to start

Directions
1. Drain cashews and blend all ingredients in your blender. Scrape down sides of blender as needed and continue blending until smooth and creamy. Taste and adjust as needed – I added a pinch more salt + lemon juice!
2. Add rinsed and dried chickpeas to a large mixing bowl. With a potato masher or your hands, mash chickpeas. Add green onion, carrots, celery, dill pickle, grapes, and sunflower seeds. Stir a few times.
3. Add cashew mayo, Dijon mustard, lemon juice, honey, dill, parsley, 1/4 tsp sea salt and continue to really stir until all ingredients are combined. You want all the flavors to meld together! Taste and adjust-- I added a few more shakes of salt and a dash of lemon!


Chocolate Tahini Brownies
"Chocolate and tahini together? The two are a match made in heaven."
gluten, grain and dairy free
Makes 12-15, depending on size of brownies
Ingredients
2 flax eggs (2 tbsp flax meal + 4 tbsp water)
1/2 cup tahini (runny)
1/2 cup coconut sugar
2 tbsp honey
2 tsp vanilla extract
1/2 cup full fat coconut milk
1 tbsp warm water
1 2.5oz dark chocolate bar melted
1/4 cup almond flour (if you don't have just use extra meal)
1/4 cup almond meal
1 tbsp coconut flour
1/4 cup cacao powder
1 tsp baking soda
1/4 tsp sea salt
Directions
1. Preheat oven to 350ºF. Line a 9x9 baking pan with parchment paper. In a small bowl add flax meal + water, stir and let sit for 10 minutes. In another small bowl break and melt chocolate bar in 30 second intervals (stirring in between) until fully melted.

2. In a separate large bowl add tahini, coconut sugar, honey, vanilla, and coconut milk. Whisk to combine. Pour in chocolate and stir. Once firm, stir in flax eggs.

3. Add cacao powder, almond flour, almond meal, coconut flour, sea salt, and baking soda. Stir a few times to mix well, then add warm 1 tbsp water. Continue to stir until mix is clump-free! If too thick add a 1/2 tbsp warm water at a time.

4. Pour mix into brownie pan and bake for 20-25 minutes, or until top hardens and toothpick slides out clean. Allow to completely cool before slicing! I drizzled extra tahini and melted chocolate on top!
Mushroom Walnut Bolognese
"Chilly temps, big bowl of pasta, even bigger glass of red wine. It doesn't get much better."
Makes approx. 8 servings

Ingredients
10 oz. baby bella/cremini mushrooms
1 cup walnuts
1/4 cup almond flour
1 sweet onion
2 cloves garlic, minced or pressed
2/3 cup finely chopped carrots
2/3 cup finely chopped celery, smaller the better
1 24 oz. tomato basil marinara sauce
1 tsp tamari
1 tsp oregano
1 tbsp coconut sugar, add more to taste
Pinch red pepper flakes
1/2 loose cup fresh basil (or 1-2 tsp dried)

Directions
1. Add walnuts to a food processor. Pulse until large crumbles. De-stem and quarter mushrooms. Make sure mushrooms are not wet from cleaning – be sure and dry well before adding them in! Add to food processor with the walnuts and pulse about 10 more times. Add flour and pulse a few more times. Do not over pulse, you want the texture to look like ground beef.

2. Heat 1 tbsp oil in a large skillet over medium heat and add mushroom walnut mix to the pan. Stirring/flipping occasionally until browned, about 15 minutes. It will "brown" like meat does!

3. In a separate small sauté pan add onion, carrots, celery, garlic and sauté about 15 minutes, or until celery and carrots are fork tender.

4. Once cooked, add onion mixture into the walnut-mushroom pan and stir well.

5. Add marinara sauce, tamari, oregano, (basil if using dried, wait if using fresh), coconut sugar, salt and pepper to taste. Stir and cook for about 10 minutes more.

6. Add basil, a pinch red pepper and stir. Taste and adjust seasonings! If you want to thin mixture, add water or plain tomato sauce.

Enjoy over zucchini noodles, chickpea or brown rice pasta of choice!

Wild Rice, Fig, Sweet Potato & Arugula Salad

"The perfect salad to make if you are one who meal preps, because all you need to do is master a few key ingredients and toss it all together when ready to eat!"
5-6 servings
Ingredients
About 3 cups arugula
1 large sweet potato
Wild rice (one cup cooked – or more)
Organic dried Turkish figs
Roasted pumpkin seeds

Dressing
1/3 cup olive oil
1.5-2 small lemons, fresh squeezed
1 tbsp Dijon, to start
2 teaspoons raw honey
1/4 teaspoon salt, to start
(optional) ½ to 1 garlic clove (blend in a food processor, blender, or whisk). Taste and adjust to your liking!

Directions
1. Cook your wild rice according to instructions. Preheat oven to 375ºF. Peel sweet potato (optional) and cut into 1 inch cubes. Drizzle with olive oil, sea salt and pepper. Roast sweet potatoes on a parchment lined baking sheet until fork tender – about 25-30 minutes.

2. Slice figs into quarters. Add arugula, sweet potatoes, wild rice (I added about 1 cup cooked) and pumpkin seeds. Add preferred amount of dressing and toss to combine!
Get to know Emilie and her food at www.tastyasfit.com or Instagram @tastyasfit.