Apres-ski in Vermont is just as much fun as a day on the slopes
By ROBERT SWEENEY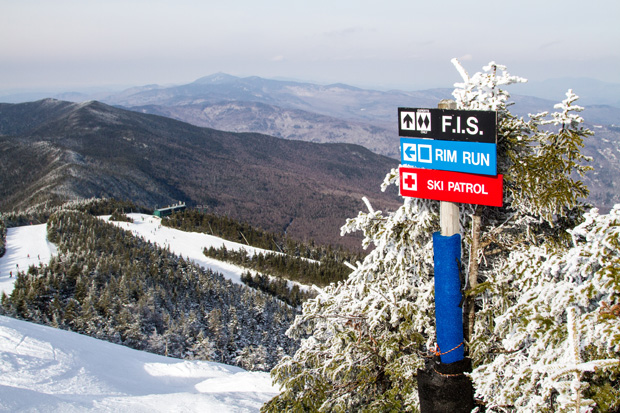 Although scuba diving is my go-to sport, snow skiing and snowboarding are pretty hard to beat in winter. Of course, you have to go a little north (or a lot north) to indulge, but a bit of snow is great fun, especially if you don't live with it six months a year.
Our family decided to check out Sugarbush Resort in Warren, Vermont. It's a very big mountain in a tiny town, but the accommodations and slope-side action offer a sophisticated getaway.
We checked into Clay Brook Hotel and Residences at the Sugarbush Resort for a four-night stay, then switched it up for a couple of nights in a condo at Sugarbush Village. On our first night there, we were joined for dinner by Win Smith, Chairman and CEO of Summit Ventures, which owns Sugarbush. An accomplished athlete, Smith skis the mountain almost every day in season, and has friends who've been enjoying this area for years. We ate at Timbers, on site, and had a great meal. Since our visit, Timbers has become Rumble's Kitchen, named for the Bernese Mountain dog mascot of the resort, who spent almost nine years welcoming guests.
We've been told the food and ambience is even better than before at Rumble's Kitchen! Next day, we returned for breakfast – traditional with a creative twist, and very filling. We then headed over to The Farmhouse Rental Shop on site, to get fitted for our gear.
I'm a black diamond skier (although I tend to ski around moguls instead of over them these days), but my wife, Emily, wanted a refresher and took a private lesson to acclimate her to the slopes and snow. Our son Blake likes to snowboard, and hit the fast runs immediately.
There are two mountains within this one resort – Lincoln Peak and Mt. Ellen, which is the third highest peak in Vermont. The runs are varied, accommodating all skiing levels, from beginner, to double-black runs, and even offer the latest terrain park skiing where you can go off the grid. I tried most of the slopes during our week there, and getting to the top of the mountain is quick with their high-speed quad chair lift. The family never got bored, which speaks well for the size and design of the slopes.
Snow-skiing generally offers beautiful scenery as part of the fun, and these mountains are magnificent, with gorgeous views at the top. Usually, we stayed on the property for lunch. The Gate House Cafeteria was fast, with very fresh salads, pizza and sandwiches. It was just enough time to refuel and take a break before heading back outside. On another day, we wanted a bit more upscale without going too far, and chose Castlerock Pub, where we noticed the emphasis on fresh and local – a burger from nearby farm-raised cattle topped with Cabot cheddar cheese, and accompanied by a local brew (they have a great beer selection).
That night, we switched gears and enjoyed a bit of exotica at Fit 2 Be Thai'd. We agree with reviewers who call it a bit surprising to have such authentic Thai food here. You can't go wrong with the Pad Thai, but the Crispy Duck might have been even better.
Usually, we were on the slopes most of every day, however we did go off the resort for a few attractions, including a visit to the Ben and Jerry ice cream factory in nearby Waterbury. We played tourist and took the tour – it's a great way to spend a couple of hours and taste some of the world's best ice cream.
And when we went exploring, we tried local restaurants for breakfast, lunch and dinner.
For breakfast, when going off site, we visited the local favorite Big Picture Theater and Café for a traditional breakfast (I ordered a super breakfast burrito) and another day, the Paradise Deli Market – low-key, but with great fresh-baked muffins and classic sandwiches.
Lunches off site were good, too. Blue Stone features some of Vermont's best craft beers (try the black ale), and super pizza. Mad Taco was another lunchtime treat, with its authentic Mexican, embellished by local goodness. The smoked pork belly taco with jalapeno and cilantro was a winner.
At the end of the day, we wanted to try a variety of spots, and variety we got, starting with Home Plate, a grill/diner with a great atmosphere. My wife had a Ceasar salad while I built my own burger – with Vermont cheddar and their house-made BBQ sauce.
Another intriguing little place was the Common Man, if you can call a restaurant housed in an old barn little. It simply feels intimate, a nice change of pace. This is a great option if you're traveling with friends who have wildly divergent food preferences. A little bit of everything here – from Shrimp Ceviche (wish I had tried) to grilled octopus, to the braised short ribs with red wine glaze that was my choice.
Peasant offered another fine dinner that the owners like to call rustic European, but we thought pretty sophisticated. I had the chicken with lemon, roasted peppers, garlic and mushrooms, while Emily chose pan roasted salmon with maple balsamic reduction. Delicious.
And finally, toward the end of our visit, we went more casual at American Flatbread restaurant, where the pizza was anything but low-key. There are three of these restaurants in the area, but we chose Waitsfield, at the original farm where their food story began.
Although it sounds as if this vacation was all about food, and skiing, there were sightseeing excursions as well: to historic covered bridges, shopping areas in Warren Village and the historic Bridge Street area in Waitsfield.
The family had quality play-time together, and enjoyed exploring the sights and tastes of a region known for its cheeses, maple syrup and commitment to farm-to-table dining. Next trip, I'll get my wife on the double black diamond trail – maybe. Or perhaps we'll return next summer, when the mountains are green and downhill biking replaces my skis for a new kind of thrill.
Where to Stay
Sugarbush Resort, sugarbush.com; Sugarbush Village Condos, sugarbushvillage.com
Where to Eat
Big Picture Theater and Café, bigpicturetheater.info; Paradise Deli Market, facebook.com/ParadiseDeli.Market; Blue Stone, bluestonevermont.com; Mad Taco, themadtaco.com; Fit to Be Thai'd, fit2bethaied.com; Home Plate, homeplatevt.com; Common Man, commonmanrestaurant.com; Peasant, peasantvt.com; American Flatbread, americanflatbread.com