Turning Passion Into Action
09 Sep 2017
New leader at My Sister's House is ready to take on the big task of domestic violence
By HOLLY FISHER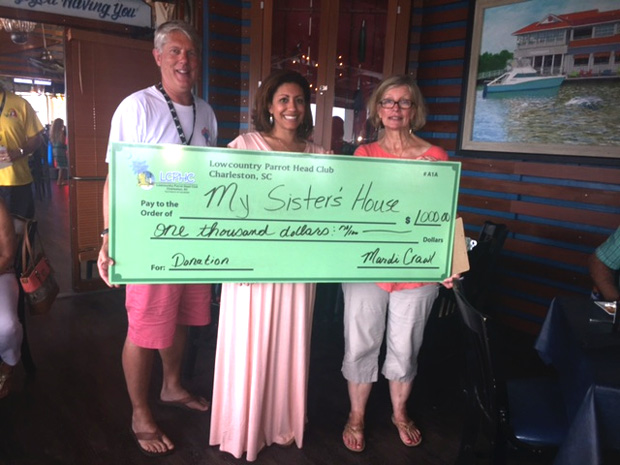 An underlying theme has permeated Tosha Connors' career in the nonprofit industry: advocating for the underdog. From Boys Town in Washington, D.C., to an East Harlem organization working with undocumented immigrants to an Atlanta service agency for those with developmental and intellectual disabilities, Connors has been instrumental in helping those who can't always help themselves.
As the new executive director of My Sister's House, Connors is once again working on behalf of a population that needs all the help it can get. Since 1980, My Sister's House has provided food, clothing, shelter and support programs to help victims of domestic violence and their children.
In much of her previous work, Connors has seen the impact of domestic violence, and the plight of children has long been her passion. Now she'll be working to move the needle on domestic violence in a state long plagued by high rates of women being murdered by men.
A Big Problem to Tackle
In 2014, The Post and Courier published an extensive investigative series on domestic violence called "Till Death Do Us Part." The report, which was awarded a Pulitzer Prize in 2015, highlighted victims of abuse and the 300 women in South Carolina who had been killed by men in the last decade.
Connors – who grew up in Columbia and graduated from Columbia College – said she previously didn't realize the devastating extent of domestic violence in South Carolina.
"I love my home state and it's painful to know this is such an issue," she said.
In her short time at the helm of My Sister's House, she's already heard stories from the organization's community liaison workers, who are told by community members that domestic violence isn't an issue and their work isn't needed.
It's frightening to know those cultural norms still exist, Connors said.
She recently received an email from a woman with one word in the subject line: Help. The woman wasn't sure if her husband of 13 years was abusing her, despite giving examples of him punching her in the face. And yet the woman's family told her to stay with him, Connors said.
That one example demonstrates the complexity of domestic violence in South Carolina. It's not as simple as "just leave" as many people believe.
"People forget they love these guys," Connors said.
Statistically women attempt to leave seven times before actually getting out of an abusive situation. And that's when most of the murders occur, she said.
Women may not have access to the family bank account or finances. They may have little to no contact with friends and family and they are likely suffering from not only physical abuse, but also emotional and psychological abuse as well.
"When you don't have those resources, you just can't get up and go," Connors said.
Battling public misperceptions and ignorance of domestic violence, combined with a lack of transitional housing for women and children escaping abusive situations, are just some of the challenges facing Connors as she prepares to lead My Sister's House into a new phase of work.
Listening and Learning
Since she officially took over as executive director on May 15, Connors has been watching and learning from the staff. She spent five weeks under the tutelage of Elmire Raven, who retired after 28 years of leading My Sister's House.
Connors is fully aware she has some big shoes to fill—she's heard it from just about everyone. And she knows it's a period of transition for the staff, so Connors is listening and getting to know the community.
She's planning to accompany the two staff court advocates to court, and she spends a considerable amount of time at the residential shelter, which is at an undisclosed location in the Lowcountry, hearing from the women using the organization's services. She's also training this summer with local law enforcement and the Department of Social Services.
While she gathers information, Connors is also thinking about what's next and the best direction for My Sister's House in the coming years. As part of the interview process, Connors and one other finalist for executive director were tasked with creating and presenting a three-year plan for My Sister's House.
Planning for the Future
Her goal for her first year as executive director is simply strengthening the organization, which includes tasks like upgrading technology and computer programs. My Sister's House is a $1 million organization, and Connors' goal is to turn it into a $3.5 million organization. She believes in running a nonprofit like a business.
Part of those first-year tasks include cleaning up the organization's donor database. My Sister's House now has a full-time director of development, Tonya Pilkenton, who can fully focus on donor cultivation and volunteer appreciation.
Looking ahead to year two, Connors said she wants to focus on community engagement, which may include refreshing the brand and streamlining fundraising events.
And there are some unknowns—key areas that could be part of a long-term strategy for My Sister's House. Connors pointed out the great need for transitional housing and the challenge of helping women find affordable housing options around Charleston.
"Is that something we venture toward in the future? I don't know," Connors said. It's part of evaluating the needs and next best steps.
At the core of all the plans is the mission of My Sister's House. "Everything we do should be for the betterment of the women and children we serve," Connors said. "What is the impact and is it in their best interest? That should be the first question we ask."
Connors will have plenty of time to roll out her plans and move My Sister's House forward. She and her husband feel at home in Charleston and are eager to raise their children here. Connors has a 2-year-old son and is expecting her second child in January 2018. Since having her first child, her work in the nonprofit sector—often seeing the worst in humanity—has impacted her even more, she said.
"When you have your own child and you hear about these things, it breaks my heart in a different way. I'm furious to think people are treating kids this way," Connors said. "How could you do this to a child?"
Look for Connors to turn that passion into action in the coming months. She is ready to take on the challenge of keeping the issue of domestic violence at the forefront of conversations around the state.
"There are limitless opportunities as to where this organization can go," Connors said.
Hometown: Columbia, SC
Family: Husband, Christopher Connors, and 2-year-old son, Roman, plus a second son due in January 2018.
Education: Bachelor's degree in public affairs from Columbia College and a mater's degree in public administration from the University of Georgia.
Hobbies: Traveling and taking her son to the beach.