Summer Excursions
09 May 2015
Big city, exotic island, mountain town, ocean front – consider these getaways with family, friends or your significant other. Good times guaranteed.
By KRISTINE HARTVIGSEN, ANNA HAYNES, CECILE HOLMES, KATIE McELVEEN, KATHY PETTIT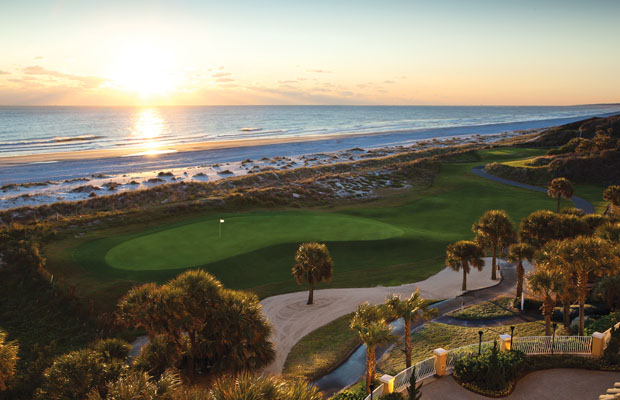 Sometimes, you find yourself with a free long weekend, or perhaps a week, where life opens up and you can pick up and go. The locale may be an exotic Caribbean island – like Jamaica – or perhaps an iconic mountain tradition, such as Lake Lure. You'll easily drive to some, and hop a flight for others. Just think of the possibilities – and memories – waiting for you and yours.
Chattanooga, TN
Chances are you've seen "See Rock City" painted on a barn roof or highway billboard and wondered exactly where that was. Just a stone's throw from the scenic city of Chattanooga along the Georgia border, See Rock City is part of the famous Lookout Mountain's hub of outdoor attractions, including Lover's Leap, from which you can see seven states. This part of the Smoky Mountains and Tennessee River watershed has lush botanicals and, because of its elevation and boulder-filled terrain, a large array of scenic outlooks. There's something for everyone, from hiking, hang-gliding, and fishing to bird-watching, climbing and cave exploring. If you're in the Chattanooga area, this is a must-see.
In Chattanooga proper, there are nearly unlimited choices for shopping, recreation and entertainment. Bring some walking shoes, because this city is a pedestrian paradise. Almost everything is interconnected via five miles of riverwalk and the historic Walnut Street Pedestrian Bridge over the Tennessee River. Across the bridge is Coolidge Park and its vintage carousel, featuring colorful, hand-carved animals.
Nearby, art lovers must visit the Bluff View Art District, which includes a beautiful sculpture garden and art museum. For the best in local flavor, stop by the Chattanooga Market for fresh produce, dairy, arts and crafts, and music. Military buffs will appreciate both the tiny Silverdale Confederate Cemetery and the Chattanooga National Cemetery, the second largest in the United States after Arlington. Kids will enjoy hours of hands-on learning at the Creative Discovery Museum, one of the country's best. So much charm, so little time. chattanoogafun.com; lookoutmountain.com; seerockcity.com
Ocracoke Island, OuterBanks NC
You can't drive there, but then why would you? There's something magical that happens when you must arrive at your destination by small plane, boat, or ferry. Ocracoke is a favorite vacation spot, but almost a thousand "high tiders" also call it home. There are private homes for rent, as well as a number of motels and a few B&Bs, including Pam's Pelican B&B. For less cozy accommodations, Captain's Waterfront Hotel Suites have nice views of the harbor, called Silver Lake.
Even if you have a car, choose bikes or golf carts for on-island transportation. It's more fun and it keeps the experience a bit more personal. What to do (other than enjoy endless days on the top-rated beaches). Visit the Ocracoke Lighthouse, of course, and make a stop at the Village, where shops and restaurants offer a downtown feel. Take the passenger ferry to Portsmouth Island. Nobody lives there anymore, but several buildings remain. A bit eerie, but very interesting.
Go parasailing, or rent a wave runner. Try your hand at deep sea fishing, or crabbing. Sail to Blackbeard's hideout (he died here, you know.) Catch a glimpse of the Banker ponies, small but powerful horses now cared for by the National Park Service. They've been a part of island life since the earliest settlers, either through shipwreck, abandonment, or to help the locals.
A surprising number of musicians call Ocracoke home, and in season, you'll get live music almost every night. You'll also find good restaurants with very fresh seafood, as well as some bona fide joints where you can hang out, meet your fellow travelers, and enjoy a frosty beverage. Before you leave, see if you can find a slice of Ocracoke Island Fig Cake with buttermilk glaze – yummy! ocracokevillage.com
Surry County & Yadkin Valley NC
OK, we know it has great vineyards, but there's so much more to this area of North Carolina near the Virginia border. In between vineyards and tastings, you'll want to find the art galleries, museums and, of course, Andy Griffith's childhood home of Mount Airy.
While in Elkin, the Yadkin Valley Craft Guild offers fine, handmade crafts, and Diana's Book Store has a great selection of regional books. The Blue Ridge Chocolate shop is a must-stop for obvious reasons.
And then it's time for tasting. Consider Brushy Mountain Winery, Elkin Creek Vineyard, Grassy Creek Vineyard and McRitchie Winery & Ciderworks. More to visit include Old North State Winery in Mount Airy, plus Stoney Knoll, Round Peak, Carolina Heritage and Shelton Vineyards (great wines, fabulous gift shop).
Twenty-One & Main Street Restaurant and Wine Bar is an excellent restaurant for dinner. Afterwards, between June and December, Saturday nights will find live music outside in front of the Reeves Theatre.
Folks don't live by wine-tasting alone, so consider working off a bit of the grape. The area is well known for paddling, biking (especially the Surry Scenic Bikeway), fishing, golf, hiking, and horseback riding. You're close to the Blue Ridge Parkway, motor speedway, and resorts devoted to outdoor sports. Birders will love trails within Pilot Mountain State Park and Cumberland Knob Recreation Area.
Mount Airy, Andy Griffith's hometown and inspiration for Mayberry, is charming, filled with lots of antiques and galleries. A must-visit for TV enthusiasts is the Andy Griffith Museum, featuring hundreds of items from the life and career of Andy Griffith. You may even want to take a Squad Car Tour of the downtown area, taking note of shops to visit later, on your own. verysurry.com
Quebec, Canada
Canada's only predominantly French-speaking province is located in the nation's east central section. The largest province by area, Quebec has residents who live mainly in urban places along the St. Lawrence River between Montreal and Quebec City. Much of the rest of the province is very rural.
Quebec's citizens take pride in being different. They take French seriously. It's required on signs and it's a central feature in its food. Though nearly everyone in Montreal speaks both French and English, the population is largely French-speaking in the province's less populated places.
Ice fishing and snowshoeing, once essential to getting food and getting around Quebec–are now beloved pastimes. From December to February, if you wander near a frozen lake in Quebec, you very well may find a few temporary huts – home to people who are ice fishing. For your summer trip, however, you'll find warmth from the air and the citizens, and horse-drawn carriages, street entertainers, singers and artists, particularly at Old Québec's own open-air art gallery, Rue du Trésor.
There's much to see in Montreal, the nation's capital and a great destination for individuals and for families. The city's museums, historic sites, nightlife and shopping offer entertainment of all types. A plethora of restaurants – like the city offering a multicultural mix – can be found in Montreal. For a look at Montreal's history, take a day to explore Vieux-Montreal. Its 18th Century buildings now feature small museums and souvenir shops.
Here you find the center of Montreal's culture. Whereas other parts of the city have experienced rapid urbanization, horse-drawn carriages still travel cobblestone streets passing in Old Town. You'll pass such noteworthy places as the Hotel de Ville (Town Hall), the View-Port (Old Port) and Basilique Notre-Dame. There are frequent street fairs along the View-Port featuring local foods, arts and crafts. quebecregion.com
Key Largo, FL
Head Southwest from Miami and it's the first key you reach on Highway 1. Key West and all points in between are grand fun, of course, but plan to tarry a bit on this notorious spit of land first made famous in the 1948 film of the same name. Most of that famous Humphrey Bogart/Lauren Bacall thriller was filmed on a sound stage in Hollywood, but the background shots of the island helped make it an instant destination.
Today, it's known as the "Diving Capital of the World," because the living coral reef offshore attracts thousands of scuba divers and sport-fishing enthusiasts, not to mention tourists seeking an encounter with the underwater world. A great way to start is by taking a glass-bottom boat tour of John Pennekamp Coral Reef State park (go on a calm day).
To keep the exploration above water, rent a canoe or kayak, or take a stroll along one of the trails. Children will enjoy the 30,000-gallon saltwater aquarium. Take a bit of time to grab one of the hammocks, and don't miss the mangrove swamps – positively otherworldly.
It's really all about water-connected recreation here, and even the restaurants cater to folks who bring in a freshly caught fish. At Shipwreck's Bar and Grill, they'll cook your fish for you and deliver it to your table. (The beer is very cold and quite refreshing after a day in the sun.) Lots of eateries and watering holes offer scrumptious views.
In fact, everywhere you turn in Key Largo, you'll find tropical hardwoods and winding creeks emptying into the ocean. It won't take much luck to spot a bottle-nosed dolphin, alligators and manatees, not to mention sea birds of every color and description.
Accommodations are plenty and hit every price point, but you won't be disappointed in a cottage in Island Bay Resort, perfectly positioned (with hammock of course). The resort beach is very appealing.
Whatever you do, grab a key lime pie at the Blond Giraffe. Some say it's the best in the world! islandbayresort.com; fla-keys.com/keylargo
Amelia Island, FL
It's something of a secret. Inside the Sea Island chain, along the U.S.'s East Coast, is Amelia Island, a barrier island that was Florida's first luxury tourist destination. The island is beloved for its serene beaches, unusual history and natural beauty. The island's name comes from Princess Amelia, daughter of King George II of Great Britain. It's located right off northeast Florida's coast.
The island has been recognized as a top tourist destination and possesses a distinctive history. The island was named as one of the Top 10 American islands by Conde Nast Traveler's Reader's Choice Awards for seven years in a row. In addition, it has been named a Top 25 Island in the world. At Amelia, you'll find 13 miles of beautiful beaches and loads of wild life. Activities are multiple and diverse. In addition to every water sport you can imagine, there's golf, shopping, dining, spas and just relaxing. When you shop (and you should), you'll find unique boutiques and galleries, many with nautical themes and enchanting treasures. Fernandina Beach is a few miles away, with a more rustic ambience and family homes.
One feature which makes Amelia distinct is the number of flags that have flown over the island. It's the only place in the United States that has been under eight different flags. That diversity contributes to its interesting culture. So many different people figure into Amelia's past. There were European explorers, Timucuan Indians, pirates, bootleggers, millionaires and shrimpers. The island even starred in the movies: a former sea captain's home in Amelia's Old Town was featured in the 1980s film Pippi Longstocking. ameliaisland.com
Gatlinburg, TN
Gatlinburg is perhaps the only place in the world where you can spice up your vacation with peace frog salt and pepper shakers. The quirky Salt and Pepper Shaker Museum is a must-see if you love all things kitsch. They have more than 20,000 shaker sets, including figures doing the Hokey Pokey, nuns sporting "Good Habit" and "Bad Habit," aliens, robots, even outhouses. Fun stuff. The city's Arts and Crafts Loop features the work of artisans, from pottery, quilts, and candles to handmade jewelry and old-fashioned straw brooms. The Village Shops in particular feel like a cobblestoned European town replete with a centralized fountain. You'll find pottery, candy (great taffy), art, Celtic collectibles, and all manner of unusual souvenirs and gifts.
The area is flush with establishments giving free tastings of local moonshine, craft beers, and wine from area vineyards. The Sugarlands Distilling Company is one of the most popular, and while there, enjoy live bluegrass or stories on the back porch. Be sure to visit the Sweet Fanny Adams Theatre, which delivers outrageous live comedy for all ages. It's just around the corner from Ripley's Aquarium. Whatever the season, you must see Ober Gatlinburg and ride the aerial tramway. In winter, the ski resort has eight ski slopes and an indoor ice rink. The views from the tram of Great Smoky Mountain scenery are spectacular. Nature lovers will find excellent camping, fishing, paddling, and hiking trails nearby. When you're ready to take a load off, check out the charming Wild Plum Tea Room during non-winter months. It's off the beaten path but well worth the trip. gatlinburg.com
Lake Lure, NC
Neatly situated amongst the winding roads of the Hickory Nut Gorge, the town of Lake Lure has served as a haven for those looking to relax and enjoy its natural beauty, take part in the many outdoor activities or experience its vast history.

Outdoor enthusiasts can enjoy numerous hiking and biking trails including Western North Carolina's newest trail system, Buffalo Creek Park. Climb to the top of iconic Chimney Rock at Chimney Rock State Park. Get your adrenaline pumping by ziplining through the canopies, horseback riding, or by water skiing, tubing and SUP-boarding along the crisp waters.

Movie lovers will rejoice! The famous "lake lift" scene from Dirty Dancing was filmed here. The backdrop of the culminating fight scene featured in the historical epic Last of the Mohicans was that of Chimney Rock. Other films such as Firestarter, My Fellow Americans and Rutherford County Line were also shot in the foothills. Take a tour of the area and find these memorable locations!

For accommodations, consider Rumbling Bald Resort, a 2,900 acre property nestled on the north shore of beautiful Lake Lure. Homes, condos and villas are available to rent across the expansive land which boasts a private white sand beach, children's water park, three distinct dining experiences and two championship golf courses.

Experience the history, take in the beautiful views and revel in the excitement that Lake Lure and the Blue Ridge Foothills has to offer. Rumbling Bald Resort: rumblingbald.com; lakelureguide.com
Jamaica
Jamaica is known for its plethora of all-inclusive resorts, but scratch below the surface, and you'll find an island nation filled with unique foodways, exotic smells, notable music and a tremendous art scene that celebrates both academic and intuitive, or untrained, artists.
The problem is often getting to the culture, but Half Moon Bay Resort has solved that dilemma with four excursions that give participants a chance to experience it first-hand.
Rare Blue Mountain coffee has been grown exclusively in Jamaica for more than 250 years; register for the resort's "Day in the Blue Mountains" excursion and you'll spend time at two working coffee plantations and tour the 18th century great house of a former coffee plantation. The views alone – of misty mountains and emerald-green dells – are magnificent.
Stush in the Bush takes you to the parish of St. Ann for lunch on a working organic farm with the owners. (Stush is a Jamaican term for a good, wholesome, happy life.) You can also visit two local artists: Judy Ann MacMillan, one of the country's top academic painters, and sculptor Laura Facey-Cooper.
The 197-room resort is breezy and refined with a private beach, an equestrian center and squash courts. Lodging options vary, but includes Jamaica's only overwater bungalows. It's also just 15 minutes from the airport.
To further decrease the time between your flight landing and your first Red Stripe, register for Club MoBay, which speeds you through immigration and straight to a fully-stocked arrivals lounge. Departure perks include fast-track customs service and access to a second, larger club, with complimentary food, drinks and wi-fi. There's even a spa. visitjamaica.com; halfmoon.rockresorts.com