Women in Business
09 May 2015
From designers and retailers to Realtors and medical professionals, meet the female entrepreneurs and executives who are progressing Charleston's future, one smart decision at a time.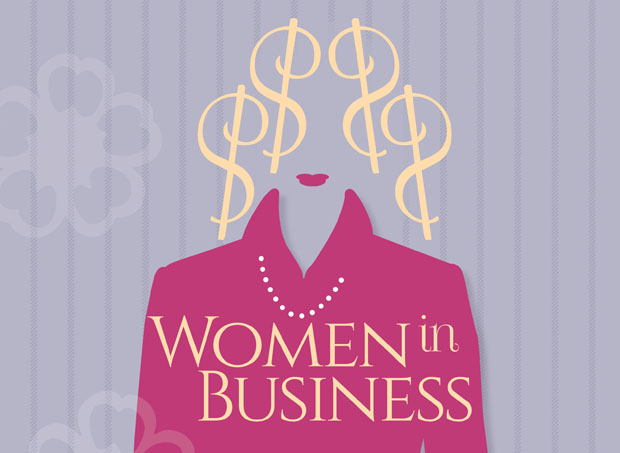 Anna Camens Dinger
Camens Architectural Group, LLC
843-768-3800
camensarchitecturalgroup.com
My Business: I am blessed in my work as the Director of Camens Architectural Group. We have extraordinary clients and a remarkable staff. I am personally honored to work side by side with my father and mentor, Marc Camens.
Why I Chose This Career: My path began with intricate block structures as a toddler, then continued onto elaborate Lego houses, visiting construction jobsites (I love the smell of pine framing!), and running blueprints in my father's office. I have always been immersed in the architectural world.
Best Business Advice I Ever Received: Research is the most powerful asset. Listening is the most powerful skill.
How I Relax: Relaxation is a state of mind, so it really starts with intention. Serenity is sitting with my husband by our pool, enjoying the fresh Carolina air. Cooking with the family is my joyful, creative meditation.
One Thing on my Bucket List: So, here it is―A Five Star African Safari complete with a luxurious tent, rugged Land Cruiser, lions, elephants, and giraffes, oh My!
My Strengths: I excel at client relations, support, and communication. I have great management and coordination skills, organization ability, and a keen design eye.
On a Typical Day: I do a million things. Every day is different, therefore Typical is actually Unique.
Why I Love Doing Business in Charleston: Because I get to live here!
Annalisa Jordan
Weichert, Realtors-Palmetto Coast
843-375-2075
weichertpc.com
My Business: I own and operate Weichert, Realtors-Palmetto Coast and educate agent's through our real estate school Tomorrow's Promise. Additionally, I own The Painted Dragonfly, a retail venue in Southern Accents on Coleman Blvd.
Why I Chose This Career: After 20 years of service in the Public School system, I wanted to have a career that was more flexible, that allowed the absence of a glass ceiling for women of all ages, and one that allowed me to continue to work towards achieving financial freedom.
One Thing on my Bucket List: I would like to jump out of an airplane, travel to Greece, and write a published book. I know this is more than one, but I want to do so many things.
On a Typical Day: I wake up between 4:30 and 5:00 a.m., love on my doggies, write while drinking coffee, send up blessings to those I love, read my emails, help my clients and agents, and GO, GO, GO all day until I crash!
Why I Love Doing Business in Charleston: The smell of the salt air and pluff mud makes me happy. Charleston has so many great features it is so easy to love the geography, the climate, the people, and the food. It is an amazing town, and as a native South Carolinian, one I am proud to call home.
Caroline Robinson
Drift, Citrine Swim, and TOR Jewelry
My Business: I co-own Drift, a women's boutique store with my husband Russell. We carry the latest styles in clothing, jewelry, shoes, accessories and swimwear. The line of swimwear we carry is Citrine Swim, which I also co-own with my partner Erica Segerberg. I am the designer for the swim line, and is now carried at major retailers. A large selection of our jewelry line is TOR Jewelry, which I also own and design as well. My jewelry line can be found in almost 40 shops throughout the U.S., and we have several one-of-a-kind pieces at Drift.
Why I Chose This Career: The idea for Drift was born from a desire to share the unique brands and items we had come across while living in Hawaii and traveling to Bali, with our friends and community back home in Charleston.
Best Business Advice I Ever Received: Love what you do, and if you love what you do then your job won't feel like work.
Why I Love Doing Business in Charleston: As much as I love to travel and have lived in some beautiful places, having grown up in Mt. Pleasant my heart is always anchored in Charleston, which I think is probably true for almost anyone who grew up here.
Catherine Moorehead and Cindy Clark
Next To New
843-606-2715
nexttonewsc.com
Why I Chose This Career: (Cathy) There are lots of people relocating to this area, as well as those buying second homes or downsizing. This results in lots of furniture and home décor that is no longer wanted. Selling these items allows people to recoup some of their initial investment, and I love the idea of repurposing older pieces. (Cindy) I have always enjoyed painting furniture and cabinetry. Next to New gives me the opportunity to enjoy both of my passions.
Best Business Advice I Ever Received: (Cindy) Don't ever give up. Women in the business world are sometimes not taken seriously, so don't get frustrated and you'll persevere. (Cathy) Surround yourself with good people. I am fortunate to have a great business partner and talented group of women working here with me.
Why I Love Doing Business in Charleston: (Cathy) I love the variety of customers who shop and consign here. These people include long time residents to people relocating to the area. We have furniture and décor from all corners of the world. We love chatting with our customers and they teach us something new every day. (Cindy) I love it here because it's the number one city in America, and there are great people here and the location is just fabulous.
Cyndi Buhle
Lowcountry Barbershop
843-793-1567
lowcountrybarbershop.com
My Business: Full service barbershop.
Why I Chose This Career: I have always been interested in hair. I also enjoy people, so it's the best of both worlds.
Best Business Advice I Ever Received: Show your clients that you invest in them by reinvesting their money back into your store.
Best Advice to Other Women: Treat others as you want to be treated, be true to yourself and dare to dream.
One Thing on my Bucket List: To visit the Grand Canyon.
On a Typical Day: Starts with an early rise and shine. Arrive at the shop early to prepare it for our clients, so we can give the best service possible.
Why I Love Doing Business in Charleston: I have lived in the Charleston area since 1986. I love the diversity the city has along with the tremendous support the community gives to local businesses.
Heritage Trust Federal Credit Union
843-832-2632
heritagetrust.org
Emily Reynolds, SVP/CDO, Ashley Islas, Marketing Specialist, Mary Ann Baker, Community Outreach Specialist, Tina Mahaffey, Investment Coordinator, Teresa Johnson, HR Manager, Natalie Ertell, HR Generalist, Robin Horlback, Training Director, Mary Minter, Trainer.
Answers by Emily Reynolds, Credit Union Development Team
Our Business: HTFCU is a $500 million dollar institution with around 50,000 members in the Lowcountry, and this year marks our 60th anniversary. Our Credit Union Development Team encompasses Employee and Business Development through HR, Training, Marketing, Retirement & Investment and Public/Employer Relations.
Why I Chose This Career: Our business is founded on the philosophy of "people helping people", and it is truly rewarding to represent an organization that lives by that philosophy, not only through our community outreach and education, but also how we serve our members.
Best Business Advice I Ever Received: Quality is essential - it's not about getting things done quickly or putting a feather in your cap, it's about doing the hard work necessary to ensure you are delivering the best to your customer or audience.
Why I Love Doing Business in Charleston: Charleston is an exciting place to be in business because of the combination of new, innovative emerging businesses as well as established companies growing and changing. The main part I love, being a Southerner, is the way business professionals in our town still believe in relationship-building, reputation and helping each other succeed.
Jan Snook
Jan Snook Real Estate Consultants with Carolina One Real Estate
843-437-3330

My Business: Full time Real Estate Broker and Consultant with Carolina One Real Estate.
Why I Chose This Career: I love the challenge of helping my clients achieve success in making the largest financial decision in their lives. The end result when they get the keys and the smile on their face is the best reward.
One Thing on my Bucket List: Dive the Great Barrier Reef in Australia.
My Greatest Strengths: A willingness to consider all options as possibilities, and all people as having merit.
On a Typical Day: There is no typical day in real estate! Each day has its own personality depending on the needs of that days' clients.
Why I Love Doing Business in Charleston: I love this community! There is so much vibrant life and so many opportunities here, that it draws wonderful people to this fascinating city that's full of history. I cannot imagine a better place to live and work than right here in the Lowcountry of South Carolina!
Kathie Livingston
Nature Adventures Outfitters, Inc
843-568-3222
kayakcharlestonsc.com
My Business: We provide outdoor adventures with kayaking, canoeing, paddleboarding, hiking tours and rentals. Our company's mission is to "Provide Tours for the Preservation of the Environment".
Why I Chose This Career: I absolutely love the outdoors and want to share that love with my clients, and help save the environment at the same time.
Best Business Advice I Ever Received: Lead by example, ethically.
One Thing on my Bucket List: I would like to visit all of the National Parks in the United States.
On a Typical Day: I begin at 6 a.m. and get the day going with a fresh, healthy breakfast. Then I head out to kayak or run the business, returning around 6 p.m., feed the horses, chickens, dogs and cats and finish any Nature Adventures business that is needed and retire by 9 p.m. Some days are 14 hours, easily during the summer.
Why I Love Doing Business in Charleston: It's an incredible city that embraces amazing culture and natural resources. It also offers a wonderful variety of activities and food choices for tourists and locals.
LaJuan Kennedy
Fred Holland Realty
843-588-2325
fredhollandrealty.com
My Business: I own and operate Fred Holland Realty. We specialize in resort properties, but also work the greater Charleston area. We have a large weekly management business that keeps everyone moving.
Why I Chose This Career: I was recruited by Fred Holland in the 70s and fell in love with the job. I have worked for 40 plus years, and still enjoy what I do.
Best Business Advice I Ever Received: Work hard and know your market.
How I Relax: With my grandchildren, I enjoy being with them and sharing in their lives.
Best Advice to Other Women: It is not always easy, but you must prove you can do the job as good as anyone.
One Thing on my Bucket List: To visit and see Scotland and Ireland.
My Greatest Strengths: Handling difficult situations, staying focused and helping others solve problems.
On a Typical Day: Check on properties listed. What activity am I seeing and how can I get more activity on my listings. Keep reservationist and vendors doing their jobs with the management side. Encourage others to work hard and be successful.
Why I Love Doing Business in Charleston: Charleston is a beautiful city and the coast where I do most of my business is the best on the East coast. Would not want to live anywhere else.
Laurie Langford
Willie Jewell's Old School Bar-B-Q
843-789-3636
williejewells.com
My Business: I own and operate a Bar-B-Q restaurant with my husband Carl. We serve traditional Southern style pit Bar-B-Q that is slow smoked for hours, in a fast-casual dining environment.
Why I Chose This Career: My mother was a fabulous cook, and we entertained a lot. I grew up in the kitchen with her, and have enjoyed cooking ever since.
Best Business Advice I Ever Received: Treat your customers like guests in your home and your employees like family.
One Thing on my Bucket List: One thing on my list is I would like to travel to Australia and New Zealand.
My Greatest Strengths: I feel my strengths are the ability to multi-task and create wonderful and simple recipes that my customers and family love.
On a Typical Day: I feed 200-500 folks a day, so some days it can be quite hectic, but I get to be with my favorite people - my home and work family.
Why I Love Doing Business in Charleston: I get to play tourist in my own beautiful home town, what could be better than that!
Lutheran Homes of South Carolina
843-856-4700
lutheranhomessc.org
Paula Mellichamp, Lutheran Hospice, Program Director; Vickie Sanford, Franke at Seaside, Resident Services Associate Director; Sandy Stoll, Franke at Seaside, Licensed Healthcare Administrator; Kassie South, Franke at Seaside, Memory Support Director; Jill Ussery, Franke at Seaside, Community Outreach Director; Dana Simmons, BeWell at Home, Program Director; DeAnne Read Vane, Director of Sales and Marketing; Paris Goldston, Franke at Seaside, Director of Resident Care.

Answers by Sandy Stoll.
Our Business: Franke at Seaside in Mount Pleasant, is a ministry of Lutheran Homes of South Carolina. I serve as the licensed Long term care administrator responsible to oversee the day to day operations for independent and assisted living, memory support, and skilled nursing and rehabilitation services.
Why I Chose This Career: It allows me to have the opportunity to be a "world maker." I'm inspired by individuals who live and work here. Their stories and the message of hope they share gives us opportunities to learn and grow each day. I'm blessed to be a part of such a great team.
Best Business Advice I Ever Received: It's very simple. Learn to just say "Thank you." These two words can go a long way.
How I Relax: I love to read a good book, go for a long walk, or bike ride on the beach.
Best Advice to Other Women: It's important to find balance in all aspects of your life.
One Thing on my Bucket List: People may be surprised that I would like to go skydiving.
My Greatest Strengths: My strong faith in Jesus Christ.
On a Typical Day: Working in long term care, and at Franke, there is no 'typical day'. This is what
I love the most about my position.
Why I Love Doing Business in Charleston: Charleston is such a warm and friendly community.
Frankie Liady, Laura Gaskins and Celeste Massey
Marigolds
843-851-2828
marigoldssummerville.com
Our Business: Hardly definable! We are a weathered blend of distinctive home décor, fine gifts and linens, exclusive apparel, statement lighting and salvage finds. We are also an approved stockist of Chalk Paint® Decorative Paint by Annie Sloan. We are a family owned business of mother, Frankie, and her two daughters, Laura and Celeste, whom constantly collaborate, blending our tastes and ideas into an inimitable shopping experience.
Why I Chose This Career: We chose to open a store because there was not a shop that one could go to in Summerville that would serve as an emporium of inspiration. We wanted to achieve a place where you could accomplish the look you desired in your home for your next summer party, find a heartfelt gift for the hostess and pick up a dress for the occasion!
Why I Love Doing Business in Charleston: I'll be honest, owning your own business is work! But we are always encouraged by the loyal customers that come back, over and over. Their compliments and smiles are why we keep going. The Lowcountry is a fantastic place to live and work; not only due to its beautiful oaks or marsh, but also because of the people. Without the people, we would not be here!
Dr. Michele Mittelbronn, MD
Coastal Dermatology
843-881-2265
coastalderm.net
My Business: I practice medical, surgical, cosmetic and laser dermatology in Mt. Pleasant and Pawley's Island since 2002.
Why I Chose This Career: I think I knew from an early age that I would be a healer of some kind. Dermatology combines my visual nature with my creative side. The skin as an external organ allows me direct visualization of the problem. Skin cancer surgery allows me to be creative and work with my hands which I love. Creative vision also abounds in cosmetic dermatology procedures.
Best Business Advice I Ever Received: When opening a medical office, start with more space than you think you need at the time. I wish I had taken that advice.
Best Advice to Other Women: Strive for life balance, and always take time to nurture yourself along your path.
Why I Love Doing Business in Charleston: There is a mixture of all types of people here and I enjoy being able to connect on a personal and medical nature with these wonderful folks. I love working for my patients in the Lowcountry. They give me so much back for just doing my job.
Dr. Nicole Dahlkemper
Water's Edge Dentistry
843-884-6166
watersedgefamilydentistry.com
My Business: We offer comprehensive oral health care so I consider myself more of a "mouth doctor" than a general dentist. The Water's Edge team offers everything from routine family dental care to complete mouth restoration. We also focus on nonsurgical TMJ treatment, Invisalign, and sleep apnea treatment. Continued education is very important to my team and I. I feel the more we know, the better I can serve my patients.
Why I chose This Career: I've always been passionate about helping people, and I know that medicine was my purpose in life. In college I discovered my artistic qualities and really liked working with my hands. I realized my fine eye for detail and a desire to improve the lives of others could make me a great dentist.
Best Business Advice I Ever Received: Continuous learning leads to continuous improvement! Commit yourself to advancing your knowledge, skills, and expertise. The business environment is quickly changing and your understanding of the leading practices, techniques, thinking and emerging tools will achieve better results. Be a lifelong student!
How I Relax: I enjoy taking my dogs Kirby and Sully to the beach, sitting on the beach reading a good book, being on the water kayaking or paddle boarding, listening to live music, and practicing Bikram hot yoga.
Best Advice to Other Women: Get clear on what truly motivates you. Be true to who you are. Dream big and stay committed to what you love to do, as you realize your true potential and positively impact the world.
One Thing on my Bucket List: I would like to hike Machu Picchu in Peru.
Why I Love Doing Business In Charleston: I can't think of a community I'd rather be in. My patients are truly wonderful, loving people who make my job even more fun to come to. We live in the greatest place, how could I not love having a business here!
Paula Spivey
Spivey Architects, Inc.
843-795-9370
spiveyarchitects.com
My Business: We are a regional Architectural firm dealing in custom residential and commercial planning, design and consultation, and the founding principal has over 30 years of design and construction experience.
Why I Chose This Career: It's more like this career chose me. It's my husband's business. When the down turn occurred a few years back, he asked if I could join him in running the firm. So, after many years of being a stay at home Mom, I'm now handling general office management and accounting.
How I Relax: I like to settle into a comfy chair with a good book and a glass of wine.
Best Advice to Other Women: Believe in yourself, your talents and your abilities. You can accomplish anything you want and deal with whatever life throws at you with faith, belief, action and hard work.
One Thing on my Bucket List: The one thing on my bucket list that comes to mind is driving across the United States with my family. It would give us time together exploring this great country!
Why I Love Doing Business in Charleston: I enjoy the people I come in contact with on a regular basis. They are all like good friends.
Sharon Campbell
Backyard Retreats
843-856-0049
backyardretreatsinc.com
My Business: At Backyard Retreats Inc., we offer unparalleled lines of outdoor furniture, accessories, fire pits, umbrellas, recycled polymer, cast aluminum, custom cushions and much more. I have a great staff and we love what we do. Backyard Retreats is nestled behind the colorful row of Adirondack Chairs at 554 Johnnie Dodds Blvd. in Mt. Pleasant. We have been there for over 19 years in the same location. At Backyard Retreats, we focus on our strengths and what makes us different. We are known for our unmatched personal customer service, custom designs, and high quality products. Our passion for designs has given Backyard Retreats a personality unlike any other outdoor furniture store in the Lowcountry. We create "Backyard Magic" with beauty and warmth.
Why I Chose This Career: This career inspires me to be my best and I believe inspiration starts within yourself, doing the things that you enjoy. I find working with people and helping them design and create their very own dreams for their backyards, porches, and outdoor spaces is very rewarding.
How I Relax: I love to Ballroom Dance and train for dance competitions. I forget about stress when I am on the dance floor. Spending time with my Grandchildren, taking long walks and reading a great book.
On a Typical Day: I am an early riser and I spend time in prayer each morning before I begin my day. I follow a daily list and strive to accomplish all the priorities on it, making sure that my staff is ready and that our day flows as smooth as possible. Our number one focus is our customers because without them we would not be Backyard Retreats.
Why I Love Doing Business in Charleston: One of the reasons I love doing business in Charleston is the Lowcountry Southern charm that it offers. I have the best customers ever. I love our beautiful landscape and sunshine, and would not want to be anywhere else.
Virginia L. Gregory
Virginia L. Gregory, D.M.D., LLC
843-884-8884
virginiagregory.com
My Business: I am a general dentist, practicing for 29 years in Mt. Pleasant. My practice focuses on providing aesthetic solutions to complex restorative and cosmetic dental needs for adults and teens. We also provide general preventive care, including exams and cleanings for our patients.
Why I Chose This Career: I majored in dental hygiene in college and loved dentistry. That education led me to further develop my skills and abilities in dentistry. The field of dentistry is always changing and I love to continuously learn new techniques and information for my patient's well being. Changing a person's life through improving their dental health is wonderfully rewarding to me.
Best Advice to Other Women: Work hard and treat others well. Take care of yourself and it will affect others around you positively.
My Greatest Strengths: I guess my greatest strength is persistence. It helped me get through years of multiple educational degrees, start a business from scratch and stay focused on it for 30 years, complete marathons and triathlons, maintain a happy marriage, and raise a child! I also am blessed with a positive attitude. Things are always good and getting better as far as I'm concerned.