Sunny Side Up: Charleston's Best Breakfasts
20 Sep 2014
Charleston's celebrated dining rooms, haute cuisine haunts and award-winning chefs get plenty of ink in today's food-obsessed press. But the simple fact is that sometimes even a five-star four-course fancy dinner can't redeem a day that doesn't start off on the right foot, or plate. Here are our suggestions for the best spots to fuel early, and often.
By STEPHANIE HUNT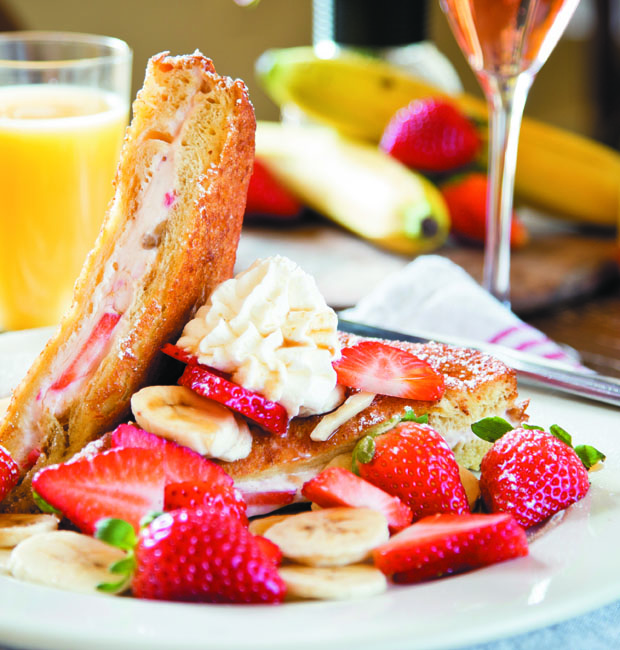 Bear E. Patch Café
So you roll outta bed, perhaps not yet at your best before coffee and a bite to eat. That's why we think breakfast should be a homey affair, comfortable and not fussy. And that's why the folks at Bear E Patch, a family-owned and operated local institution, get it right. No fluff here – instead get fortified with classic Country Style steak and eggs, country ham, 20 different types of omelets (all large and loaded), and their famous breakfast "skillets." For those who like a classic heavy southern breakfast (think sausage gravy and killer biscuits), the Hawes family serves it up all day long (from 7 a.m. till 9 p.m., Monday – Friday; 8 a.m. to 8 p.m. on Saturday).
bearepatchcafe.com, 1980-A Ashley River Road, Charleston, 843-766-6490.
Boulevard Diner
There aren't many options in Mount Pleasant for a full-service sit down breakfast, and Sal Parco's Boulevard Diner is one of the longer-standing ones. The big plate glass windows and funky roof pay homage to the diner's former life as a Dairy Queen, but the menu is decidedly "diner" with Southern breakfast fare. Their oatmeal is a healthy option, and breakfast sandwiches are a nice alternative to the heavier shrimp and grits (which ARE heavy and rich). The Boulevard Diner is a favorite (and convenient – right on Coleman) spot for morning meetings, or a great pancake pit stop after walking the bridge.
dinewithsal.com/boulevard, 409 W. Coleman Blvd., Mt. Pleasant, 843-849-0206
Charleston's Café
Tucked into a Johnny Dodds strip mall off busy Highway 17 North, Charleston's Café belies its non-plus location and ambiance with a deliciously imaginative menu. This is not your typical two-eggs-scrambled place. The café takes a unique and fun approach to breakfast "novelties" with Huevos Rellenos or Charleston's Breakfast (eggs on fried green tomatoes), and their 9-island tour via various potato casseroles (Goat Island, Dewees, Kiawah, Sullivan's… you get the picture ― "chippers" (homemade potato chips) layered with peppers and onions and topped with island-themed ingredients). The Café's sweet potato biscuits are revered, and even their iced tea is spiced. There's lighter fare, too, but really, why bother?
charlestonscafe.com, 1039 Johnnie Dodds Blvd., Mt. Pleasant, 843-856-7796.
Gaulart & Maliclet
Since 1984, Charleston residents and visitors alike have been spoiled trés rotten, thanks to artists Gwylene Gallimard and Jean-Marie Mauclet who ensured that the Lowcountry's French heritage would not be relegated to Huguenot history. Gallimard and Mauclet opened their "Left Bank" café on Broad Street (better known as G&M or Fast & French) as a community meeting spot where neighbors would rub elbows (literally) over global fare, and perhaps the latest issue of The New York Review of Books. Breakfast is served from 8 a.m. on, and it's simple but elegantly satisfying. Rich, bold French press coffee and fresh buttery croissants. Fresh baked baguettes and jam. Fruit and yogurt. C'est délicieux!
fastandfrenchcharleston.com, 98 Broad Street, Charleston, 843-577-9797
Hominy Grill
"Grits are good for you," proclaims the David Boatwright mural on the side of Hominy's building – an authentic Charleston Single House. "Authentic" pretty much sums up what Hominy is all about, good-for-you grits included. Chef-owner Robert Stehling has set the bar for Lowcountry breakfasts, with his signature locally sourced stoneground grits, excellent coffee in vintage Hominy mugs and a shrimp and grits (balanced, fresh, rich, yummy) that helped put Hominy on the map as a foodie haven. Of course there's the Charleston Nasty Biscuit (fried chicken, cheddar, sausage gravy) if your arteries are in good shape, but the banana bread never fails either, and we love that there are gluten free pancakes. Something for everyone at Hominy.
hominygrill.com, 207 Rutledge Ave., Charleston, 843-937-0930
Marina Variety Store & Restaurant
The Variety Store is your quintessential diner with arguably the best early morning view in Charleston. Pelicans and herons soar by, sailboats sway in the harbor, the sun crests over the sleepy peninsula and sparkles off the water, meanwhile, snappy servers fill your coffee cup and deliver tried-and-true breakfast dishes. No frills but plenty of flavor here, with satisfying hash browns and creamy grits. Blow it out with the Crab Cake Benedict or maybe try some marinated alligator with your eggs? The Variety Store does offer a wide variety, but they excel with the basics – sunny side up and whole wheat toast is a great way to start the day, especially when it's served with a sunrise over Charleston harbor.
varietystorerestaurant.com, 17 Lockwood Drive, Charleston, 843-723-2365.
Palmetto Café
Every now and then breakfast deserves a white tablecloth and fine china, an elegant and dressed-up start to a special day. If the mother-in-law is visiting and needs a little pampering, treat her (and you) to the Palmetto Café where peaches and crème French toast is peachy indeed, and the Palmetto Omelet (fresh lump crabmeat, lobster knuckles) is decadent and delicious. Though it's situated inside the Charleston Place hotel complex, the café looks out onto a lush interior courtyard, and the impeccable service adds to the welcoming and sophisticated ambiance.
belmond.com/charleston-place/charleston_restaurants, 205 Meeting Street, Charleston, 843-722-4900
Queen Street Grocery
Neighborhood hipsters and Colonial Lake old-timers mix it up in this funky circa-1922 corner store and purveyor of the area's most creative and delicious crepes. The breakfast-style crepes (served with fried eggs) range from The Archdale (spinach, grilled mushrooms, tomato) to The Daniel (cheddar, Pico, avocado), then there's a whole amazing selection of savory crepes that are hard to resist. In a relaxed anything-goes vein, QSG also offers build-your-own omelets, build-your-own crepes, build-your-own breakfast sandwiches, etc., as well as high-test cold pressed coffee and nutritious smoothies to smooth out the previous night's damage.
queenstreetgrocerycafe.com, 133 Queen Street, Charleston, 843-723-4121
Saffron Café & Bakery
When Charleston icon and beloved wrought-iron artisan Philip Simmons was still alive, you'd find him having breakfast every morning at Saffron. The East Bay street restaurant has been a peninsula staple for decades, with French toast made from its house-baked heavenly brioche and a full menu of traditional breakfast items. From omelets to pancakes to Kellogg's cereal, to decadent bakery goodies (who says you can't have Red Velvet Cake for breakfast?), Saffron covers the bases and makes for a great spot (with parking) for an early morning meeting.
eatatsaffron.com, 333 East Bay Street, Charleston, 843-722-5588
Sea Biscuit Café
The only thing better than catching some waves on a dawn-patrol IOP surfing expedition is refueling afterwards at the Sea Biscuit. With legendary biscuits (a favorite of New York Times food writers), killer pancakes and some of the best crab cakes around, but be prepared to wait a bit because there's usually a line of beachgoers waiting to partake. Breakfast in the off-season though, is a treat. Go early, bring the Sunday Times and enjoy. Surfs up!
21 J C Long Boulevard, Isle of Palms, 843-886-4079.
Sunflower Café
If you're headed out toward the Ashley River historic district, be sure to fortify your garden and plantation touring with a breakfast stop at the Sunflower Café. A welcoming and cheerful family-run spot, the Sunflower is home to some of the fluffiest pancakes west of the Ashley (or anywhere, really). If you're truly hardy, try the filet mignon and boursin omelet, just don't plan on getting much else accomplished that day. The salt-cured country ham and eggs is about as traditional Southern as you can get, and they serve it with equally traditional southern hospitality on the side, no extra charge.
thesunflowercafe.net, 2366 Ashley River Road, Charleston, 843-571-1773.
The Early Bird Diner
Pecan-encrusted fried chicken and a cinnamon waffle drizzled with honey mustard and syrup – need we say more? The Early Bird Diner wakes up a weary stretch of Savannah Highway with its offbeat coffee shop allure and get-you-going menu. In addition to the chicken & waffles (stop drooling), favorites include corn cakes benedict and their signature "Big Bowl o' Grits" with various toppings. The Early Bird is one of the few places that we know of where you can get an early bird breakfast burger, or if you must, there's "The Mess", a scramble of curried vegetables, potatoes and eggs topped with slices of avocado. Mmmmm.
earlybirddiner.com, 1644 Savannah Highway, Charleston, 843-277-2353
Three Little Birds Cafe
This charming spot in the South Windermere Shopping Center serves up "peace, love and pancakes" as well as fresh, wholesome breakfast delights for vegetarian and health conscious early birds (tofu and veggie scramble, veggie sausage, fresh squeezed juices) as well as for the less-health conscious (strawberries + whipped cream on goat cheese-stuffed challah French toast!). The atmosphere is friendly, fun and groovy, with the check presented clipped to a classic old book (read Nancy Drew as you tally the tip). Three Little Birds serves breakfast through lunch as well, so you don't have to fret your decision ― have the fresh herb omelet for your first meal then the avocado omelet for lunch.
threelittlebirdscafe.com, 65 Windermere Blvd., Charleston, 843-225-3065.
Toast
Truth be told, the line of folks waiting for a breakfast table at Toast may have a lot to do with their bottomless Mimosas, but the food is worthy here, too. Deluxe French toast made with currant bread and stuffed with cinnamon apples or peaches caught the eye (and taste buds) of a New York Times travel writer, and their Lowcountry Eye Opener is a New Orleans-inspired spin on shrimp-n-grits. Located right near the Market on Meeting Street, Toast tends to draw healthy crowds of tourists, but locals obviously know a good brunch when they see one too.
toastofcharleston.com, 155 Meeting Street, Charleston, 843-534-0043
Virginia's on King
Virginia's knows when not to mess with a good thing: a classic, warm and sophisticated dining room centrally located on King Street, and an equally classic Southern breakfast menu to go along with it. There's the usual three-egg omelets, pancakes and French toast—all excellent, and for something a little more unexpected, how about a blackened salmon BLT, or country ham and collards on your Eggs Benedict? The service here is attentive and professional—a perfect place to impress your boss for a business breakfast or treat your family to an upscale egg or two.
holycityhospitality.com/virginias-on-king, 412 King Street, Charleston, 843-735-5800.