From Salt Marsh to Table
20 Sep 2014
Slow food the Sea Island way calls for pairing low key, easy recipes with the catch of the day. Kick back and enjoy the cooler weather with these Lowcountry inspired recipes.
Text and Photographs by KIM BYER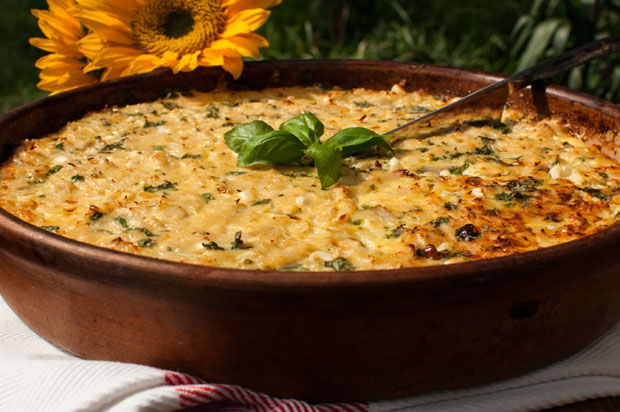 When I time it right, my finest Sunday mornings are spent sitting on our dock in Saint Helena, sipping coffee and staring across a bay of bright green spartina grass as the orange sun spills over the oaks and into the marsh. The pop, pop, pop of bivalves beneath their pluff mud blankets is a tender wake-up call. Dock rails lined with white, feathery egrets shine like pews of splendid ladies. And if the tide is up, millions of silver-blue minnows shimmer and swirl, then pause to congregate – thrilled to be, if only for this moment. But best of all, the deep, hallowed smells of the salt marsh rise and hover around my shoulders like the warm, mysterious breath of life itself.
If this is not church, then I do not understand what is. And like any church-going Sunday, there's no better way to follow up a great sermon than with a great meal.
The pace of life on this South Carolina Sea Island seems slower than the rest of the state, and that's saying something. So it's no surprise that the slow food trend has been trendy here for centuries. Not that there aren't take-out pizza nights and trips to the drive-thru and the grocery store. But for the most part, when we're on the island, we're checking the tide charts; we're checking the forecast; we're readying the Whaler. When the timing is right, long days and nights are dedicated to casting for shrimp or fish, sometimes coming home with nothing but an empty cooler or sunburn. We've enjoyed endless sunsets while waiting for that perfect five-inch blue crab to discover the chicken necks tied to the end of our lonely, sunken strings.
In the Lowcountry, folks still gig for flounder, and harvest oysters; they will sit for hours, heading buckets of shrimp. As a cook, I find this fantastic: Real food is not taken for granted.
I appreciate wild-caught, Atlantic seafood more since I've started spending time in the Lowcountry. When you're standing around a fire, sweating in the humidity, swatting no-see-ums and cooking something caught that very day, pluff mud and sizzling seafood smell uniquely like paradise.
This recipe collection is inspired by ingredients pulled from the sea and the salt marsh, with fresh vegetables plucked from roadside markets and our favored Lady's Island Publix. The mango pico de gallo is my new favorite addition to shrimp tacos, but it also stands on its own as a sweet and hot salsa. And although these shrimp burgers may not rival the experience of trekking to the Shrimp Shack on Highway 21… well, let's say homemade, grilled shrimp burgers on the back porch are a welcome trek for your taste buds. Enjoy with a cold beverage and a can of mosquito spray.
If you find yourself missing breakfast in downtown Beaufort at the Lowcountry Produce Market and Café or Blackstone's, a slice of the Corn and Crab Quiche and Jalapeno Cheddar Loaf will surely make up for your loss. And if you're longing for the smell of pluff mud, a slice of gooey, chocolate Pluff Mud Pie will in no way substitute. But then again, that's probably a good thing.
Shrimp Tacos with Mango Pico de Gallo
Serves 6
1 pound large, wild Carolina shrimp, shelled and deveined
15-18 corn tortillas
7 ounces quesadilla melting cheese, melted
4 ounces queso de fresca, crumbled
1-2 avocados, pitted and sliced
1/2 teaspoon sugar
1/2 teaspoon sea salt
1/4 teaspoon cumin
Dash of cayenne pepper
Limes, quartered lengthwise into wedges, for squeezing
Oil for frying
Mango Pico de Gallo
1 ripe mango, chopped
1/4 medium sweet white onion, chopped
2 jalapenos, seeded and chopped
10-15 yellow grape tomatoes, sliced
1/4 red bell pepper, chopped
1/4 cup chopped fresh cilantro
Juice of one lime (2-3 tablespoons)
1/2 teaspoon sea salt
Prepare Mango Pico de Gallo by combining all ingredients in a bowl and stirring. Rinse shrimp and pat dry. Toss shrimp in salt, sugar, cumin and cayenne. In a large skillet, bring a small amount of oil to the point of almost smoking. Toss 1/3 of the shrimp into the pan, being careful not to let the shrimp touch each other. Pan fry shrimp until pink—this should take less than thirty seconds. Remove cooked shrimp from heat and continue frying the remaining shrimp the same way. You may have to add more oil. Prepare tortillas according to package directions. Spread a small amount of the melted cheese onto each tortilla, then add a few shrimp and a few slices of avocado. Next, top this off with a large dollop of Mango Pico de Gallo, a spoonful of queso de fresca crumbles, and a quick squeeze of lime.
Corn and Crab Quiche
Serves 6
Butter (or oil) for pie plate
4 to 8 ounces lump crabmeat
1 1/4 cup grated Gruyere cheese
1/2 medium sweet onion, chopped
1 ripe tomato, sliced thin
2 ears corn, sliced from cob
2 tablespoons fresh basil, chopped
5 eggs
1 small can (5 ounces) evaporated milk
1/8 teaspoon freshly ground pepper
1/4 teaspoon sea salt
Pre-heat oven to 350 degrees. Grease a 9-inch pie plate with butter, cooking spray or oil. Layer the Gruyere cheese, onion, peppers, tomato slices, crab and corn. In a medium-size bowl, incorporate the eggs with the can of evaporated milk. Add salt, pepper, and basil. Whisk again and pour over the layers. Bake for 35 minutes or until center is set and the smell of quiche hovers in the kitchen air. Serve immediately.
Shrimp Burgers with Smoky Remoulade
Serves 4
1 pound large, wild Carolina shrimp, peeled and deveined
4 hamburger buns, split
1/8 teaspoon salt
1/8 teaspoon sugar
1/4 teaspoon garlic salt
dash of cayenne
2 eggs
1/4 cup red bell pepper, chopped
1/4 cup sweet white onion, chopped
1/2 to 2/3 cup bread crumbs
Lettuce leaves for topping
Tomato slices for topping
Smoky Remoulade
1 cup Duke's mayonnaise
2 teaspoons lemon juice
3 teaspoons chopped fresh Italian parsley leaves
1 teaspoon Worcestershire sauce
1/2 cup ketchup
1 teaspoon horseradish sauce
Several dashes of smoked paprika
2 anchovy filets, finely chopped (optional)
To make the remoulade, simply combine all ingredients in a bowl and stir until incorporated. For the burgers, place shrimp, seasonings, onion, red bell pepper and eggs into a food processor. Pulse until a loose, but chopped consistency is achieved (about 20 pulses). Remove from processor and place into a medium sized bowl. Slowly incorporate a handful of breadcrumbs. Wait a few minutes in between handfuls to allow the crumbs to soak up some of the juice. The fewer breadcrumbs used to achieve a semi-firm (shapeable) consistency, the better. Shape into four or six patties. Grill over fire or fry in a large, oiled skillet, flipping once. Toast the buns, spread the remoulade and assemble the burgers.
Jalapeno Cheddar Loaf
Makes two loaves, approximately one pound each
2 eggs plus enough water to equal 1 1/3 cups
6 ounces extra sharp cheddar cheese, grated (divided use)
5 jalapeno peppers, seeded and chopped
1 1/2 teaspoons kosher salt
2 tablespoons sugar
1/3 cup butter, softened
4 cups bread flour
1/4 teaspoon red chili pepper flakes
1 1/2 teaspoons quick active dry yeast
Extra flour for rolling out loaves
Place all ingredients (using 3/4 of the cheese) into a standing mixer with a dough hook and knead until ingredients are fully incorporated. Allow dough to rest beneath a warm, damp cloth for 30 minutes. Or, use a bread machine for both kneading and proofing, following manufacturer's directions. Preheat oven to 350 degrees. Divide dough into two loaves, topping each with equal amounts of remaining cheddar cheese. Place loaves inside buttered pans or shape into rounds and bake on a pre-heated stone. Bake for 30-35 minutes.
Pluff Mud Pie
Serves six
Inspired by Catherine Arnot's Chocolate Chess Pie in 'Pon Top Edisto.
For the pie:
1/2 cup butter, melted
2 squares unsweetened chocolate, melted
1 cup sugar
2 eggs, beaten
Pinch of salt
1 teaspoon good quality vanilla
For pie shell:
1/3 cup pecans, chopped
1 sheet of pie pastry unfolded and crimped into a 8-inch pie pan
Whipped cream for topping
Preheat oven to 350 degrees. In a small pan, gently toss and toast the chopped pecans until they are firm and fragrant. Do not burn. Press the toasted nuts into the pie shell. Combine the pie ingredients and pour over the nuts. Bake for 30-35 minutes. Serve warm, at room temperature or chilled. Before serving, top with a dollop of whipped cream.