Sunset by the Shore
08 Mar 2021
First, you need an appealing top-tier hotel. Then, you'll want lots of ways to have fun, both on and off the property in Beaufort, NC
By Katherine Pettit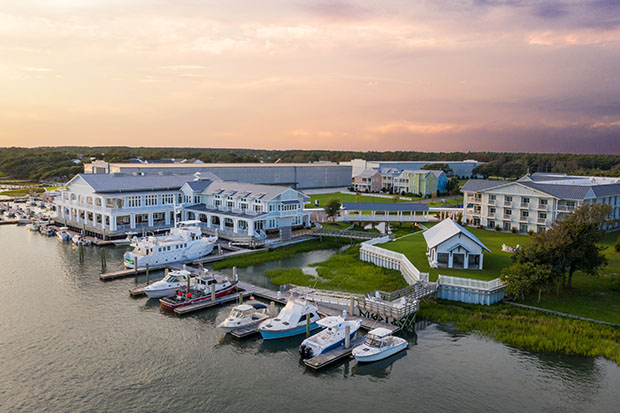 Make sure you arrive at the Beaufort Hotel in time to check in, head to the patio of 34° North Restaurant, order your favorite libation, and toast the sunset as you watch the magic appear. This is North Carolina's Beaufort (pronounced Bo-firt) – historic, beautiful and fun-filled, no matter what your pleasure.
First, the hotel. Find it on ten acres across from the barrier islands, with views of Taylor's Creek. It's in a resort-style setting, with plenty of privacy. A member of Concord Hospitality Enterprises, this newest vacation destination along the Crystal Coast of the Southern Outer Banks creates unforgettable memories and remarkable amenities. In your room, you'll find plush linens (feel the richness), wired and wireless Internet, large flat screen TVs, signature bathrobes – ooh so comfy – and high quality Tommy Bahama eco-friendly products. Think casual and luxurious, pampered and relaxed. There are concierge services, outdoor swimming pool, fitness center, a lobby marketplace for life's little necessities and a guest laundry, just in case.
If there's a chill in the air, consider a glass of wine in front of the lobby fireplace. This takes cozy comfort to a new level.
Thing is, you may not spend lots of time in the room. There are so many ways to enjoy yourself, no matter what your preferences. Of course, sitting on your water-view balcony, sipping the hotel's Maker's Mark Private Select® Bourbon, is a great way to unwind after a day of play. (Look for it in their restaurant as well.) You may even see the wild horses on Rachel Carson Reserve.
If you want to stay in for dinner, take a look at 34° North Restaurant's menu. You already know about the views, but here are a few insider tips on expertly-prepared dining options. Seafood lovers can't go wrong with pan-seared scallops as a starter. Or, don't overlook the crispy pork belly. Try them both and share. The pan-seared grouper is one of the most popular entrees and everyone loves their bourbon bread pudding with brown butter bourbon ice cream. Beyond yum!
Or, blaze your own dining trail. It's all good. Are you traveling with the kids or taking a romantic few days of R&R? Either way works at this hotel. It might be fun to scout out the surroundings first. And if you are thinking of the perfect wedding venue, consider one couple who got very lucky on their special day, when the owner of a vintage boat docked at the Beaufort Hotel, allowed them to take wedding photos on board. Talk about magical! Even the business meetings have a bit of fairy dust sprinkled around. Everything works better when the behind-the-scenes professionals have it all covered.
If you've left the little ones at home for your first trip, ask the concierge about children's activities in the area for the future. There are plenty, in addition to the outdoor pool and spacious grounds. And your little ones will feel welcome and pampered, and that makes Mom and Dad happy, too.
Although you may want to stay on site forever, take advantage of the many ways to play and learn. Rent a kayak and paddle over to Rachel Carson Reserve with its 30 wild horses. Beaufort Paddle offers rentals and instruction. Shackleford Banks is another island with resident horses – perhaps 100 of them. Island Express Ferry Service is the only ferry authorized to drop off visitors at the banks as well as Cape Lookout National Seashore to see the 161-year-old lighthouse.
And there's another treasure you're sure to love. Miss Crystal Coast Lady will take you to Sand Dollar Island which features the best hunting grounds for sand dollars. It's also surrounded with shallow tidal pools for safe swimming and excellent snorkeling. Picture your catch of sand dollar beauties on display back home – a lasting reminder of the fun you enjoyed.
Or sign up for Lookout Cruises, where you'll enjoy cushioned seating aboard a 42-ft catamaran. Plenty of shade and large clean restrooms guarantee a very pleasant experience.
Want to stay ashore? Consider Hungry Town Tours – a guided, or on your own bike tour. It's a great way to pedal around town, discovering the history, culinary arts, and shops. Why the name? It was briefly called "Hungry Town" in the 1713 plan for the area, but the name was quickly replaced with Beaufort – much better, although hungry visitors can find plenty to satisfy themselves, including Aqua Restaurant, where the local catch and grilled rack of lamb are topped only by their Bananas Foster!
When you're strolling by shops (and in the lobby of the hotel), stop to look over the glass stingrays created by local artist Stan Harmon (Stan Harmon Glass Art and Sculpture). His stingrays are world renowned, and made from glass and metal. Stan's workshop/gallery is in Morehead City, NC. "My artwork is an attempt to recreate a moment in time, an atmosphere, the feeling of connection with the creatures that inhabit the many emotionally moving moments of time and space I have experienced in daily living and travel." Makes a perfect memento of your trip or a great gift idea.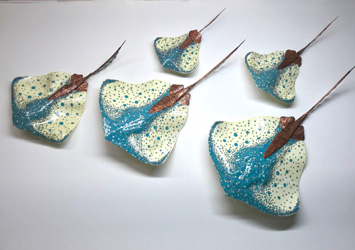 Children of all ages will appreciate the ties Blackbeard had to Beaufort. You'll discover amazing stories of him and his crew at the North Carolina Maritime Museum. Seek out the Old Burying Ground if you enjoy reading old tombstones and finding out more about Beaufort's oldest residents. The town was founded in 1709 and has been going strong ever since. The Beaufort Historic Site will assist in finding the historic homes that are charming. Priceless furnishings and artifacts intrigue the most casual visitor. And finally, old and new come together at the Harvey W. Smith Watercraft Center where boatbuilding is still happening. It's easy to see why noted author Nicholas Sparks chose Beaufort as the setting for two of his novels.
It's a hotel you'll love, a trip you'll remember, and a town you'll return to.
Explore more at: beauforthotelnc.com; stanharmonglassart.com; hungrytowntours.com; islandexpressferryservice.com
The Accolades Keep Coming
America's Most Romantic Towns, Travel + Leisure
Best Small Town for Adventure, USA Today
South's Best Small Town, Southern Living
Coolest Small Town in America, Budget Travel