The art of the flip
05 Mar 2022
Furniture makeover tips from Instagram influencer Amy Romfo with The Coastal Oak
By Shelby Simon
Photos by Caitlyn Motycka Photography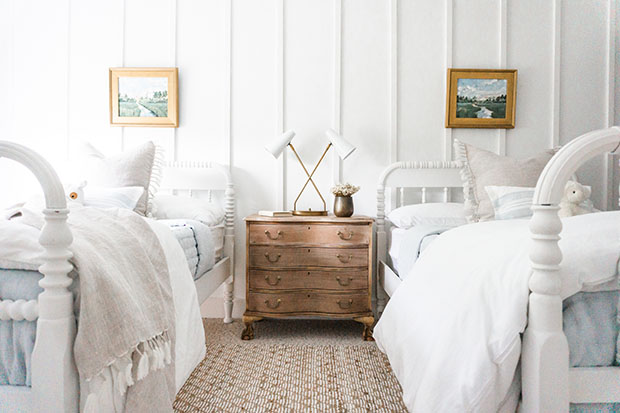 In with the old, but make it new. The art of flipping furniture—reviving, refreshing, renewing or repurposing a furnished piece—is a beautiful and sustainable way to spruce up your space. Using specific techniques can bring Lowcountry coastal chic/cottage core into any room in your home.
You can, of course, purchase done-for-you refinished furniture pieces or bring a special find to a professional to bring your vision to life. But if you're a do-it-yourself daydreamer seeking to start a new project or breathe new life into an old family heirloom or antique find, look no further than expert Amy Romfo, blogger, Instagram influencer and digital creator at The Coastal Oak to find everything from aspirational ideas to how-to guides.
An experienced expert in furniture flipping, Romfo has flipped several dressers, nightstands, wardrobes, beds, chairs and even wall sconces—a recent find from a thrift store that she painted for her daughter's room.
"I like to find items that have the same shape as a designer item—for example, Serena and Lily or something I've seen at a local home decor shop—and transforming it to look like those items," says Romfo. "I've wrapped a bed with hemp to look like a Palecek Canopy Bed from Kathy Kuo home that costs $10,000. I bought lamps at Walmart and flipped them to look like Pottery Barn lamps."
While her impressive flips and coastal Charleston style has amassed 133,000 Instagram followers on her account @thecoastaloak, she didn't start her career as a home design professional. Before forming The Coastal Oak, she was a nurse transitioning into becoming a stay-at-home mom and looking for a creative outlet and new projects to try.
Solid wood, quality veneer pieces are a good place to start for a furniture flip, either by removing paint from painted pieces or removing the stain to apply anew. The basic materials you will need if you are painting the piece are something to clean the wood, primer (depending on the paint; chalk paint doesn't need a primer), a quality paint brush, and, depending on how and where the furniture will be used, a topcoat to finish. Refinishing the stain on a wood piece requires a stripping agent, a sander or sandpaper, bleach (if you plan to lighten it) and a top coat. Safety items include gloves, goggles, a mask and protection for your space.
-Romfo cautions against stripping the stain or paint on anything that is not real wood. Manufactured pieces from Ikea and Target can be flipped, but they're likely made from particle board. For finds like these, Romfo suggests painting—or, you can wrap items with hemp or twine, apply cane, use wallpaper on the inside of a cabinet or apply grasscloth or linen to the exterior to make it look like a trendy (and much more expensive) designer piece.
Not everything is worth the cost of a "flip"—and it is worth considering the value of the piece of furniture in question, as well as the materials required to complete the transformation.
"You have to continuously search to find a 'good deal,'" says Romfo. When analyzing the value of vintage furniture, she checks for branding or imprints on the back or in the drawers and does a quick Google search to get a ballpark estimate. She then checks to see if it's veneer and whether the veneer is in good shape.
"I prefer solid wood pieces—just a character preference—but veneer that is in great shape can be refinished as well," she said.
Then, there is the cost of equipment.
"A decent sander is around $50 and if you plan on doing several pieces, it's good to have a detail sander or dremel, another $50. You can buy sandpaper in bulk. Some of the stripping agents add up and can cost $20 for one bottle. Sometimes you'll need more than one. If you're painting, that can get expensive also because one small bottle of fusion paint is roughly $28. So, you find a dresser for $200 resale and you want to paint it, but the costs can add up so quickly."
A few budget methods: sand by hand and strip with inexpensive products, pain with cheap brushes and hardware store paint. A more expensive method involves buying tools like a paint sprayer or sander that will give you a more professional look.
"The biggest issue is not prepping your piece and diving right in…you need to prep a piece so the paint has something to stick to," she said.
Timeless Lowcountry home style hints at coastal chic and beach cottage details with contemporary, clean colors. Flipping furniture—whether repurposing what you already have or looking for new additions—is a great way to incorporate this aesthetic into your home. When looking for a project piece or area to flip, Romfo suggests paying attention to natural materials such as grasscloth, linen, rattan and cane, as well as pieces that nod to natural beauty with scalloped edges or bamboo accents.
"You can add things like hardware in a palmetto shape, add wallpaper, use colors that are inspired by the Lowcountry: a dusty pink like our sunsets, soft greens like the marsh, and blue, blue, blue."
Romfo's designs often feature a mixture of white with warm neutrals, soft blues, pinks, mauve and greens like sage. She prefers using Fusion Mineral Paint for her painted furniture, which she buys locally from The Station Park Circle.
"It goes on like butter and is pretty foolproof," she says. She personally avoids latex paint from the hardware store, as it doesn't hold up as well.
Her favorite places to shop locally for pieces to flip include Community Thrift, East Cooper Home Store, ReTail Pet Helpers, The Station Park Circle and Habitat for Humanity.
"Look for thrift stores or places that take donations to resale. Places like antique malls will mark up the prices," she said.
If you're starting a DIY furniture makeover for the first time, Romfo's advice is comforting: "Take it slow, keep in mind that you might need to try a few different methods before getting it right, follow safety instructions but don't overthink it," she says. "You can always create something new if things do not go as planned. Maybe practice on a few inexpensive pieces before diving into your heirloom that was passed down…and you can always paint it!"