The Breast Cancer Journey
21 Sep 2014
The Breast Cancer Journey Support makes a huge difference when you're in the fight of your life―It helps to know others have gone before.
By LINDA H. LAMB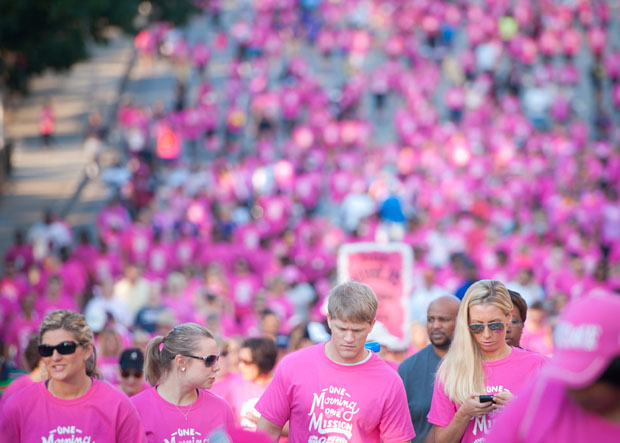 As a military wife, Tracy Kennedy always took a no-nonsense, roll-with-the-punches approach to life – and she figured that's what she would do with breast cancer. Being tethered by a pink ribbon to a bunch of other cancer patients held zero appeal for her.
"I'm a big talker and very outgoing, but I didn't really care about the group thing," said Kennedy, who lives in Hollywood, near Charleston.
But something happened to Kennedy as she carved her path through not one but three encounters with breast cancer. She got involved with Camp for a Cause, a major breast cancer fundraiser in the Lowcountry – one that involves a lot of pink ribbons and pink everything. Turned out she enjoyed the camaraderie, and also the focus on making sure the thousands of dollars raised really went to help those who needed it.
"Accountability is important to me," said Kennedy, 65, who still works managing a Lowcountry sports bar with her son and daughter-in-law. "I thought this was a way I could give back."
During Breast Cancer Awareness Month in October, people don special T-shirts, participate in walks and runs, raise money for research and remember loved ones who are gone. It's also a good time to learn about important information and new developments in prevention, diagnosis and treatment. But in essence, these events are about support.
"Meaningful support of any kind makes patients' journeys easier, although nothing makes it easy," said Kennedy's oncologist, Dr. Megan Baker of the Hollings Cancer Center, Medical University of South Carolina.
"Tracy is a remarkable woman for her tenacity and her advocacy," Baker said. "When faced with adversity she not only perseveres, educates and empowers herself, but also thinks about and works for the women in her community."
'I Have to Pull Through'
Kennedy's cancer journey started in 1989, when her husband was stationed at Shaw Air Force Base in Sumter. At a Ladies Day event, which offered physicals for the military wives, a doctor found a lump in her breast. She had a biopsy, then a lumpectomy, then radiation treatments.
"The first time, it was terrifying, Kennedy said. "My thought was, I have little kids and I have to pull through."
When she was in her mid-30s and the family had relocated to Charleston, a lump was found in her other breast. Again, she had a lumpectomy and radiation.
This time, she also had genetic testing that revealed she carried the BRCA2 mutation that increased her risk for breast and ovarian cancer. When cancer recurred two years later, she decided on a double mastectomy. "Knowledge is power," she said.
Kennedy said she received great support from her husband, Alan, her son and daughter-in-law, Josh and Nicole, and especially her daughter, Keegan. But she wasn't drawn to a support or fundraising group until a friend asked if she'd consider the Wadmalaw Island campout sponsored by The Point, a nonprofit women's organization.
"At first I said, 'Are you kidding?'" Kennedy said with a laugh. But it was not only a fun social event; it raised a lot of money.
"The day after my double mastectomy, I found out that it had raised $22,000 that year. I just cried."
Advances in Diagnosis & Treatment
According to the American Cancer Society, about one in eight women, or 12 percent, will develop invasive breast cancer at some point in their lives. About 40,000 women will die from the disease in the United States this year.
Maintaining a healthy lifestyle can help reduce the risks, as outlined on breastcancer.org:
Eat a balanced diet that is low in processed foods and sugar.
Avoid alcoholic drinks.
Keep weight at a healthy level.
Get daily exercise.
Don't smoke.
Greater awareness, earlier detection and improved treatment have contributed to a decline in breast cancer death rates since 1989, the ACS says, and there are now are more than 2.8 million breast cancer survivors in the U.S.
The ACS recommends annual mammograms for most women starting at age 40.
"As breast cancer incidence peaks for women in their late 50s and early 60s, this period is critical to successful screening and early detection," Baker said.
For those concerned about exposure to radiation from the mammogram X-rays, Baker said the technology has advanced considerably from methods used in the 1970s. Now, she said, the exposure is about what a woman would experience from the atmospheric radiation while taking an airplane trip from New York to Los Angeles. Also, she said, improved technology such as CT tomography has lowered the numbers of anxiety-inducing "false positives."
In South Carolina, Senator Joel Lourie, D-Richland County, has introduced a bill requiring health care providers to advise women that if they are younger and/or have denser breast tissue, an ultrasound might offer better detection than a mammogram. The bill passed the Senate and will be taken up by a House committee next year.
Baker said "legislated screening" is controversial. She said that while experienced ultrasound technicians can detect an additional three cancers per 1,000 women screened, there are three times the number of false positives. There is concern that the effectiveness of ultrasounds for screening could fall (and false positives increase) if the practice becomes more widely used.
An important advancement in treatment is improved genetic testing, which identifies women at higher risk and helps them make decisions.
"We are constantly on the lookout for people who are carrying the gene mutation, and we're getting more and more information with genetic testing," said Dr. Paul Baron, a breast surgeon who directs the breast program at Roper St. Francis Healthcare.
Also, he said, nipple-sparing mastectomies – which combine cancer surgery with plastic surgery – are resulting in reconstructions that look great and leave barely visible incisions.
Many Seek Support
There's been a bit of a backlash over the whole pink ribbon approach to positive thinking when it comes to breast cancer. A highly regarded writer even based a book on her annoyance with it (Barbara Ehrenreich, Bright-sided: How the relentless promotion of positive thinking has undermined America).
And yet, this autumn, many of those 2.8 million survivors will take part in the pink ribbon camp-outs, walks, runs, luncheons, dinners and fashion shows, and will draw strength from one another. No one understands what they've experienced like another woman who has been there.
"Groups like The Point not only meet a critical and timely need to support local women with little means, but perhaps more importantly, they let those women know they are not forgotten," Baker said.
Becky Stallworth, president of The Point, said the annual campout lives up to the organization's motto, "to give, to gather, to share, to learn." It features a catered dinner, games, contests and live music – and it's women only. "Even the caterer knows he has to send his wife with the food," Stallworth said.
At Camp for a Cause this October, friends from Texas, Missouri and Virginia will come and join Tracy Kennedy, contributing support, laughter and money to the cause that means so much to her.
She's looking forward to it.
Breast Cancer Awareness Events
Camp for a Cause An annual fundraiser for breast cancer programs at the Hollings Cancer Center, Medical University of South Carolina. Sponsored by The Point, a women's nonprofit group. Event is Oct. 4 (attendance is limited) on Wadmalaw Island. Visit thepointis.org for more information.
Susan G. Komen Lowcountry Race for the Cure Event is Oct. 18 at Family Circle Stadium on Daniel Island. Trident Health is "Partner for the Promise" and an official medical provider. Visit komenlowcountry.org for more information.
Pink for the Cure Business Decorating Contest Use your imagination and plenty of pink to raise awareness with pizzazz. Registration deadline is Sept. 19. Visit komenlowcountry.org for more information.
Mammos and Mimosas Offered to employers as an effort by Trident Breast Care Center to increase awareness of breast health, cancer prevention and early diagnosis. Runs through September and October. Interested employers, call Trident Health, 843-847-3476