The Dark Side of the Spoon
04 Sep 2020
No-toil, no-trouble recipes
Recipes and Photography by Kim Byer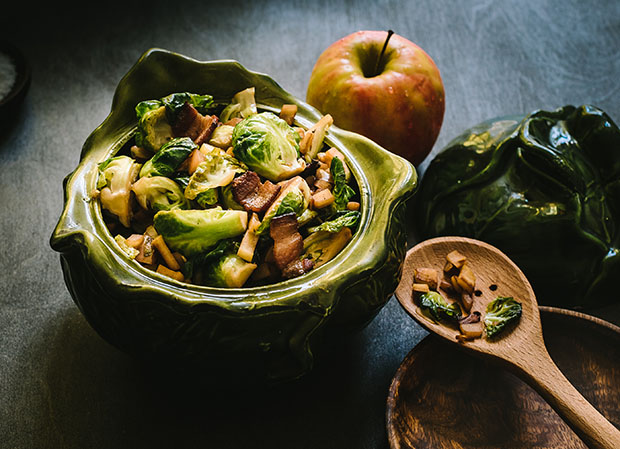 We've conjured up a menu of deliciously dark treats for your seasonal pleasure. These no-toil, no-trouble recipes come with a few added tricks to make each dish an easy success.
Our fried chicken thighs will cast a spell that coaxes everyone to the table. Double the batch if you suspect they'll want seconds. Or, relax and let your slow cooker simmer our peppery pork. Add a dollop of tomatillo salsa and celebrate Dia de los Muertos in style.
Overdosed on chocolate yet? Heresy! Our Double Chocolate S'mores Squares are even more chocolatey than their campfire cousins. And once you've licked your lips over our Devil's Trick Cake, you'll never go back to a made-from-scratch devil's food again.
Spoon into a dark slice for breakfast with a cup of Dalgona coffee on the side and you'll possess magical powers long after the full moon has risen.
Spicy Fried Chicken Thighs
Yields 4 chicken thighs
4 skin-on chicken thighs
¼ cup kosher salt
Ice and water for brining
½ cup coconut oil (or other high heat frying oil such as peanut)
1 large egg
1 cup all-purpose flour
2 teaspoons each kosher salt, cumin, paprika and coriander
1 teaspoon garlic powder
1/4 teaspoon cayenne
In a large, deep bowl (flat bottom is best) add ¼ cup kosher salt and one cup of warm water. Swirl water until salt is melted, then add enough equal parts cold water and ice to cover chicken thighs. Refrigerate for a minimum of 1 hour (4 is best) then pat thighs dry, set aside, and continue with recipe.

Prepare two low bowls. Whisk egg in one bowl and mix the flour with the spices in another.

Also prepare a heavy skillet with oil and gently bring it up to medium heat (around 350°F). Oil should come up the side of the skillet 1 inch or slightly less.

Dredge each thigh first in the egg, and then in the flour, covering every crevice.

Gently place each thigh skin-side down into the oil and fry for about 20 minutes or until batter turns a deep golden brown. Cover with a splatter screen only. Using tongs, turn thighs over a few times while cooking. Chicken will be cooked when the juices run clear after inserting a knife into the thickest part of the thigh. Remove to drain on a wire rack set over a plate (not paper towels). Serve warm.
Trick: Don't judge doneness by the color of the skin alone as higher heat can easily darken the skin before the meat thoroughly cooks. A meat thermometer inserted into the thickest portion of the thigh should read 165°F.
Bacon-Fried Brussels Sprouts with Apple
Serves 3-5 as a side
1 pound Brussels sprouts, stems removed, cleaned and halved (or quartered)
2-4 rashers bacon, cut into bite-sized pieces
1 teaspoon tamari or soy sauce
1 teaspoon fish sauce (optional)
1 crisp apple, diced
1 teaspoon lemon juice
Fry bacon over medium high heat until crispy. Drain the oil, leaving 1-2 tablespoons. Toss apple with lemon juice.

Add the Brussels sprouts, tamari and fish sauce in with the bacon and cook until sprouts are tender and browned on the cut side, then add the diced apple. Cook for 2-5 additional minutes. Serve warm.



Black Pepper Pork with Charred Tomatillo Salsa Verde
Serves 8-10
1 large pork shoulder (4 to 6 pounds)
2 tablespoons good quality pepper (freshly ground, if possible)
2 tablespoons kosher salt
Rice for serving
Charred Tomatillo Salsa Verde
12-15 small-to-medium-sized tomatillos, husked, washed in warm water (to remove sticky film) and cut in half horizontally
Olive oil
1 large clove garlic, unpeeled
2-4 jalapenos, seeded and chopped
6-12 shishito peppers or similar (optional)
½ white onion, chopped
1 cup cilantro, roughly chopped
½ teaspoon kosher salt + more for broiling tomatillos
½ teaspoon sugar
Place pork shoulder in a large ceramic slow cooker. Cover with pepper and salt and cook on low for 10-14 hours or until pork can be easily shredded with a fork. See note.

Meanwhile, place rack close to the broiler and preheat broiler to 450°F. Place tomatillos, cut side down, on a rimmed baking sheet lined with foil. Add unpeeled garlic and drizzle lightly with olive oil and kosher salt. Broil for 7-10 minutes or until skins begin to char, then turn over and broil for 2-3 more minutes. Tomatillos should soften when cooked. Remove to cool. Peel garlic.

Place remaining salsa ingredients with tomatillos and garlic clove into a food processor and pulse or pur

é

e until a smooth salsa consistency is achieved. Season to taste.

Serve shredded pork over white rice with a large dollop of tomatillo salsa. Leftover salsa is perfect for pork tacos (carnitas), nachos, or enchiladas.
Trick: Easily remove the majority of pork fat by a) trimming pork shoulder prior to cooking or b) fully cooking, then refrigerating overnight and removing top layer of congealed fat from cooking liquid. Pork can be frozen for up to three months. Store salsa in the refrigerator for up to one week. Bring to room temperature and stir before re-using.
Double Chocolate S'mores Squares
Yields approximately 30 square treats
12-16 chocolate Graham crackers
1 cup (2 sticks) salted butter, melted
3/4 cup light brown sugar
1 cup pecans, finely chopped
12 ounces miniature marshmallows
12 ounces chocolate chips
1 large (6.8 ounce) Hersey's dark chocolate bar (or similar)
1-2 milk chocolate bars for drizzling (optional)
Preheat oven to 300°F. Layer Graham crackers on a jellyroll pan (13 x 18 sheet pan with edges or smaller). Break crackers into smaller pieces to cover any remaining spaces.

In a small, heavy saucepan, slowly bring butter and sugar to a boil. Stir for two minutes or until thickened and spoon over crackers. Cover crackers completely. Layer pecans over crackers and bake for 10 minutes.

Remove pan from oven and sprinkle on marshmallows. Return to oven until marshmallows begin to melt (5-10 minutes).

Smooth the marshmallow layer over the pecans with a spatula, then chill in the refrigerator for 10 more minutes.

Meanwhile, in a safe bowl, microwave chocolate chips on high with the chocolate bar for 15-second intervals. Pause every 15 seconds to stir with a spatula until the icing becomes smooth and glossy.

Spread icing over marshmallows, and if desired, melt milk chocolate bars in the microwave for 15 seconds, stir until smooth, and drizzle over chocolate icing. Chill jellyroll pan for ten minutes, then slice s'mores into squares.
Trick: For a glossier chocolate shine, add one teaspoon of corn syrup to the chocolate chip mixture. Store in an airtight container for up to one week or freeze for up to several months.

Dalgona Whipped Iced Coffee
Serves 4-6
10 teaspoons instant coffee grounds
10 teaspoons granulated sugar
10 teaspoons boiling water
Milk or nut milk of choice
Ice
In a mixing bowl (hand-held or standing mixer), whisk instant coffee and sugar with hot water until stiff peaks form. On high, this should take 2-5 minutes.

Pour milk and ice into a glass and top with a dollop of coffee meringue.
Trick: 1:1:1 quantities of instant coffee grounds, sugar, and hot water will produce a whipped coffee meringue for smaller or larger quantities. Make-ahead meringue will stay fluffy for a couple of days in the refrigerator.
Devil's Trick Cake with Bittersweet Ganache Glaze
Yields one 10-inch Bundt cake
Oil or baking spray + cocoa powder
1 Duncan Hines Devil's Food Cake mix
5 eggs (3 whole + 2 yolks)
½ cup unsalted butter, melted
¾ cup sour cream
¾ cup strong brewed coffee, hot
¼ tablespoon vanilla
1/8 teaspoon kosher salt
Bittersweet Ganache Glaze
4 ounces bittersweet dark baking chocolate, finely sliced
8 tablespoons heavy whipping cream
3 tablespoons light corn starch
Preheat oven to 325°F. Prepare a heavy Bundt pan with oil or baking spray and a dusting of cocoa powder.

Using a mixer, beat all remaining cake ingredients together until smooth. Pour batter into Bundt pan.

Bake for 40 minutes or until an inserted toothpick is removed clean. Cool completely before removing from pan.

Meanwhile, in a glass bowl, microwave the chocolate and heavy cream on high for 30 seconds. Stir until ganache is completely melted and smooth.

Spoon ganache over top of cake and serve.
Trick: Don't overheat the ganache or the chocolate (consistency) will break. If this happens, add one teaspoon of warm water or milk (not cream) and whisk vigorously.