The Gathering Place
16 Mar 2015
A Southern Texas resort makes getting "lost" a revitalizing experience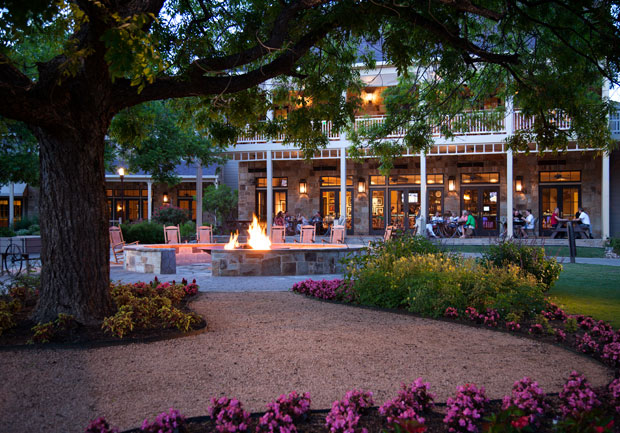 By JENNIFER GLATT
The 3-mile entry road unfurled ribbon-like, offering easy turns and gently sloping terrain as I approached the heart of the Hyatt Regency Lost Pines Resort & Spa. Bluebonnets were bursting on both sides of the long driveway, a colorful cacophony and quintessential Texas welcome to this luxury wilderness escape. Situated along the banks of the Lower Colorado River between Austin and Bastrop, the resort did not feel at all like a hotel, but more the rambling Texas ranch I never knew I'd wished for.
Divided into two wings, 491 comfortably appointed guest rooms are spread in generous fashion over the property, most with a balcony or patio. Gathering areas are everywhere—chairs grouped together around Shellers Firepit, just waiting for s'mores, horseshoe pits tucked under a canopy of shade—unspoken invitations for guests to stop and stay awhile and enjoy simple pleasures. It's evident they take leisure very seriously here.
To acquaint myself with the lay of the land, I decided to explore a bit on foot. Exiting the double glass doors of the lobby to the sprawling Riversong Lawn, I met Boo Boo the alpaca and his handler, out for a stroll with two miniature donkeys, Captain and Trooper. These are just a few of the resort's mascots, frequently meeting and greeting guests as they make their rounds. I'd later meet one of the four Percheron draft horses frequently used for wagon pulls, as well as T-Bone and Ribeye. Nothing says Texas like meeting two Longhorns holding court in a fenced-in field. (And let's take a moment to say thank you for fences, shall we?) Meandering sidewalks led me through the property, past the Butterfly Meadow and its secluded benches draped with red trumpet-shaped blooms, past the tranquil Hummingbird Garden, and near a clearing with picnic tables overlooking the Colorado River.
The 405-acre resort joins the 1,100-acre McKinney Roughs Nature Park, alongside walking trails that stretch for miles underneath a canopy of Loblolly pines. If you're wondering how pine trees ended up near Bastrop—separated from the better-known pine forests of East Texas by more than 100 miles—well, it depends on whom you ask. Local lore attributes the "lost pines" to Native American runners, planting seedlings to comfort a homesick Indian bride who married into a Central Texas tribe. Biologists attribute the 70-square-mile concentration of trees to global warming, glacial activity, and Mother Nature's quirky personality. Whichever answer you choose, the namesake pines are breathtaking, growing in excess of 100 feet tall with an average lifespan of 100-150 years.
With rolling hills, river frontage, and a wide expanse of land in all directions, there's no shortage of recreational opportunities here. For the adventurous, kayaking, rafting and floating on the Lower Colorado River are fun ways to wile away the hours, unless hiking or horseback along the 18 miles of trails is more your speed. Renegade Trailhead is the place for archery and trap shooting, or try your hand at the 7,205-yard, par-72 golf course, where the course's 18 holes make the most of the terrain's natural beauty. Families will love the Crooked River Water Park, where there's a place and an activity for everyone. Multiple pools, a splash pad, three whirlpools, a private sandy beach, a sand volleyball court, a 1,000-foot flowing river and a two-story water slide promise fun for hours. The only thing missing was a rope swing or two, which would be a perfect addition to trees down by the riverbank.
After a busy day, Spa Django is the best place to unwind. It's 18,000 feet of bliss and home to approximately 50 different treatments, including the Texas Two-Step Massage and a series of herb garden treatments, for which some of the ingredients are grown in the resort's gardens. Named for guitarist Django Reinhardt, the spa experience intertwines his gypsy, musical spirit with nature through the tranquil setting and aromatic herbal products. Help set the tone for your spa experience by selecting the background music for your treatment, and don't miss the chance to laze by the heated spa pool.
The lobby's deep porch, heavy-laden with rocking chairs, is the ideal spot for a pre-dinner drink, especially if it's a Moonshine Margarita, made with Grand Marnier, fresh-squeezed lemon and lime, agave nectar and Fitch's Goat Moonshine, distilled in nearby Smithville. The traditional salted rim is tasty, but sugar was a sweet alternative. Play darts or a round of pool at Shellers Barrelhouse Bar if you just can't sit still, and make sure you bring your appetite to dinner.
Five restaurants, each with its own Texan flair, are available for guests, not to mention a couple of places to grab a snack post-golf game or an aperitif. From fine dining to a quick, casual bite, there is no reason to go hungry here. Chefs celebrate Hyatt's commitment to health and wellness and to "buying local" by incorporating sustainable ingredients from area purveyors such as Texas Olive Ranch, Dallas Mozzarella Company, and Fiesta Tortilla. The aforementioned herbs used at the spa—tarragon, rosemary, basil and others—are also used to add finishing touches to local and regionally inspired fare. Menus change frequently to allow for the freshest seasonal ingredients. Dinner on the upstairs porch at Stories, the fine dining establishment, was particularly memorable, and not just for the fare. The second-story perch overlooks the pecan trees of Shady Grove and Plantation Lawn just beyond, creating a delicious spot to sit a spell long after the meal was through. The Builders Room is available for small groups or special events, offering a kitchen view and custom menus.
Sunset brings a new set of adventures, including stargazing, movies under the stars, horse-drawn wagon rides and live music performances by local musicians, many of them from Austin, the "live music capitol of the world." It is worth noting, however, that instead of seeking it out, sometimes the music finds you. Late in the afternoons, live music is playing right in the lobby, where you can enjoy it even if you're en route to someplace else. From country to blues, swing to singer/songwriter tunes, it's an indulgent and very Texan surprise to be treated to, as they say, "ear candy."
Whether you plan your activities from sunrise to sunset or prefer to take the day as it comes to you, make sure to plan at least a half-day trip to nearby Bastrop, Texas' most historic small town. Incorporated in 1837, the terms Main Street and Old Town are not a marketing ploy—this town is the real deal. Stroll across the Old Iron Bridge (and follow the local tradition of spittin' off, if you wish), visit the old courthouse, stores and restaurants from the storied sidewalks, and visit one of the city's two parks, connected by the Colorado Riverwalk. Bastrop County is part of the Texas Independence Trail, a grand loop that takes visitors through the important sites in the Texas Revolution and the days of the Republic, while nearby Elgin is the Sausage Capital of Texas. You just never know what you're going to find when you head out to explore in Texas…
Too soon, my time at Lost Pines came to an end. Leaving a treasured new destination is always difficult, but I smiled at the thought of gathering here with my family, or returning for an anniversary trip with my husband. I pictured coming here for a girlfriends' getaway, or perhaps an extended family reunion. Or maybe, over time, all of the above.
Hyatt Regency Lost Pines Resort & Spa
512-308-1234
www.lostpines.hyatt.com