The Italian Table
02 Nov 2021
Amici's Italian Bistro serves feel-good favorites from the heart
By Jenna Ley-Jamison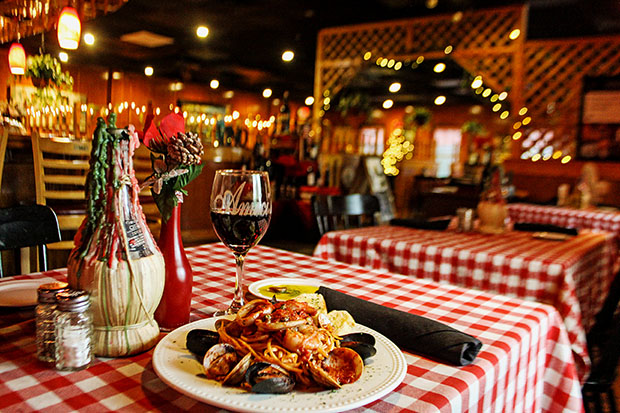 From childhood cooking lessons in her "Nana's" New York kitchen, to whipping up her own delectable dishes inside the kitchen at North Charleston's Amici's Italian Bistro, Jennifer French has spent a lifetime around authentic Italian food surrounded by family.
"We just always had big family meals and my cousins lived in my neighborhood, and they were always over," said French, co-owner and manager of Amici's. "I just don't know any other way; it just was natural."
Simply put: the act of cooking stirs up a myriad of blissful emotions and memories for her.
"It gives me nostalgia; it just brings me back to my childhood," French said.
She now keeps the familial tradition alive with her own daughters, Anne and Abby—who also both work at Amici's—teaching them the beloved heirloom recipes her own mother, aunt and grandmother shared with her.
It's been six years since French purchased Amici's. In September 2015, she and her son Tom took a leap of faith and purchased the location. Having previously served as an employee at Amici's predecessor—a restaurant named Pino's—French decided it was time to pursue her own entrepreneurial dreams and she quickly got to work transforming the facility into a place to call her own, starting with a new name.
"I renamed it to Amici's because it means 'friends' in Italian," French said, "and since none of my extended family lives here, I knew my friends would be with me and help me."
To feel a little bit more at home, she renovated the building's interior to reflect the favorite Italian restaurant she frequented as a child in New York. Upon stepping through the front doors, a large part of her customer base immediately feels at home, too.
"It's old school Italian. When everyone from up North walks in, they say, 'Oh my gosh, it's just like New York!'" she said.
That means red-and-white checkered tablecloths and the iconic sounds of Dean Martin and Frank Sinatra wooing patrons over the speakers.
One thing's certain—French and Amici's are the real deal for those looking for the perfect dining destination with a menu, décor and ambiance reminiscent of the boot-shaped Motherland.
More specifically, French characterizes her menu items as "American-Italian" with many of dishes and flavors stemming from the Naples region of the Mediterranean country. Think tantalizing staples like lasagna, cheese ravioli, chicken marsala and eggplant and chicken parmesan. But it's the "chicken Amici's," French said, that her son created, that's a "huge seller."
But it's every menu item that the kitchen staff pours their heart and soul into handmaking each day so customers receive fresh and memorable fare.
"We make all our sauces homemade every day; we bread our eggplant; bread our chicken; stuff our manicotti," French said. "We have great servers; we treat everybody like family."
In addition to a cozy atmosphere and hearty, satisfying meals, Amici's offers its patrons cooking classes and monthly wine dinners that explore the labels and cuisine of other cultures and countries.
And don't forget about the dessert. The menu features no shortage of sweets, including limoncello cake, cannoli and French's favorite—the tiramisu.
"I make it homemade. It's truly a labor of love; it's like a little piece of heaven on a plate," French said.
French largely commends her head chef, Mike Mancino, with bringing the recipes to life.
French has no regrets about pursuing her culinary passion and praises her family for supporting her "every step of the way."
"I wouldn't be able to do it without my husband and my family," she said. "My husband just watches me put in these long hours, and he's very supportive. "I love it; I truly love what I do, but I don't feel like it's work."
During the pandemic, Amicis's gained new customers as French found a unique opportunity to start showcasing her talent to the social media world through a cooking series. She routinely posted cooking videos to Facebook, and the response was overwhelming.
"It just truly took off and had 10k viewers," French said.
The success of her series prompted a new project—writing a cookbook.
After a year of compiling her and her family's top recipes, she wrote a book, "My Menu of Memories," which she describes as her greatest career achievement and a meaningful act of love.
Released on Mother's Day 2021, French dedicated the publication to her mom. So far, more than 500 copies have been sold.
"I feel like I'm keeping everything that they taught me alive," she said. "I don't want to forget anything, and I don't want my kids to forget anything, so I felt like putting it into writing—kind of like a legacy."
Amici's is located at 7648 Northwoods Blvd and open 4-9 p.m. Monday through Saturday. For more information, visit amicisitalianbistro.com.