The Obstinate Daughter
09 May 2015
By WENDY SWAT SNYDER
Photos by ANDREW CEBULKA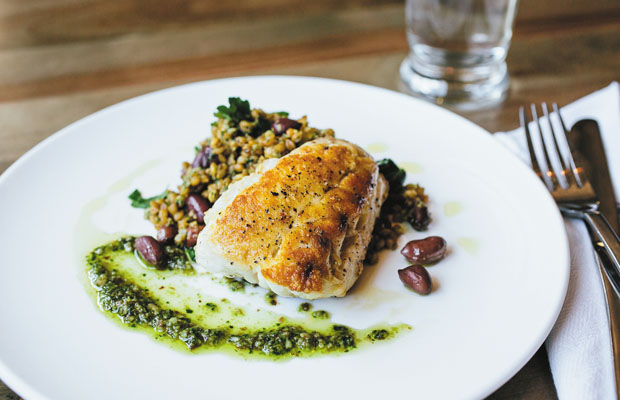 From a perch high above Middle Street, The Obstinate Daughter brings to Sullivan's Island a welcome breath of freshness with a light-flooded dining room, exhibition kitchen, and a Southern menu with French, Italian, and Spanish influences. Just a stone's throw from wartime bunkers, the eatery borrows its name from a page in Revolutionary War history, when defenders of Fort Sullivan, led by Colonel William Moultrie, repelled an attack on the island by the British fleet. "Miss Carolina Sulivan," a London newspaper quipped, "one of the obstinate daughters of America."
The vision of executive chef Jacques Larson and the team that put Wild Olive on Charleston's culinary map, The Obstinate Daughter strives to maintain the same level of standards set by its John's Island sister. Larson oversees both kitchens, with chef de cuisine Will Fincher leading day to day operations on Sullivan's Island.
Fincher, who holds a degree in Culinary Arts Management from the Art Institute of Charleston, was executive chef at Monza and Closed for Business before being tapped by Larson. He points to the importance of staffing, and how they started with only five employees including Larson and himself. "The start-up project was a lot of fun," he says, and in the same breath, "we all worked seven days a week—reworking dishes to make sure the opening menu was exactly how we wanted it."
Fincher says that he and Larsen also spent months testing pizza dough, curing meats for the charcuterie program, and composing signature vinegars distilled from local produce such as scuppernong.
"Like any chef opening a new restaurant, Jacques wanted to spend a lot of time here," notes The Obstinate Daughter general manager Jonathan Bentley, who helped open restaurants in Alexandria, Va., before coming to the Lowcountry. "The creativity and passion for food that goes back and forth between Jacques and Will is inspiring, infectious," he adds, noting that the staff is all "on the same page" in terms of the concept. "We get along really well—have the same ideology—we're all friends."
Top quality seasonal ingredients, excellent service, and an engaging ambiance are the key elements driving the successful eatery. A complete remodel of the restaurant property prior to opening in March 2014 was headed up by Charleston architect Reggie Gibson. Both architect and interior designer on the project, Gibson used an open floor plan and a flank of windows to brighten the interior and let the outside in. Views of scrubby pine and live oak treetops complement the nautical theme and natural textures inside the restaurant—a visual feast that has transformed the space into one worthy of its barrier island location.
"We're very proud of what Reggie Gibson did here," says Bentley, a fifteen year hospitality veteran who got his start in the business as a server and worked his way up. "He had a vision, and saw it through all the way to the end."
Massive steel beams and reclaimed wood on the walls and ceilings create a rustic feeling throughout the space, and elements like heavy rope trim and monkey fist knots reinforce the nautical theme. Antique French tiles framing the exhibition kitchen finish the look with classic Mediterranean styling.
"We're ecstatic about the renovations," says Fincher with a laugh. "We call it 'the treehouse'―we even have windows in the kitchen. It's exciting to work in that kind of space. We can open the windows, it's a fun, open way to cook—I think it really influences our food."
Guests gather to dine at tables offering a variety of experiences: casual seating at a beautiful leathered white marble bar, more intimate banquettes, individual tables, and community tables for a convivial group experience.
The straightforward menu features plates, large and small, pasta, and pizza—all of which are continually updated as local seasonal ingredients come and go. Get started with a few small plates to share, such as Obstinate Flatbread, a thick dip of butterbean puree spiked with olive oil and local Bulls Bay sea salt that's huge on flavor, vegetarian, and bound to become a favorite. Irresistible Geechie Frites―crunchy grit fries—are served with a salsa rosa. Farro piccolo combines the perfectly cooked grain and smokey, flash-fried Brussels sprouts with peanuts and black truffle producing a medley of textures and tastes.
A chef's favorite is the oven roasted carrot dish: a salad of rainbow carrots and greens sourced from Ambrose and Blackbird Farms, combined with cashews and a hint of harissa for heat.
From the sea: the Lowcountry shrimp roll is The Obstinate Daughter's delicious take on the classic New England lobster dish. A blackboard lists raw shellfish and that day's housemade charcuterie along with a South Carolina standard, peel and eat shrimp.
Wood fired pizzas start with a blend of artisanal flours and cold fermentation, producing a crisp crust that's tender inside with "a little chew". Fincher gives the Miss Carolina a Southern twist using both red and green tomatoes in the traditional mix of mozzarella, basil, and olive oil. A pie called Old Danger is a heady combination of pancetta, mozzarella, white sauce, black pepper, and parmesan topped with a lightly cooked farm egg.
Larsen heads up the pasta program, choosing shapes that are made fresh, in-house, every week. A menu standard: local, sustainably farmed Clammer Dave clams simmered, Italian style, in garlic, parsley, and chili flakes. A tortelloni dish is served with meatballs, greens, and butterbeans in a rich brodo, or Italian broth.
Pastry chef Caroline Sherman is charged with executing all things sweet and frozen. In preparation for the opening of The Obstinate Daughter, she spent nearly three weeks at the Carpigiani Gelato University in Bologna, Italy studying artisan gelato production. She pairs bright, lemon gelato with a velvety, rich, not too sweet bread pudding that is a must-have.
Bentley promises that in year number two, The Obstinate Daughter will continue its quest to deliver more innovative fare made with the best product from local farms and purveyors. Also on the horizon, becoming the second restaurant in South Carolina—Wild Olive was the first—to receive Green Restaurant Certification.
The Obstinate Daughter
2063 Middle St., Sullivan's Island
(843) 416-5020
theobstinatedaughter.com