The Real Fixer Upper
05 Jul 2018
Local architect Rachel Burton salvages unsustainable home plans to create a Daniel Island dream
By ROB YOUNG » Photos by TRIPP SMITH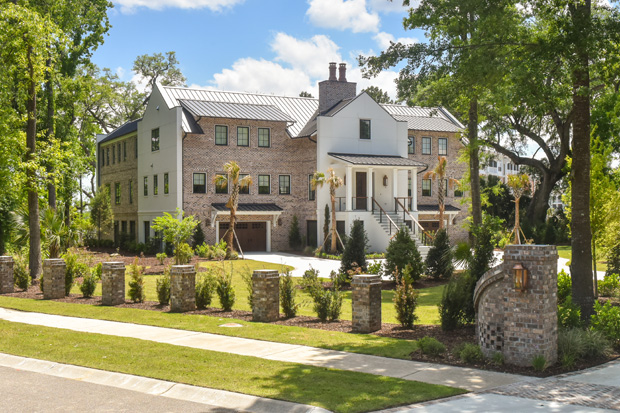 A "fixer," in architecture parlance, might connote repair service. Or in HGTV terms, it probably suggests Fixer Upper and ubiquitous show hosts Chip and Joanna Gaines.
For Summerville architect Rachel Burton, "fixer" implies the real thing. She assessed an unworkable situation and fixed it. "In a weird way, it was almost like a renovation," Burton says. "We had to surgically execute an idea and make it fit. We changed what was needed without unstitching everything."
A Personal Vision
The home in reference belongs to Daniel Island resident Brian Plaisance. Situated in the Beresford Hall neighborhood, Plaisance's house evokes a personal vision—one of fire and ice, conjuring his native New Orleans. That wasn't always the case though. "The concept was there, but the drawings were untenable," Burton says.
Plaisance and home builder Buffington Homes reached out to Burton—the principal at Swallowtail Architecture—to help salvage the project. The drawings Burton referenced were issued by a reputable, certified architecture firm, and the concept was solid. Only, it wasn't buildable. "It was a very odd thing," Burton says. "These were supposedly working drawings, but both the design and the set of drawings looked like they were still in an early stage."
Plaisance's assessment is a bit blunter. The plan did not meet code and would not pass a municipal review. They were essentially useless. "It was a nightmare," he admits.
The drawings even called for building a 6-foot retention wall to prevent a small, tidal creek from overflowing. "I'm not sure why," Plaisance says. "As you can see, we don't have a retaining wall."
Additionally, the design did not account for headroom or headway—the clear vertical spaces that lie between the head and sill of a doorway or between the ceiling and floor. The appropriate volume evidently wasn't considered, as the overall house height required revision. Burton had her work cut out for her. "I really had to define what was needed, and the time needed to apply it," she notes.
As the owner of the successful metal manufacturer DC Machine, Plaisance could appreciate the scope involved. "It's hard to come in during the middle of a project," he agrees. "I was thankful for Rachel."
In the end, it was a challenge that Burton relished. "With the home and from working with Brian, it was really rewarding to try to figure out the structure, system and organization. It requires a certain level of dissection and documentation," she recalls. "I want the architecture to sing, and I want the space to be the best space it needs to be."
Listening Below the Surface
Burton describes the process as "listening below the surface," as she asks clients about the ways in which they live. And possibly, too, what they wish for. Then she goes about trying to figure out how to fulfill those dreams.
"We want every client to move in and say, 'Aren't we lucky?' To do so, we have a very structured service and skillset to help achieve that goal," Burton says. "In Brian's case, we listened to him and helped him create his dream."
Plaisance, for his part, sought to bring a bit of his native New Orleans to the Lowcountry. He initially envisioned many of the design elements two decades ago while earning his master's degree in mechanical engineering from Georgia Tech. "I knew this would be my house," he says. "I had those details in my head for twenty years."
Much of it begins with the fleur de lis, the three-petal, stylized lily, an iconic decorative element or motif immediately indicative of New Orleans. The design is woven into the fabric of the house, appearing on the railings surrounding the great room, and in several other sections of the home.
A large set of doors, which Plaisance also procured from Louisiana, check in at about 130 years old and retain beloved character. "To make that work, it was almost an act of Congress," Plaisance says. "It was a labor of love to get the doors actually functional."
But it's the notions of fire and water that lend the home its greatest appeal. All Plaisance's companies contain small ponds or streams—flowing water—to offer a sense of tranquility. At his home, an infinity pool, water jets, and interior waterfall provide similar serenity. "The waterfalls were most interesting for me," Plaisance says. "At the time we did not have a design pump that could go 40 feet in the air. We had to design or buy larger pumps to make the reverse osmosis system work."
A large slide connecting to the pool gives an air of playfulness as well, perfect for Plaisance's 10-year-old son and 4-year-old daughter. "There are a couple of columns in the pool, and my daughter calls that her playpen," Plaisance says.
The pool is likely the home's focus, as multiple entry points provide easy access. "We can watch sports, cook on the grill, and just listen to the water go off the infinity edge," he says. "The flow of water can always be heard somewhere around the home."
But the element of fire is prominent too. A fireplace serves as the focus of the great room, and two large outdoor firepits provide a key balancing point to the water. "This was really about a succession of elements," Burton says. "In his mind, he had a vision that the house would be New Orleans recreated, and in keeping with New Orleans' style of courtyard homes, he has built that here in a sense."
Then there's the custom metalwork too, apparent among the light fixtures, table stands and railings, which are essentially one-off pieces from Plaisance's factory. Wood also plays an integral part in the home's design, the beams repurposed from an old barn in New York state. The massive beams contain a sense of character and history too, as Plaisance's former college roommate procured and installed the woodwork. "You get a real idea of Brian's personality here," Burton says.
Completing the Journey
In keeping with traditions close to Plaisance's heart and home, he hosts big crawfish boils at his home every three weeks or so. He'll prepare gumbo, etouffee, or crawfish, the house really serving as a vessel to allow him to entertain as he would back home. "The family comes up—my parents and aunts," Plaisance says, "and I'll do the cooking when I'm not working crazy hours."
The house is really geared for entertainment. One wing of the seven-bedroom, seven-bathroom, 8,000-square foot home contains the master wing, the other the pool, and games, including a theater room, arcade and ping-pong table. "Brian really wanted to make sure his family could live there and have fun," Burton says. "It wasn't meant to be a 'look, don't touch,' sort of home."
Plaisance officially moved into the home in February, completing a journey that really began two decades ago with the home's conception. The twists and turns were numerous, as Plaisance worked through the rigors of the design phase, or the "re-design" phase with Burton, and the build phase, which lasted more than a year.
The ultimate highlight is the house, the product of the toil. And at the root is Swallowtail Architecture. "Working with Rachel was probably one of the best parts of the process," Plaisance says. "I knew if I asked her to do something, it was going to get done. Her responses were almost immediate, and she took a lot of work off my plate at a time when I didn't have much time to give."
Resources
Architect: Swallowtail Architecture, 843-885-9400, swallowtailarchitecture.com