Vickery's Bar & Grill
05 Jul 2018
As you navigate sandy Shrimp Boat Lane, you know you've arrived at a place that will deliver an authentic beach town experience with a touch of fish shack chic. Located on historic Shem Creek, Vickery's Bar & Grill has been the hangout of choice for Charleston locals and visitors for nearly two decades. Loyal customers come back for longtime Southern favorites like oyster bisque and Cajun shrimp—and a sunny vibe that's uniquely its own.
By WENDY SWAT SNYDER
Photos by JAMES STEFIUK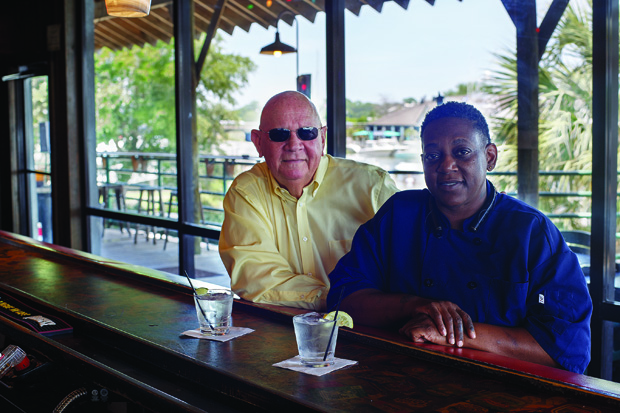 The eatery's roots are in Atlanta, Georgia, where the first Vickery's Bar & Grill opened in 1983 "as a place to get a good stiff drink and a cheeseburger." Owners Sam Weyman, Jim Stalker, Jason Stalker and Gary Ney have since parlayed a successful food concept—coastal Southern in an upbeat, friendly atmosphere—into several other Atlanta properties as well.
Jim Stalker recalls a conversation over cocktails "with the Atlanta guys" that set the course for the expansion to Mount Pleasant.
"I had just retired from AT&T," says Stalker, a stalwart Vickery's customer-turned-co-owner, "and they asked me if I'd be interested in opening a restaurant with them in South Carolina. Sam and I came down and fell in love with the area."
No wonder. The Mount Pleasant location is the ultimate waterside destination. Set along the working docks of Shem Creek, shrimp trawlers and fishing boats move in and out of waters that flow into Charleston's harbor, along with pleasure boats, kayaks and dolphins. And the town's recent addition of a 10-foot wide boardwalk provides diners with a convenient and picturesque pathway to take an after-dinner stroll along pristine, wildlife-filled marshland.
Rustic and rambling, the restaurant welcomes with a variety of experiences, both inside and out. And water on three sides of the property ensures that all tables are good tables at Vickery's. The property is perfectly positioned at the edge of "restaurant row," affording an unimpeded view of the south side of Shem Creek and the surrounding marsh. Seating along floor-to-ceiling windows in the rear bring the outside into the open and airy space. Step out onto a wide deck for a table under towering palms. And don't miss a peek through telescopic viewers for a closer look at nature.
The adjacent "shark bar" is famous for spectacular sunset views and libations sipped over a fin-shaped counter of polished cypress.
General manager Jen Bailey says a renovation in January brought the installation of beautiful new wood flooring and a "sprucing up" of the dining and three bar areas—one, Muddy's Dock Bar, is steps from the edge of the marsh.
"It's something straight out of the Caribbean," notes Stalker. "People arriving by water come off their boats barefoot for drinks and live music."
"Muddy's is a perfect place to hang out—it has a sand floor and does a great happy hour," agrees Bailey, who helped open Vickery's Shem Creek as a bartender in 1999. She would go on to tend bar at downtown establishments such as Fulton V and Husk before returning to Vickery's. "And Ben Thomason is an awesome bartender," she adds. "He made it into the 2016 City Paper best bartender finals."
Bailey says the restaurant's menu gradually moved away from its Key West influenced Cuban flair to a more seafood-centric menu.
"We still have some Caribbean-based items like jerk chicken, plantains, black bean cakes," she notes. "But not as much as before. This property is on the water, and we wanted it to reflect that."
At the top of the appetizer list is a first place-winning oyster bisque, followed by bourbon shrimp and fried teasers like a green tomato tower and Cajun "popcorn" (choice of shrimp or crawfish). Coming soon to the menu—locally sourced peel-and-eat shrimp are bound to be a hit as well. For a light meal try a cool bowl of gazpacho and one of several hearty salads such as blackened cayenne chicken, crab cake, or top-selling cashew encrusted tuna steak with mushrooms, tomatoes, red onions, crumbled blue cheese and warm pita wedges. And another holdover popular with the late-night crowd is a dish piled high with hand-cut French fries and pepper gravy.
Popular seafood entrees include a Lowcountry sauté of shrimp, crab meat and crawfish tails in bourbon butter over creamy grits, topped with plump fried oysters. Get your Caribbean fix with blackened salmon accompanied by Cuban rice and vegetables finished with a housemade red pepper corn salsa. A tasty pasta dish bathed in basil pesto comes loaded with tender shrimp and scallops.
Handheld fare includes a classic Cuban of roasted pork, ham, Swiss cheese, pickles and mustard pressed in traditional bread. The well-rounded selection of half-pound burgers are flame-grilled, and lighter sandwich fare includes a smoked turkey pita.
A not-too-sweet must-have from the list of housemade desserts is the coconut cream pie—a dense, coconut-filled wedge piled high with whipped cream and finished with a drizzle of caramel.
Also a must—Vickery's bi-annual oyster roast so popular it's grown into the state's second largest.
"We block off the parking lot," says Bailey, "we have bands all day, craft beer—we do one every fall and spring."
In between cool-weather events, Vickery's hosts a summer music series to benefit a different charity each month from Memorial Day to Labor Day. The festivities roll out at Muddy's Dock Bar with happy hour specials, live music and $2 Jell-O shots benefiting charities such as ARK (Alzheimer's Family Support Services).
"Vickery's is more than just a restaurant," says Stalker, summing up its local spirit and general good vibe. "Some of our staff have been with us for fifteen, twenty years. We're community here on Shem Creek—not competitive. Each restaurant has a niche. I love that about the food and beverage business."
Vickery's does have a unique feel—more like a south-of-the-border beach party. Pull up a waterfront seat and pass the Margaritas!
Vickery's Bar & Grill
1313 Shrimp Boat Lane, Mt. Pleasant
843-884-4440
vickerys.com