By WENDY SWAT SNYDER
Photos by JAMES STEFIUK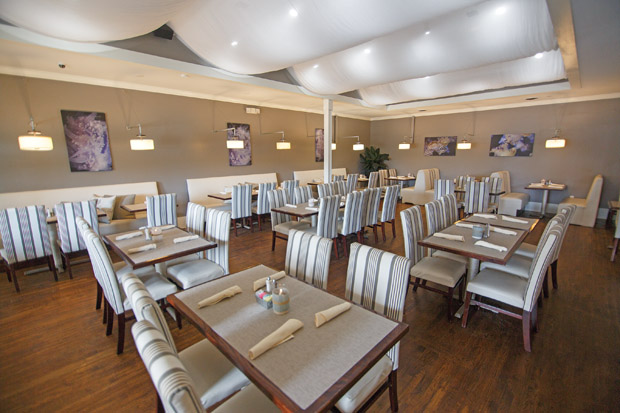 After a lazy day on one of Charleston's popular barrier islands, sometimes the thought of leaving for downtown dinner reservations seems a bit too much of an undertaking. On the Isles of Palms, sun-drenched beaches and pristine greens cast their spell. Whether you've been sailing or seeing the sights from a golf cart, you are on island time—and leaving the zone can mean losing the vibe. For both native islanders and vacationers, and Mount Pleasant folks (like me) just across the Intracoastal Waterway, The Refuge is one of Isle of Palms' newer options offering an oasis of relative tranquility far from the teeming crowds.
Upscale yet casual, The Refuge is a restaurant, coffee bar and nighttime gathering spot under one roof, offering beach dwellers breakfast, lunch and dinner seven days a week. Centrally located in an open, airy space, the concept started as a family endeavor of sisters Patty and Jocelyn Lamond and their desire for a decent cappuccino.
"Patty introduced me to this area," says Jocelyn, who left California for Washington, D.C. where she raised a family and was an investor in an upscale restaurant in Georgetown. "We used to vacation in Kiawah and didn't know this area existed until she kind of adopted it eight years ago."
"My vision was a coffee shop-sandwich joint," says Patty, whose many years in the restaurant business included cross-country treks from California to Boston working in the kitchen, bartending and everything in between.
"My husband and I were sitting on the beach, thinking about buying a house, and wondered why there wasn't a coffee shop here," she explains. "We thought that was a niche we could fill —a place with light fare for hot summer days."
Plans to "do something small—maybe off a back deck" ballooned when a property came on the market the partners couldn't resist. "Figuring out how to use the space was so much fun for us," recalls Jocelyn. "The layout had a small area perfect for a coffee bar—separate but part of a bigger whole—so we tacked a restaurant on to the coffee bar."
The Lamonds brought in a Charleston-based design and construction team—professionals with whom Jocelyn had worked with on her own home—for the renovation. ASID member Lorraine G. Vale collaborated on interiors; Arnett Construction on the building's reconfiguration. The family's vision came to fruition when The Refuge opened its doors a little over a year ago.
The open and airy space exudes a coastal ambiance, with a soothing palette of cool grays and whites blending with contemporary finishes. The coffee bar and dining room are separated by a sophisticated cocktail lounge with modern clean lines and a beautiful ceiling accented by rustic hardwood added by Travis Arnett. Cottagey white shutters separate the bar and dining area, lending a sense of privacy. Dinner guests are welcomed with roomy banquettes, individual tables and community seating.
"When you walk in," notes Jocelyn, "the feeling inside is really one of community—two sisters, a family endeavor—there's a really nice feeling here. I think people come back for that feeling."
A sense of community prevails in the "back of house," as well, where dual chefs manage The Refuge's demanding rotation of breakfast, brunch, coffee bar and dinner service.
"Rob has more experience with breakfast and lunch, and I'm more experienced in fine dining and dinner," explains Pennsylvania native Jared Rhine, a graduate of the Pittsburgh Culinary Institute.
"We always meet in the middle of the day, and have each other try whatever new idea we've come up with—it works out to our advantage."
"Jared and I work well together—divide and conquer," says Robert Miller, who started in hospitality in 1989 washing dishes, eventually working his way up the culinary ladder and completing a two-year apprenticeship at Gaylord Opryland, a Nashville, Tennessee hotel, from which he obtained a culinary degree.
Both chefs embrace sustainable practices and source locally for The Refuge kitchen as much as possible: seafood from St. Jude Farms and Lowcountry Shellfish; stone ground grits from Adluh – Allen Bros. Milling Company of Columbia, S.C.; and many of their greens from Sweet Bay Farm. Sources for artisan breads include Root Baking Co. and Pane Di Vita, both in Charleston.
Fresh brews from the coffee bar include lattes, cappuccinos, espressos and other specialty coffee beverages with beans from locally owned King Bean Coffee Roasters.
The culinary team contends that The Refuge menu has something for every person's palate—folks fresh from the beach looking for a hearty sandwich or guests with reservations for dinner—with good local products and consistency being key.
"That's why the crab cake is so popular," notes Rhine, describing a recipe he developed at Della Notte in Baltimore. Its secret? "Almost no filler, just pure jumbo crab meat from North Carolina, lightly seasoned to accentuate the crab flavor."
My partner and I sampled the crab delight, an appetizer featuring a smaller version of the crab cake presented atop a delicious salad filled with chunks of avocado, tomato, bacon, and blue cheese—it was truly all about the crab.
The brie quesadilla appetizer was a crowd pleasing vegetarian option consisting of melted brie, thinly sliced apple and arugula pressed between tender flour tortillas cut into bite-size triangles.
The Combahee clam dish featured local baby clams in a saffron broth accented with tomato and leek, and served with a crunchy crostini.
Our main course selections included the short rib entree—a rich, comforting dish of lean, boneless beef braised osso bucco-style until fork-tender, and served with a saffron risotto and herb gremolata.
The ratatouille risotto entree showcased a garden-full of vegetables: eggplant, yellow squash, zucchini, tomato, and spinach combined with a generous layer of parmesan. The dish had great flavor and texture.
For dessert, we ordered a restaurant favorite: bread pudding made by blending crushed Heath bars into the bread and custard base. The dish was presented finely drizzled with dark chocolate and caramel sauces—as pleasing to the eye as the palate. It was a dish of comfort—moist, flavorful and not overly sweet.
For the owners and chefs, it's all about the love of food, and making people happy. The Refuge is doing just that on the Isle of Palms—and setting a table as fine as any downtown.
The Refuge
1517 Palm Blvd., Isle of Palms
843-242-8934
therefugeiop.com