The Passing Gear
05 Jul 2017
Under new leadership, Coastal Community Foundation is crafting a civic agenda
By HOLLY FISHER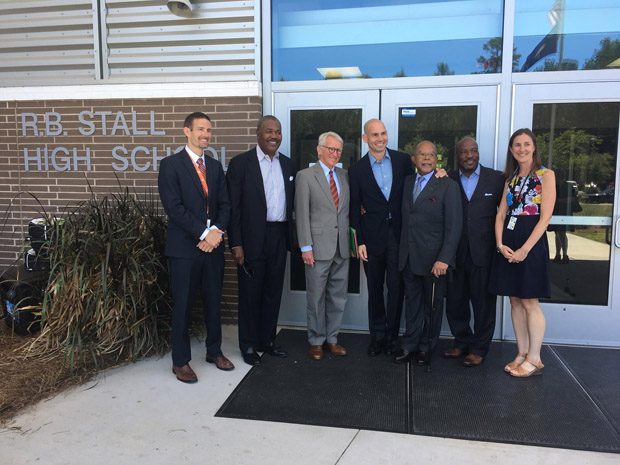 For a decade, Darrin Goss worked in the nonprofit sector with United Way of Greenville County and Capital Area United Way in Baton Rouge, Louisiana. He wasn't looking to leave Baton Rouge, where, in just two years, he'd made considerable gains, taking the organization's workforce campaign from years of declining revenue to a 7 percent increase.
But when the opening for president and CEO of the Coastal Community Foundation came about, Goss' wife urged him to apply. In his initial interview with the search committee, Goss learned more about how a community foundation can be a leader in civic engagement. That resonated with Goss.
He also appreciated the Coastal Community Foundation's $245 million endowment, which creates a more secure business model versus a United Way, which relies on annual workplace campaigns that can fluctuate dramatically year to year.
All that combined with the opportunity to return to his South Carolina roots sealed the deal for Goss. He took over as president and CEO of the Coastal Community Foundation in February 2016. Goss had left his James Island hometown 27 years ago and now he was back to reconnect with his mother and siblings.
The former U.S. Army officer and Wofford College graduate has hit the ground running, guiding the foundation into new initiatives and programs that will most certainly raise the profile of the 43-year-old organization.
The foundation has offices in Charleston and Beaufort, and its service area – including affiliate organizations – reaches all nine coastal counties, from Horry in the north to Jasper in the south. Goss said he enjoys the diversity of the community foundation – both in geography and mission.
"The community foundation is not singularly focused on human services," he said. "I love the arts and I care about the environment. This gives me the opportunity to explore work in areas I have a deep interest in."
Educational Impact
One of the ways the community foundation can be effective is by closing the gap between the beneficiary and benefactor, Goss explained.
As Goss began to talk with donors about where they give, how they give and their passions, the idea for helping St. John's High School developed. He talked with former school principal Andre Dukes, who was concerned about the community telling him what to do versus coming alongside him and the school.
"This is where the community foundation can play one of its biggest roles," Goss said. "Where do the challenges lie? Where can we employ philanthropic capital?"
Sometimes the answer is money. Sometimes it's "bringing good brains to the table," Goss said. Those people can help find the low-cost or no-cost solutions to the problem.
In the case of St. John's, the solution was a marketing campaign to change the perception of the high school. The "Discover St. John's High School" initiative has a goal to recruit an additional 50 middle school students for the 2017-18 school year and build a future where St. John's is a school of choice for students on Johns and Wadmalaw islands.
The campaign uses creative video, social media and other collateral along with open house events to showcase the school's academic prowess to parents and students.
The perception of the school is shifting to good or even neutral. And more students are slated to attend the public high school this fall.
"It shouldn't matter what your zip code is. The school in your community should provide a child with the best possible education they can earn," Goss said.
Anyone living and working in the Charleston region should be concerned about education, he added. This is a knowledge-based community competing on a global scale.
"It's unsustainable to leave thousands of children behind," he said. "Our social systems can't support that. Our economic systems won't. We have to figure that out."
In talking with donors, Goss knows education is a priority for so many. Of the $17 million the foundation awarded last year, about $4 million of that went to education initiatives.
Crafting a New Agenda
Acting as a convener and catalyst for philanthropy and social change is where the Coastal Community Foundation can be a major player in the counties its serves. But, it requires listening, learning and leveraging community partners.
Goss is a proponent of something called "passing gear philanthropy," a term coined by former ambassador to South Africa James Joseph and put into use as a way to look at philanthropic capital by David Dodson, president of MDC in Durham, North Carolina. It's the idea that philanthropy is society's passing gear. An organization like the community foundation can truly unlock this concept because it can go places and do things that others can't and without the restrictions of government funding.
The community foundation could spread itself too thin in too many different directions, so it's embarking on a Civic Engagement Agenda that will provide clarity and focus, Goss explained.
"What roles will the community foundation play in these issues? We could be a project lead for workforce housing in Beaufort. We could be a thought leader on community land trust in Charleston. We could be a convener for education on Johns Island," Goss said. "Where do our donors think we should play a role? Where should we put a stake in the ground? We will talk to beneficiaries about where we should be investing."
This summer, the foundation will embark on a series of community conversations, leveraging local leaders, churches and community centers to invite residents to share input and ideas.
"The voices of people most impacted by these challenges have to be at the table," he said.
The listening is the most important part and will drastically shape the overall agenda. "We're going to the community to hear, learn and understand," Goss said. "Then, we'll work with researchers to understand which data sets will help us measure the outcomes."
It's a shift from what most organizations do – develop the research and then go into communities to tell them what's best. This model puts the listening front and center. As part of that, the foundation develops more partnerships and connects with additional leaders who can carry out the agenda in their neighborhoods and communities.
Goss plans to present a complete Civic Engagement Agenda to the foundation board in February 2018, and to the public a few months later.
Man On a Mission
It's no accident this project is labeled an "agenda."
"This is an agenda, not a report," Goss said. "An agenda is an action document."
A former Army paratrooper, Goss is an action kind of guy. He's not been resting on his laurels the last several months. He's clearly a man with drive, passion and a strong work ethic. "I get anxious. I don't feel like we've done enough. I'm hard-wired to go fast," Goss admits.
But he also recognizes the importance of building white space into his calendar and taking time off – not only for himself but as an example to his team.
With Goss at the helm, expect to see the Coastal Community Foundation stepping into the spotlight. For more than 40 years, the organization has been working quietly behind the scenes. Look for the foundation to be an even greater force for change – and good – in the Lowcountry.
"This is an opportunity in the history of the community foundation to step out and say, 'We have a process for solutions to problems that have been intractable,'" Goss said.
And that is how a community shifts to the passing gear.