The Table is Set
02 Nov 2021
The more the merrier around these holiday-inspired place settings
By Shelby Simon
Photos by Aleece Sophia Photography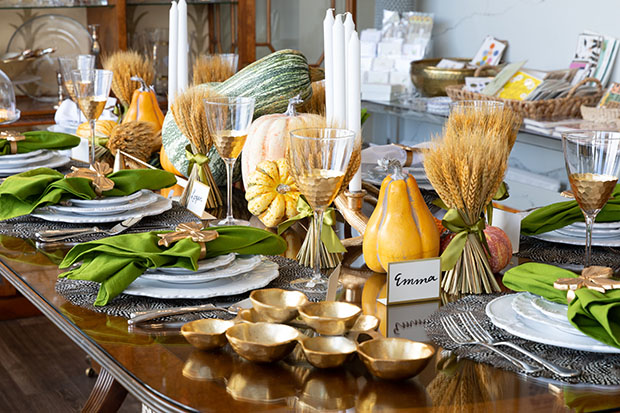 To achieve a festive holiday table, remember that it's all up to you! Let your imagination guide you. It doesn't take much to transform a table into a welcoming gathering place for the holidays. A few showstopping pieces can go a long way, like guinea fowl placemats or a two-tiered serving tray that instead of holding pastries, is filled with bright citrus and topped with a stunning pineapple. Below are some creative tips from local experts in home décor on the art of tablescaping for the holidays.
Bluebird Vintage
1440 Ben Sawyer Blvd. Unit 1104, Mt. Pleasant
(854) 222-3690
925 Front St., Georgetown
(843) 936-3697
www.reddressersc.com
Seizing the opportunity to amplify bright, standout items that are already in and around your home can create a festive and hospitable holiday tablescape that is anything but understated.
Glenda Bradley, with Bluebird Vintage, says her team's jumping off point for the design of this holiday table was the tomato red glass and metal table. They opted to go bold by voting on which set of fine china "popped" the most in contrast with the table's strong background and landed upon Royal Doulton's "Vanborough" as the winner.
With those two decisions alone, the table already exuded glitz and glamour, so Bradley says going organic with the decorations felt like a natural choice for the aromas, ambiance and a nod to local symbols.
The team only had to open the door to find one natural accent — the tea olive shrub, in bloom with little orange star-shaped flowers — from which they clipped a few branches to combine with fresh eucalyptus stems.
"They made a lovely clean jasmine scent that naturally drew you in," says Bradley. They were able to camouflage the floral water tubes with magnolia branches to keep everything fresh and aromatic.
The pineapple, a symbol of hospitality and internationally associated with Charleston, was a perfect choice for the centerpiece.
"We elevated it by tiering two pedestals, all the while keeping the height at a scale that still allows the guests to see each other," says Bradley. Surrounding orange clementines echoed the color of the tea olive blossoms, while bright yellow lemons circled the base of the pineapple, bringing all the colors together.
Large white satin bows came to life inspired by the etching on the vintage wine glasses, a motif that Bradley says is meant to remind us that it is a gift to be with family and friends.
Pro Tips:
Don't worry if you don't have the end vision in your mind. Let your imagination guide you and build it as you go.
Feel free to mix styles and periods; it takes the stuffiness out of the event.
Use what you have to encourage conversation. (The antique samovar and original oil painting in the armoire are great conversation starters.)
Rhodes Boutique and Rhodes Home & Gift
92 Folly Road Blvd., Charleston and 84 Folly Road Blvd.
(843)-225-5244 Rhodes Boutique
(843)-789-3180 Rhodes Home & Gift
www.rhodesboutique.com
An elegant holiday tablescape does not have to be expensive — instead, you can create a versatile spread that can evolve to last all holiday season by bringing the colors outside into your home. Blair Nichols, designer and merchandiser at Rhodes Home & Gift, took this literally by bringing organic materials to the forefront in this autumn-inspired spread that stands to welcome guests throughout the holiday season.
"The tablescape was inspired by the fall and the natural beauty of the season," says Nichols. "It would be a great table for enjoying with family at Thanksgiving."
Different shades of oranges and yellows work well from Halloween through Thanksgiving, and the bright green napkins in contrast with the white plates could extend the framework of this tablescape into the winter holidays with a change of centerpiece and main accents.
Wheat, pumpkins and gourds, all prevalent and easily accessible throughout the fall season, brought the outside in and set the tone for the natural color palette of this tablescape by Rhodes Boutique. "You don't need one significant or expensive centerpiece to create a 'fancy' table," says Nichols. The real pumpkins and gourds came from a nearby market to support local vendors.
Gold accents scattered throughout make a standout statement of elegance amongst the organic elements. Bow napkin rings and festive wine glasses create the distinction of a special occasion rather than a Sunday night dinner. Guinea fowl placemats add texture and depth to more traditional white plates. "I believe the key to creating a good tablescape for a holiday is keeping the centerpieces low so nothing blocks the flow of conversation and all guests can see each other," says Nichols. The antler holder and candlesticks add height to the décor without blocking the view of anyone seated.
Rhodes Boutique and Rhodes Home & Gift is owned by Caroline Rhodes.
Pro Tips:
Use what you have, such as simple, white dinner plates, and add pops of color to make it special for the holidays.
Mixing and matching colors and textures always works and adds depth to any tablescape. Tables do not have to be completely symmetrical.
You can never go wrong with gold accents and accessories. It's timeless and dresses up any table.