Thinking Global
08 May 2015
Creating jobs and getting companies to think bigger is the WTC Charleston director's goal in helping businesses learn to export internationally
By HOLLY FISHER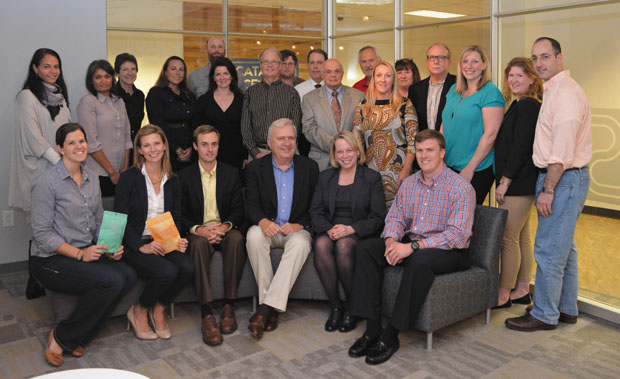 Established in 1773, the Charleston Metro Chamber of Commerce is the oldest chamber in the United States. Chamber executive Pennie Bingham points out the chamber was formed as a way to address issues with international trade and the city's port. All these years later, the chamber is coming full circle as it creates new programs that encourage local businesses to export goods and services.
World Trade Center Charleston is an initiative of the Charleston Metro Chamber and provides chamber members with extensive and detailed training on exporting and international markets. The chamber took over the available license for the World Trade Center five years ago, initially embarking on a listening tour of what worked well for other centers and considering what would work best for Charleston businesses.
At the time, Bingham, head of business development, was tapped to help lead this new effort. As Bingham and chamber leaders looked at how World Trade Center Charleston could best facilitate import/export activity, they were approached by The Brookings Institution, a nonprofit public policy organization in Washington, D.C. At the time, Brookings was working with the Obama Administration to increase U.S. exports with a goal to double the number of exports by 2014. But what they found is that this effort needed to come from the local level, not the federal government.
The Brookings Institution shifted its focus to creating a pilot program in four U.S. cities to develop an export strategy. Afterwards they reached out to an additional eight cities and Charleston was among the selected cities.
"They almost gave us the roadmap of activities," Bingham said.
Completed in 2013, the "Metro Charleston Export Plan" lays out the research to support a regional export strategy, a market assessment and an export plan with three objectives:
Increase Charleston's export intensity.

Grow the number and capacity of the region's small to medium-sized exporters.

Create an international trade culture that permeates regional public-private sector planning.
The plan calls for growing exports from 12 percent to 20 percent of the metro's economy and job growth of more than 6,000.
Focused Export Training
As the chamber began implementation of this seven-year plan in 2014, Bingham said they realized several objectives in the plan led to the same result: educating companies on the services and resources available to help them export.
The result is the Metro Export Training program, an intense, three-month program that equips small and mid-sized businesses with the resources, tools and training to start or expand their export efforts. The chamber brought in Michael Allocca, a well-known expert in the import/export field to help facilitate the four day-long training sessions.
Just this spring, Allocca Enterprises received a President's "E" Award in Export Service from the U.S. Department of Commerce, in recognition of the company's significant contributions to the increase of U.S. exports.
The U.S. Commercial Service, an arm of the U.S. Department of Commerce, along with the Small Business Development Center participates in the program with representatives serving as coaches for the participants, Bingham explained. Interns from the College of Charleston assist with market research.
The four training sessions cover such topics as export regulations, transportation and logistics, international finance and marketing.
At the end of the three-month program, businesses have in their hands a customized export plan with A to Z instructions on what they need to do, Bingham said. They present that plan to a panel of business people with export expertise who offer additional tips and suggestions.
Plus, their coaches stick with them through the implementation process.
"This is something very special we're offering," Bingham said.
So far, World Trade Center Charleston has hosted three rounds of training, assisting 14 businesses. Bingham said she is seeking grants and sponsorships to add more sessions to meet the goal of training 100 companies.
And 100 companies can have a significant impact on Charleston's economy and job market.
"For every $1 billion we can increase revenues to international customers, that creates 5,600 jobs," Bingham explained. "The result is jobs for the Charleston market."
Of the companies that have gone through the training program, they've already reported more than $2 million in successful or pending sales, she said.
"This will really have an impact on our region," Bingham added.
And the materials and training for participating businesses are invaluable. The program is available to chamber members only, and the cost is $1,750 to $2,500 depending on the number of participants; scholarships are available.
"There is a ton of very important information and if you don't do (the export process) appropriately, you can be fined," Bingham said. "It's not an excuse to say you didn't know."
While the Export Training program is the World Trade Center Charleston's largest project, it also facilitates meetings with international business delegations looking to connect with Charleston area industries.
And the center is hosting specific training programs on topics like international finance or how to establish a Foreign Trade Zone – a kind of duty-free area for businesses importing materials for creation of their own products.
Global Impact at Home
In a relatively short time, World Trade Center Charleston is already having an impact. Exports accounted for 12 percent of the region's economy in 2012, and that number already has grown to 14.5 percent. Certainly Boeing's presence in the Charleston market has played a role, Bingham said, but the center's goal is to work with the smaller companies that need guidance on how to export.
For Bingham, transitioning from business development to executive director of World Trade Center Charleston wasn't much of a leap. She was already focused on helping businesses grow locally, so now she's just helping them grow internationally.
"In a way I'm seeing the whole picture from the idea of starting a business, to growing a business, to being a big business," she said. "This just straddles that. I see a strong alignment."
If there's any question as to whether Charleston needs a global export strategy, Bingham points to a powerful statistic: an estimated 70 percent of the world's disposable income is currently being spent outside the U.S. borders.
With that kind of global economic growth, companies in Charleston can benefit from tangible training and hands-on guidance, she explained.
"For companies to stay competitive, they need to think bigger," Bingham said.
World Trade Center Charleston is hosting its annual luncheon on July 22. The keynote speaker is Eugenio J. Alemán, a director and senior economist at Wells Fargo. He forecasts national, regional and international economic trends. His primary focus is the U.S. economy and global economy. The event is open to anyone interested in international trade. For more information, visit wtccharleston.com.