A Dunes West home with a unique display of exotic animals offers up the perfect challenge for design architect Anita King
By ROB YOUNG » Photos by MATT SILK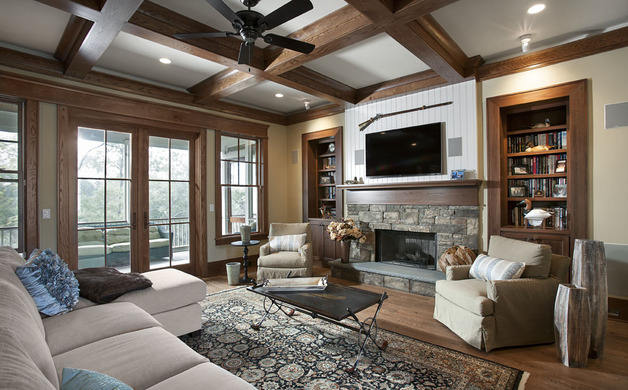 Brett Barnes had one request for Anita King: Keep my home from resembling a man cave.
No worries.
King – the principal architect and owner at Ink Architecture + Interiors – delivered. Displaying a deft, gentle touch, she helped transform Barnes' Dunes West home into a space rich in texture and details. Set in a craftsman style, the home retains its masculinity and still demonstrates thoughtful precision, whether in Barnes' trophy or game room, kitchen and living spaces.
"They took my suggestions and found what was right for me," Barnes says. "They were able to determine my style and fit the details to my preference within the budget specified."
Spheres of Design
To King, it's second nature. Ink Architecture + Interiors specializes in custom luxury residences, generally ranging from $800,000 and higher. Project types run the gamut, covering beach and vacation homes, historic renovation, and additions. Services are varied as well, including site planning, design, construction documentation, bidding and negotiations, and contract administration. It's a one-stop shop.
King has staked a rare place in her field, straddling the theoretical and practical spheres of design. The Summerville native graduated from Clemson University with Bachelor of Science degrees in design, as well as construction science and management, offering her an estimable advantage in the discipline. "I ended up getting my second degree in construction management," King relates. "One thing I noticed is that even though Clemson had a great architecture base, much of it was design and theoretically based, and not based in the concrete. I felt that I lacked understanding about how these things actually meshed."
It's aided King's awareness, facilitating the transfer of designs from paper to the three-dimensional. Those lessons are often painstakingly learned over the course of many architects' careers. With King, she realized those relationships from the beginning.
"At some firms, they have an architect who does the design and someone who goes into the field. There can be a disconnect, especially because sometimes that information doesn't make it back to the firm," King says. "The architect continues drawing the same thing over and over, only to have it change in the field.
"You might think that it works a certain way, but then you're with the guys on site and they ask how exactly the design is supposed to work. The next time you can think clearly through the situation. You can weigh the realistic and aesthetic aspects, and determine if it is physically impossible."
High-end Residential Projects
King's education helped as she refined her abilities at DP3 Architects in Greenville, where she designed war memorials, jails, fire stations and city halls, and other municipal projects. The experience helped King absorb the importance of budget, function and ordinances relative to urban communities, valuable as her career has progressed. "We came up with some really nice things, but at the same time, you're dealing with parameters," King says. "You're not exactly going to spend all the town's money on a fire station."
After two years she moved on to Virginia Polytechnic Institute, where she earned a Masters of Architecture degree from the Washington-Alexandria Architectural Center. The diploma helped King land a job in Washington, D.C., working for the renowned architect, Hugh Newell Jacobsen. During his career, Jacobsen has overseen and designed The Libraries for the American Colleges of Greece (Athens), an addition to the U.S. Capitol, as well as the Renwick Gallery and the Arts and Industries Building for the Smithsonian American Art Museum.
There, King worked for two years, completing several published projects, including homes in Aspen, Colo., and Paris, France. The Aspen home was a considerable undertaking, the vacation home comprised of 12,000 square feet. Most of her projects related to high-end residential work, a keen area of interest for King. "These houses were really detailed, much more modern than you might find in Charleston," she says. "It required a lot of coordination, a lot of involvement. When I worked on these homes, they consumed the majority of my time. I would spend a year directing these projects."
Sizing up Options
King and Ink Architecture + Interiors start each project the same way, honing in on budget, size and space. King's firm tries to separate wants from needs. "We'll address desires separately than what clients actually need," she says. "I'll do a lot of sketches and schematic design ideas showing the placement of elements in the house, and how to take advantage of view, trees on site, and things of that nature."
It makes it easier on clients, who may not consider a home's limitations and ways to maximize functionality. They may miss details, or best ways to augment living areas. "They look at it differently than how an architect looks at homes, and you live within the space," King says. "I'll meet them over a period of time as we develop the full idea, and then we get into the construction, drawings and details."
Being a woman architect in a male-dominated field has granted her perspective as well. Women primarily determine the architectural and design decisions for the family, deciding upon the day-to-day activities that help shape architectural planning for a new house. As a woman, King can relate to or develop questions relevant to those posed by families.
A Value Proposition
At Barnes' home in Dunes West, an upscale mixed development community in Mount Pleasant, King was tasked with a difficult assignment. A house designer had already conceived the home, giving it its shape, size, exterior and personality. "That was a unique situation because we weren't in charge of the architecture envelope," King says. "We came in after the fact and helped with the interior detail."
King maintained the home's main architecture, but developed the kitchen layout, trim details, tile patterns, countertops, woods, paints – basically the entire interior package. Barnes' game room proved especially challenging – and fun. He has several trophy animals attained from exotic hunting excursions, including a Cape buffalo shoulder mount; waterfowl ducks; and a life-sized spotted hyena, lion, black bear and Rocky Mountain goat mounts. It's an impressive collection. "We had to make it look like a game room, but it didn't need to be overbearing," Kings says.
To that end, King added an intricate lighting scheme to improve the room. Thin lighting wire hangs from the ceiling, as not to interfere with the displays. "You don't see that kind of room often here (in Charleston)," Barnes says. "It was a complex undertaking – lighting such a massive room."
King played special attention to the kitchen as well, as Barnes graduated from culinary school. The team made the most out of limited space, customizing the cabinetry and highlighting the stove area. "Everything is laid out perfectly," Barnes says. "I'm able to cook a meal without running around other areas of the house to get supplies."
Stone detail and stained woods frame the living areas, subtly supplying a distinctive footprint. "(Ink) really had great ideas from the beginning, and they were extremely organized," Barnes says. "The value, compared to other designers, blew me away."
Prized Projects
Other homes show off Ink Architecture + Interior's complete range of services: site design, architecture design, interior architecture and furnishings. For instance, Ink recently completed efforts involving a Sullivan's Island cottage. "That's been one of our prized projects. The clients were just amazing," King says. "They really allowed us to give them advice on what was best for the space, and they were very receptive to our suggestions."
Another home under construction situated at Remley's Point in Mount Pleasant suggests a similar scope. "The clients have allowed us to help with site selection, site design, architecture and interior architecture," King says. "It's been great. That's what we like to do – the entire process to give the project cohesion and keep everyone on the same page."
About the only thing King can't do? Settle on a proper design whenever she gets around to building her own house. Like most architects, she keeps a plan or two in her back pocket – maybe more. "I think I probably have 500 plans in my back pocket," King says, laughing. "That's part of the problem."
But when times comes – with King's background and the luxury of so many plans – that will be a good problem to have. â– 
Architect: Anita King, Ink Architecture + Interiors, 843-882-7810, inkarchitecturellc.com