The Hundred Foot Journey
22 Sep 2014
Starring Helen Mirren, Charlotte Le Bon, Manish Dayal, and Om Puri; Directed by Lasse Hallström; PG.
By Wendy Swat Snyder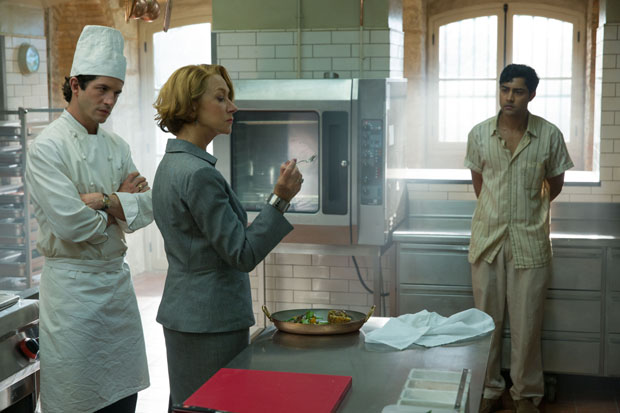 Given the dearth of great food-centric movies in the archives, I hoped against hope that this one would be, well, the one. The Hundred Foot Journey has all the right ingredients: solid actors, good story, beautiful landscape, and fabulous food.
Sweeping vistas of French countryside and the haute cuisine for which France is known make this warmhearted summer flick worth watching. My interest in the movie was first piqued listening to an interview of acclaimed British actress Helen Mirren, who confesses she once yearned to be a French actress. "They fascinated me more," she tells NPR's Melissa Block.
The Hundred Foot Journey gives Mirren her chance. The production, a Steven Spielberg / Oprah Winfrey collaboration directed by Lasse Hallström, casts regal Mirren as the imperious perfectionist, Madame Mallory, a restaurateur in pursuit of Michelin star number two. Her classic French restaurant presides over the rustic Saint-Antonin-Noble-Val, a tiny village in the south of France where she reigns supreme.
That is, until a family of entrepreneurial cooks from India roll into town led by Papa Kadam (Om Puri). Travel weary and dispirited, they decide it's an omen when their dilapidated auto breaks down in the isolated town. They set up shop across the road from Mallory's untouchable Le Saule Pleureur, and the feathers start to fly. In defiance of her open disdain for their culture, Papa turns up the Indian tunes and the heat: pitting the homegrown cooking skills of his son Hassan (Manish Dayal) against her entire kitchen of formally trained chefs. Head to head they go, the ethnic and earthy Maison Mumbai, against the white tablecloths and refined plates that compose Mallory's menu.
I'd hoped the screenplay would have spent more time exploring age old family traditions and the clash of cultures both in and out of the kitchen. The connection between Hassan and his mother (Juhi Chawla) for instance, who taught him how to know and love and respect the staples planet Earth provides for the table. Too soon and easily, the warring sides capitulate, cross lines of divide and join ranks.
The scene that is the catalyst for the truce is one of my favorites—beautifully and sensuously depicting the birth of a connection between young, ambitious Hassan, who cooks an omelet more with spirituality than technique, and the learned high-mistress of European purism and convention, whose approach to cooking is "by the book."
The culinary close ups and kitchen action are enjoyable, but I've seen more compelling "food porn" in episodes of Food Network's Chopped. The show closes with a positive if predictable resolution of all issues, leaving the viewer basking in a tepid glow.
The Dirty Dogs Radio Show
Bosley
Revivalist bands evoking 60s R&B icons like James Brown are a dime a dozen, but this group gives a fresh spin to classic soul. Dirty Dogs Radio Show has the essential hard-hitting horns, lively harmonies, and percussive guitar sounds, but with some hip-hop swagger in the mix. Songs like "American Gurlz" radiate an elated vibe that extends Bosley past any perception of genre restraint.
China West
Manuel Barrueco & Beijing Guitar Duo
A release that is nothing but great classical. Started by Manuel Barrueco, the recordings are by the prodigy guitarist and his associates. Barrueco and his protégés, the Bejing Guitar Duo, play an array of sets that includes Bach and a medley of Charlie Chaplin tunes. The latter piece is as inspiring as it is surprising.